Maestra
Agradecemos encarecidamente a todas las personas que realizaron una aportación económica para que Recursos para Maestros se mantenga operando por un año adicional. Donantes:1.Yajaira Canales 2.Angel Ocasio 3.Raymond Muñoz 4. Ramon L Burgos Rosado5.
Recursos para maestros de Puerto Rico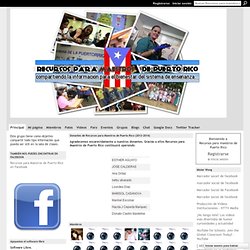 TEACHING TIPS
Recursos educativos y medios didácticos - Videos Educativos
Cuaderno de Mapas de Puerto Rico - Recursos para maestros de Pue
CANAL EN YOUTUBE SOBRE TEMAS HISTORICOS, MUY BUENO... - Recursos
Recursos para maestros de español
Visita las manualidades y los talleres, los juegos y dinámicas de grupo, cuentos y leyendas, las recetas dulces o saladas... y deja de lado la video consola!! Y si te sale bonito, envía la foto y la colgaremos. Tambíen podrás encontrar actividades y campamentos preparados con objetivos y demás, para ahorrarte un buen tiempo de preparación. Esperamos que todo sea de tu gusto. Un saludo! ¿Por dónde te apetece pasear?
.::MilTalleres::. Manualidades, cuentos y leyendas, juegos, rece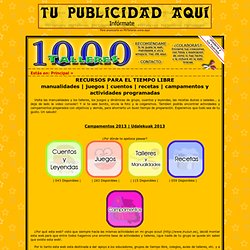 Diseño de páginas Web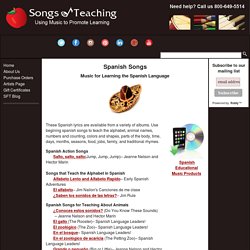 These Spanish lyrics are available from a variety of albums. Use begining spanish songs to teach the alphabet, animal names, numbers and counting, colors and shapes, parts of the body, time, days, months, seasons, food, jobs, family, and traditional rhymes. Spanish Action Songs Salto, salto, salto(Jump, Jump, Jump) – Jeanne Nelson and Hector Marín Songs that Teach the Alphabet in Spanish Alfabeto Lento and Alfabeto Rapido – Early Spanish Adventures El alfabeto
La lengua en esquemas
audiolibros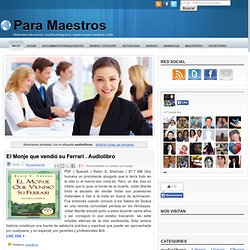 Es un audio que particularmente me gusta mucho. Cada mañana al levantarme, en lugar de escuchar las noticias, enciendo mi equipo, subo el volumen y escucho a Alex Dey. Realmente me llena de energías, me levanta y durante todo el día me siento full...ALEX DEY, es pionero de la motivacion en espanol. Actualmente comparte sus formulas de exito con mas de 40,000 personas mensualmente. Sus audios, videos,, libros, cursos y seminarios, son utilizados por cientos de empresas (General Motors de Mexico, Industrias Canada, Seguros Monterrey, Bancomer, Mobil oil de Mexico, etc.) que capacitan y motivan a su gente a traves de sus conceptos. ...
Desocupado lector, elige: a, b, c,... dario. Anoche brillaron cerca, chispeantes, dos estrellas fugaces... Juegos de palabras e ingenio. Poemas con palabras o frases escondidas.
Juegos de palabras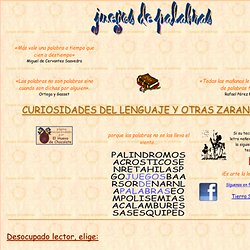 Sites for Teachers
Worksheets 4 Teachers: Printables and Worksheet Resources
Teachnology The Online Teacher Resource Share on favorites Bookmark It!
Printable Teaching Centers and Theme Classroom Signs
There's no machinery at The Imagination Factory, and smokestacks don't pollute the air. Instead, we teach children and their caregivers creative ways to recycle by making art. The lessons and activities include drawing, painting, sculpture, collage, papier-mache, marbling, and crafts. Use the Trash Matcher to quickly find uses for items most people throw away.
The Imagination Factory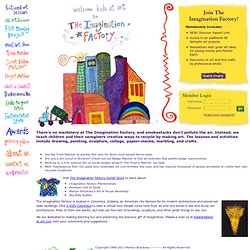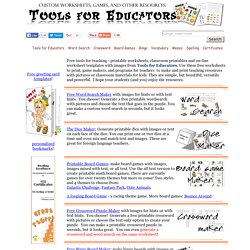 The Handout Creator: This worksheet program allows you to choose up to 15 images and place text related to that image below the picture. It can handle foreign languages, so French, Spanish, German, Greek, Japanese and teachers of other foreign languages can make vocabulary handouts for their students. New! - picture dictionary maker: make vocabulary handouts, exercises and homework that students can collect and use to build their own picture dictionaries.
TeacherClicks: Resources for K-12 teachers!
Dinámicas
Pedagogia — Blogs, Imágenes y más en WordPress
La enseñanza de lenguas extranjeras. ¿Es importante aprender un idioma? En este mundo tan globalizado, el aprender idiomas te brinda las herramientas necesarias para abrirte paso al mundo laboral, también nos brinda la oportunidad de ir de intercambio a otras instituciones, así como también posibilita y expande nuestras relaciones de comunicación, esto ayudará a conocer un poco más sobre la cultura y abrir nuestro panorama intelectual.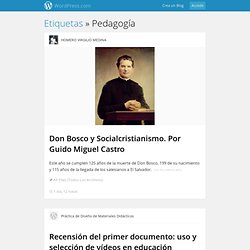 Didáctica de Aplicaciones Didácticas
Diccionario Ilustrado de Matemáticas
Welcome to HotChalk