Maestra
Recursos para maestros de Puerto Rico
TEACHING TIPS
Recursos educativos y medios didácticos - Videos Educativos
Cuaderno de Mapas de Puerto Rico - Recursos para maestros de Pue
CANAL EN YOUTUBE SOBRE TEMAS HISTORICOS, MUY BUENO... - Recursos
Recursos para maestros de español
.::MilTalleres::. Manualidades, cuentos y leyendas, juegos, rece
Diseño de páginas Web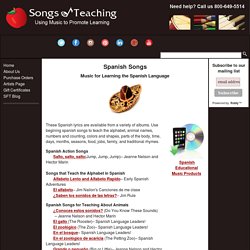 These Spanish lyrics are available from a variety of albums. Use begining spanish songs to teach the alphabet, animal names, numbers and counting, colors and shapes, parts of the body, time, days, months, seasons, food, jobs, family, and traditional rhymes. Spanish Action Songs Salto, salto, salto(Jump, Jump, Jump) – Jeanne Nelson and Hector Marín Songs that Teach the Alphabet in Spanish Alfabeto Lento and Alfabeto Rapido – Early Spanish Adventures El alfabeto
La lengua en esquemas
audiolibros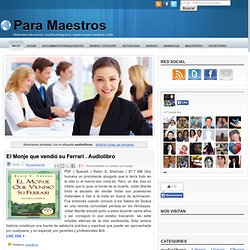 Es un audio que particularmente me gusta mucho. Cada mañana al levantarme, en lugar de escuchar las noticias, enciendo mi equipo, subo el volumen y escucho a Alex Dey. Realmente me llena de energías, me levanta y durante todo el día me siento full...ALEX DEY, es pionero de la motivacion en espanol. Actualmente comparte sus formulas de exito con mas de 40,000 personas mensualmente. Sus audios, videos,, libros, cursos y seminarios, son utilizados por cientos de empresas (General Motors de Mexico, Industrias Canada, Seguros Monterrey, Bancomer, Mobil oil de Mexico, etc.) que capacitan y motivan a su gente a traves de sus conceptos. ...
Juegos de palabras
Sites for Teachers
Worksheets 4 Teachers: Printables and Worksheet Resources
Teachnology The Online Teacher Resource Share on favorites Bookmark It!
Printable Teaching Centers and Theme Classroom Signs
The Imagination Factory
TeacherClicks: Resources for K-12 teachers!
Dinámicas
Pedagogia — Blogs, Imágenes y más en WordPress
Didáctica de Aplicaciones Didácticas
Diccionario Ilustrado de Matemáticas
Welcome to HotChalk