Restitution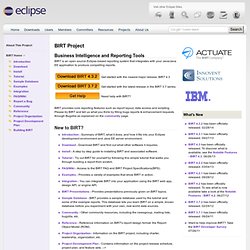 BIRT is an open source Eclipse-based reporting system that integrates with your Java/Java EE application to produce compelling reports. BIRT provides core reporting features such as report layout, data access and scripting. Please try BIRT and tell us what you think by filling bugs reports & enhancement requests through Bugzilla as explained on the community page. New to BIRT?
SAS
Tibco
Qliktech
Microstrategy
Dopez votre force de vente grâce aux outils d'analyse
SAP - Business Object
Oracle - Siebel
Oracle - Essbase
Oracle Essbase is the industry-leading multi-dimensional online analytical processing (OLAP) server, providing a rich environment for effectively developing custom analytic and enterprise performance management applications. By leveraging its self-managed, rapid application development capabilities, business users can quickly model complex business scenarios. For example, line-of-business personnel can simply and rapidly develop and manage analytic applications that can forecast likely business performance levels and deliver "what-if" analyses for varying conditions. Oracle Essbase supports extremely fast query response times for vast numbers of users, large data sets, and complex business models.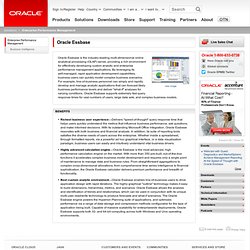 IBM - Cognos