Restitution
Pentaho. BIRT. SAS. Tibco. TableauSoftware. Jaspersoft. Qliktech. Microstrategy.
SAP - Business Object. Oracle - Siebel. Solution de gestion de la relation client (CRM) la plus complète au monde, Oracle Siebel CRM aide les organisations à se différencier de la concurrence pour atteindre une croissance maximale en termes de bénéfices nets et de chiffre d'affaires.
Pourquoi choisir Oracle ? Siebel offre une combinaison de fonctions transactionnelles, analytiques et de mobilisation permettant de gérer l'ensemble des opérations de relation avec le client. Adaptées aux besoins de plus de 20 secteurs, les solutions sectorielles Siebel CRM sont complètes, sur site et à la demande, avec une intelligence client basée sur les rôles et une intégration modélisée. Oracle - Essbase. Oracle Essbase is the industry-leading multi-dimensional online analytical processing (OLAP) server, providing a rich environment for effectively developing custom analytic and enterprise performance management applications.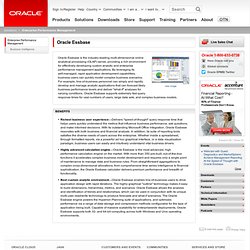 By leveraging its self-managed, rapid application development capabilities, business users can quickly model complex business scenarios. For example, line-of-business personnel can simply and rapidly develop and manage analytic applications that can forecast likely business performance levels and deliver "what-if" analyses for varying conditions. Oracle Essbase supports extremely fast query response times for vast numbers of users, large data sets, and complex business models. Cognos.
---