Web Business
30+ Search Engine Optimization Techniques You Cannot Miss. You completed a web site for your business about three months ago, but you are still not seeing very many people visiting your web site.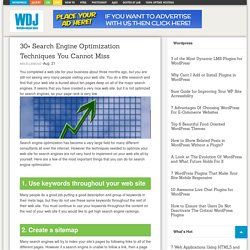 You do a little research and find that your web site is buried about ten pages deep on all of the major search engines. It seems that you have created a very nice web site, but it is not optimized for search engines, so your page rank is very low. Search engine optimization has become a very large field for many different consultants all over the internet. However the techniques needed to optimize your web site for search engines are not very hard to implement on your web site all by yourself.
Here are a few of the most important things that you can do for search engine optimization: How To Build Your Facebook Landing Page (If You're Not A Programmer) Update: As you know Facebook no longer supports FBML for its tabs, which is what this post was based on, but there is an updated post about How to build a Facebook Landing Page with iFrames – Don't miss it!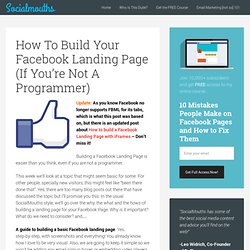 Building a Facebook Landing Page is easier than you think, even if you are not a programmer. This week we'll look at a topic that might seem basic for some. For other people, specially new visitors, this might feel like "been there done that". Yes, there are too many blog posts out there that have discussed the topic but I'll promise you this: In the usual SocialMouths style, we'll go over the why, the what and the hows of building a landing page for your Facebook Page.
Why is it important? 5 Secrets to YouTube Search Engine Optimization. Sage Lewis | November 2, 2010 | 13 Comments inShare104 SEO is more complicated than it used to be.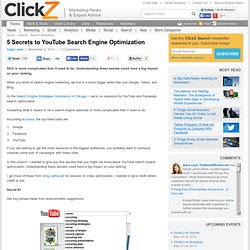 Understanding these secrets could have a big impact on your ranking. When you think of search engine marketing, we live in a much bigger world than just Google, Yahoo, and Bing. SEO In Pictures – Our SEO Infographic. Matt April 13th, 2010.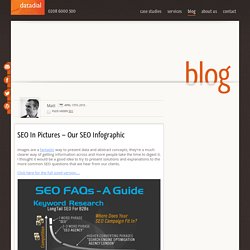 Filed under SEO Images are a fantastic way to present data and abstract concepts, they're a much clearer way of getting information across and more people take the time to digest it. SEO In Pictures – Our SEO Infographic. Create a Website Guide&8230; Keyword Suggestion Generator - Free SEO Tool. SEO vs. PPC - Which Provides You the Better Value? Organizations of all sizes are realizing the importance of online marketing, especially through search engines.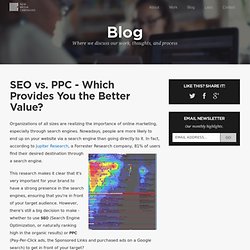 Nowadays, people are more likely to end up on your website via a search engine than going directly to it. In fact, according to Jupiter Research, a Forrester Research company, 81% of users find their desired destination thr ough a search engine. This research makes it clear that it's very important for your brand to have a strong presence in the search engines, ensuring that you're in front of your target audience.
---