Sociétés Mobiles 2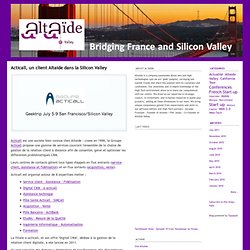 Altaide Valley
Un ami Geektripeur vient de me faire parvenir un email d'un concurrent organisant un voyage d'etudes prochainement dans la Silicon Valley, que j'ai naturellement regarde en detail. La concurrence, c'est bon, c'est normal. Mais a force d'etre aux USA, j'en prends les defauts, et j'ai donc decide de faire un peu de publicite comparative. Ma societe est de droit Americain, rien d'illegal donc. Pour 5.500 Euros, vous pouvez avoir : - 3 journees de RDV, 2 RDV par jour,
Goomeo: our core business is mobility, but we don't stop there. Events are our speciality. Market leader of mobile applications for events, we are armed with our experience and make R&D a priority. Indeed, since its creation, Goomeo has not stopped to develop innovative features, to offer your visitors and exhibitors the richest experience. At Goomeo, we believe that our solutions must be useful, flexible and intuitive, while being affordable.
Goomeo : le reseau mobile qui vous rapproche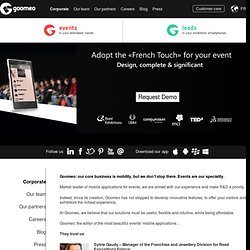 Home | Sensorly
PayByPhone, le paiement mobile en France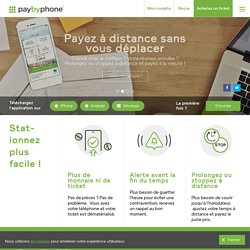 vous facilite la ville et le stationnement Achetez vos tickets de stationnement à distance avec paybyphone. Rapide, sécurisé et plus besoin de monnaie. Prolongez ou stoppez votre stationnement sans vous déplacer et ne payez que le temps réellement utilisé Louez un vélo ou achetez un titre de transport sans faire la queue au guichet grâce à votre mobile.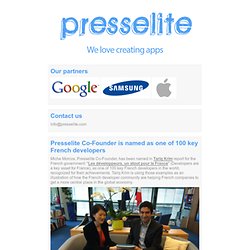 Presselite
Contact us info@presselite.com Métro Paris is ready for iOS7 Our app Métro Paris was just announced as one of the Top 10 All-Time Paid Apps for iPhone in France.
An on-device interface (via mobile browser or application) provides the perfect channel for CSPs to communicate with, and market to their customers. Regardless of whether the customer is using the interface to for self-service (checking their balance), to look for a new device or tariff, or simply to check what new offers their CSP has, the on-device interface provides a means of communicating on a one-to-one, real-time basis. Instead of sending impersonal text messages, mail, or making intrusive and costly phone calls, CSPs can communicate in a highly individualised, intuitive manner, directly on-device.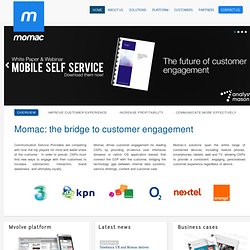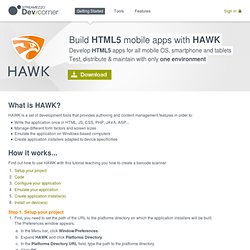 What is HAWK? HAWK is a set of development tools that provides authoring and content management features in order to: Write the application once in HTML, JS, CSS, PHP, JAVA, ASP... Manage different form factors and screen sizes Emulate the application on Windows-based computers Create application installers adapted to device specificities
Streamezzo developer's corner |
PleexKids propose désormais la fonction géo-alerte Paris, 6 avril, 2012 - Toujours à l'écoute de ses clients, Maeglin Software a ajouté de nouvelles fonctionnalités à PleexKids pour le Mobile World Congress 2012 de Barcelone. PleexKids est la solution de contrôle parental mobile de Maeglin Software.
Backup téléphone mobile : sauvegarde répertoire, images, vidéos,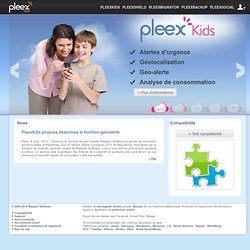 n8makemyapp.com
Custom Software | iPhone Software Development | Augmented Realit
WINVOLVE : New Media Development, Augmented Reality, Mobile and
Grapple Mobile | Home - Mobile applications for everyone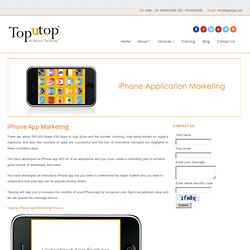 There are about 500,000 Apple iOS Apps in App Store and the number counting, now being hosted on Apple's AppStore. But only few numbers of apps are successful and the lots of innovative concepts are negligible in these countless apps. You have developed an iPhone app with lot of as aspirations and you must create a marketing plan to achieve good number of downloads and sales. You have developed an innovative iPhone app but you need to understand the target market and you need to understand how your app can be popular among others. Toputop will help you to increase the visibility of your iPhone app by recognize your App's exceptional Value and we will spread the message across. Toputop iPhone Apps Marketing Process
iPhone Application Marketing | Apps Promotion Services
Playsoft - Playsoft - Mobile Content and Games Services
Mobio - Empowering Identity
iPhone Application Marketing | iPhone Application Public Relatio
You develop.We market and promote. At Appular, we share your vision of putting high-quality mobile products directly into the hands of users. Our unrivaled Marketing, PR, Media Buying, Consulting and Social Media services and solutions are constructed exclusively to give your projects the absolute best chance for long-term success. Share your vision with us and we can take your project to the next level. Case study Case Study: Legendary Wars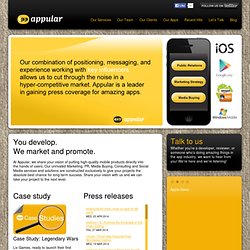 GEODIO is a SAS with a capital of 53,420 euros, which designs and develops innovative applications and services to customers in the area of mobility. Founded by Hugues de Vallavieille, a former strategy consultant (including Bossard-Gemini Consulting), the company develops an original approach, still based on a rigorous analysis of the expectations of our customers' customers. Geodio's objectives : to help you win, differentiate yourself, gain market shares through mobility solutions.
www.geodio.com