Alchemy
Alchemical Symbols
This picture, plain and insignificant in appearance, Concealeth a great and important thing. Yea, it containeth a secret of the kind That is the greatest treasure in the world. For what on this earth is deemed more excellent Than to be a Lord who ever reeketh with gold, And hath also a healthy body, Fresh and hale all his life long, Until the predestined time That cannot be overstepped by any creature. "This picture", is the diagram above.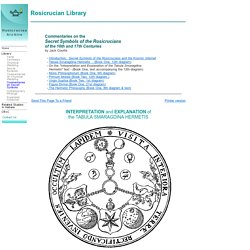 Secret Symbols of the Rosicrucians - TABULA SMARAGDINA HERMETIS - Explanation
Fire! Earth! Wind! Water! No, this isn't another bad episode of Captain Planet. These four forces of nature from the Greek were once connected in a system of beliefs and rituals known as alchemy.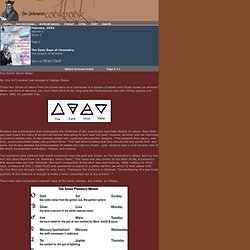 The Alchemist's Cookbook
Manuscript
main_collage2_ir_
The Alchemy Web Site
The Alchemy Web Site
Ancient Egypt Online
Mystical Keys to the Tree of Life and Tarot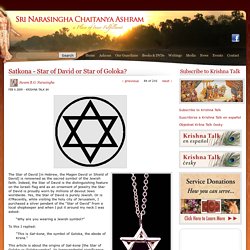 The Star of David [in Hebrew, the Magen David or Shield of David] is renowned as the sacred symbol of the Jewish faith. Indeed, the Star of David is the distinguishing feature on the Israeli flag and as an ornament of jewelry the Star of David is proudly worn by millions of devout Jews worldwide. Yes, the Star of David is purely Jewish. Or is it?Recently, while visiting the holy city of Jerusalem, I purchased a silver pendant of the "Star of David" from a local shopkeeper and when I put it around my neck I was asked: "Why are you wearing a Jewish symbol?"
Satkona - Star of David or Star of Goloka? | Sri Narasingha Chaitanya Ashram