Tucson AZ shooting
Rabbi asks for peace at healing prayer service following shooting of Arizona Congresswoman Gabrielle Giffords. By Jaimee Rose - Jan. 9, 2011 05:05 PM The Arizona Republic The rabbi asked the congregation to picture "Gabby's radiant smile" and hold it in their minds while they prayed.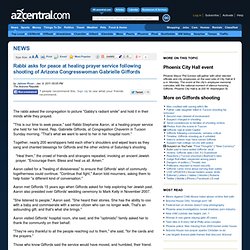 "This is our time to seek peace," said Rabbi Stephanie Aaron, at a healing prayer service she held for her friend, Rep. Gabrielle Giffords, at Congregation Chaverim in Tucson Sunday morning. "That's what we want to send to her in her hospital room. " Together, nearly 200 worshippers held each other's shoulders and wiped tears as they sang and chanted blessings for Giffords and the other victims of Saturday's shooting. Suspect's Odd Behavior Caused Growing Alarm. Christina Green, Tucson Shooting Victim, Is Buried. Christina-Taylor Green, age 9, was wheeled from church in a child-size coffin to the mournful strain of bagpipes on Thursday, having become the focus for much of the grief that has enveloped this community — and the nation — since the shootings that left 6 dead and 14 injured.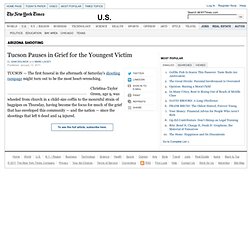 Christina's clear-eyed gaze, her enthusiasm — baseball, dance and student council were all passions — and the randomness in which she was killed made her death particularly devastating, for grown-ups, among them, and for her contemporaries. As the president noted, she was attending the event at which she was shot because of a blossoming interest in politics and American democracy. "I want us to live up to her expectations," Mr. Congresswoman Gabrielle Giffords Shot in Tucson. NASA Administrator Charles Bolden's Statement on the Shooting of Congresswoman Giffords.
Michael Cabbage Headquarters, Washington 202-251-6570 mcabbage@nasa.gov James Hartsfield Johnson Space Center 281-483-5111 james.a.hartsfield@nasa.gov Jan. 08, 2011 RELEASE : 11-006 NASA Administrator Charles Bolden's Statement on the Shooting of Congresswoman Giffords NASA Administrator Charles Bolden issued the following statement Saturday about the shooting in Tucson, Ariz., of U.S.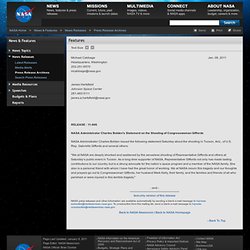 Rep. White House mobilizes - Mike Allen. The White House released the following tick-tock of Saturday afternoon's activity: "The President was notified of this terrible tragedy by [homeland security and counterterrorism adviser] John Brennan and [deputy chief of staff] Jim Messina a little after 1:20 p.m.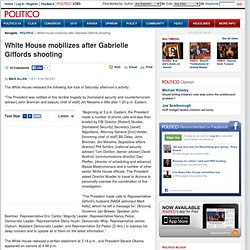 Eastern. Continue Reading "Beginning at 3 p.m. Weigel : Judge John Roll, RIP. Arizona Congresswoman Gabrielle Giffords: The victims. By Daniel Gonzalez - Jan. 8, 2011 10:03 PM The Arizona Republic The victims from Saturday's mass shooting in Tucson have been identified and they include, an aide to Giffords, a federal judge and a 9-year-old girl.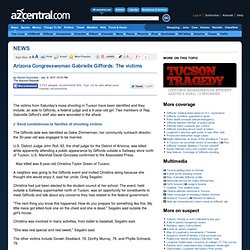 Two members of Rep. Gabrielle Gifford's staff also were wounded in the attack. Send condolences to families of shooting victims The Giffords aide was identified as Gabe Zimmerman, her community outreach director; the 30-year-old was engaged to be married. Intern Who May Have Saved Giffords' Life Describes The Shooting. Daniel Hernandez, the 20-year-old intern who attended to Rep.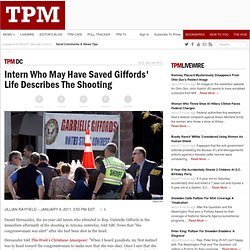 Gabrielle Giffords in the immediate aftermath of the shooting in Arizona yesterday, told ABC News that "the congresswoman was alert" after she had been shot in the head. Hernandez told This Week's Christiane Amanpour: "When I heard gunshots, my first instinct was to head toward the congresswoman to make sure that she was okay. Once I saw that she was down, and there were more than one victim, I went ahead and started doing the limited triage that I could with what I had. " He continued: Live Blog: Latest Developments on Arizona Shooting. Press Gaggle by Senator Gillibrand and Representative Wasserman Schultz Aboard Air Force One en route Andrews Air Force Base. The White House Office of the Press Secretary For Immediate Release January 13, 2011.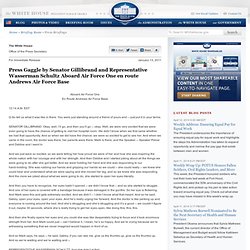 Gabrielle Giffords and Mark Kelly. Arizona Congresswoman Giffords shot; doctors 'optimistic' about recovery chances. Jan. 8, 2011 07:45 PM The Arizona Republic/12News Breaking News Team Pima County Sheriff Clarence Dupnik said Arizona U.S.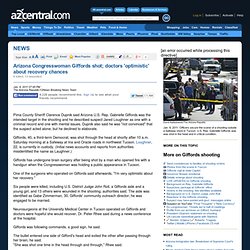 Rep. Gabrielle Giffords was the intended target in the shooting and he described suspect Jared Loughner as one with a criminal record and one with mental issues. Arizona Gov. Jan Brewer scales back State of State talk. By Ginger Rough and Mary Jo Pitzl - Jan. 9, 2011 05:59 PM The Arizona Republic Monday's convening of the state's 50th legislative session will be a subdued and scaled-back affair, with numerous events postponed or outright canceled in the wake of Saturday's shooting rampage that gravely wounded Democratic Congresswoman Gabrielle Giffords and killed six others.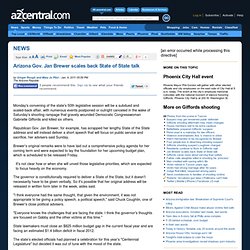 Republican Gov. Jan Brewer, for example, has scrapped her lengthy State of the State address and will instead deliver a short speech that will focus on public service and sacrifice, her advisers said Sunday. Astronaut Mark Kelly rushes to bedside of critically injured wife, Rep. Gabrielle Giffords, on Tilman Fertitta's jet - 2011-Jan-08. CultureMap is a daily digital magazine that delivers 24/7 real-time news reporting and analysis, breaking news, compelling opinions and fresh perspectives on the arts, fashion, dining, design, real estate, travel, city life, sports, and society, as well as a curated events calendar and city guide.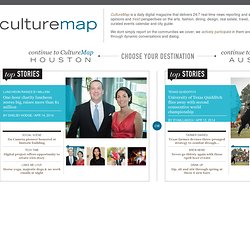 We dont simply report on the communities we cover, we actively participate in them and forge connections online and off through dynamic conversations and dialog.
---