Tucson AZ shooting
Rabbi asks for peace at healing prayer service following shooting of Arizona Congresswoman Gabrielle Giffords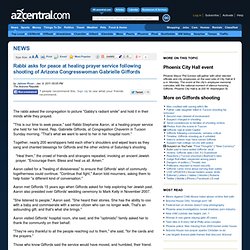 by Jaimee Rose - Jan. 9, 2011 05:05 PM The Arizona Republic The rabbi asked the congregation to picture "Gabby's radiant smile" and hold it in their minds while they prayed.
Suspect's Odd Behavior Caused Growing Alarm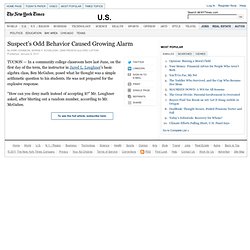 "How can you deny math instead of accepting it?" Mr.
Christina Green, Tucson Shooting Victim, Is Buried
James Palka/Associated Press
Congresswoman Gabrielle Giffords Shot in Tucson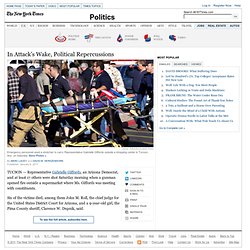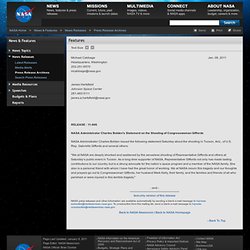 NASA Administrator Charles Bolden's Statement on the Shooting of Congresswoman Giffords
Michael Cabbage Headquarters, Washington 202-251-6570 mcabbage@nasa.gov
The White House released the following tick-tock of Saturday afternoon's activity: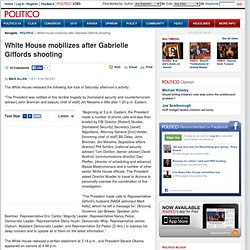 White House mobilizes - Mike Allen
Weigel : Judge John Roll, RIP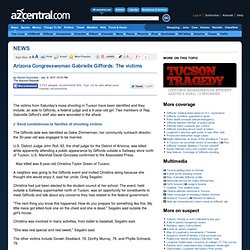 Arizona Congresswoman Gabrielle Giffords: The victims
by Daniel Gonzalez - Jan. 8, 2011 10:03 PM The Arizona Republic The victims from Saturday's mass shooting in Tucson have been identified and they include, an aide to Giffords, a federal judge and a 9-year-old girl.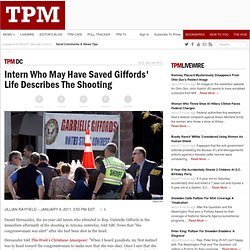 Intern Who May Have Saved Giffords' Life Describes The Shooting
Daniel Hernandez, the 20-year-old intern who attended to Rep. Gabrielle Giffords in the immediate aftermath of the shooting in Arizona yesterday, told ABC News that "the congresswoman was alert" after she had been shot in the head. Hernandez told This Week's Christiane Amanpour: "When I heard gunshots, my first instinct was to head toward the congresswoman to make sure that she was okay. Once I saw that she was down, and there were more than one victim, I went ahead and started doing the limited triage that I could with what I had." He continued:
Erick Erickson, a leading conservative blogger, argues on Redstate.com that the media and left wing commentators are putting conservatives in danger by accusing them of being complicit in the Arizona shootings.
Live Blog: Latest Developments on Arizona Shooting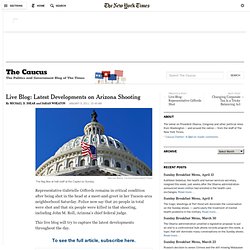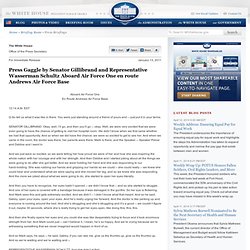 The White House
Press Gaggle by Senator Gillibrand and Representative Wasserman Schultz Aboard Air Force One en route Andrews Air Force Base
Gabrielle Giffords and Mark Kelly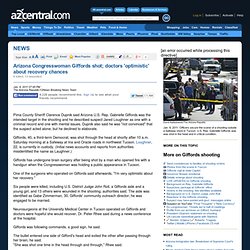 Jan. 8, 2011 07:45 PM The Arizona Republic/12News Breaking News Team
Arizona Congresswoman Giffords shot; doctors 'optimistic' about recovery chances
Arizona Gov. Jan Brewer scales back State of State talk
by Ginger Rough and Mary Jo Pitzl - Jan. 9, 2011 05:59 PM The Arizona Republic
Astronaut Mark Kelly rushes to bedside of critically injured wife, Rep. Gabrielle Giffords, on Tilman Fertitta's jet - 2011-Jan-08
CultureMap is a daily digital magazine that delivers 24/7 real-time news reporting and analysis, breaking news, compelling opinions and fresh perspectives on the arts, fashion, dining, design, real estate, travel, city life, sports, and society, as well as a curated events calendar and city guide.