BRANDING
Brand» BrandsPoint — Беспрецендентный международный форум и конф. Opinions on Corporate and Brand Identity Work. Online FPO (For Print Only) / Celebrating the reality that print is not dead by showcasing the most compelling printed projects.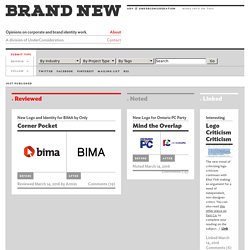 Art of the Menu / Cataloguing the underrated creativity of menus from around the world. Quipsologies / Chronicling the most curious, creative, and notable projects, stories, and events of the graphic design industry on a daily basis. LaLogotheque.com : Banque de LOGOS et ressources vectorielles (f. Always branding. always on. Le site du slogan publicitaire et des signatures de marque. Icono Magazine | Revista Virtual de Contenido Real. Wolda - the worldwide logo design annual. UnderConsideration LLC.
Le petit Musée des Marques. Paul Rand – Corporate Identity Designs, Innovation and Excellenc. Paul Rand was one of the most influential graphic designers of the 20th century.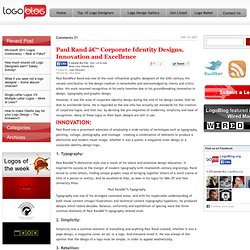 His valued contribution to the design medium is remarkable and acknowledged by clients and critics alike. His work received recognition in his early twenties due to his groundbreaking innovation in design, typography and graphic design. However, it was the area of corporate identity design during the mid of his design career, that he shot to worldwide fame. He is regarded as the one who has actually set standards for the creation of corporate logos, and that too, by devising the pre-requisites of modernity, simplicity and ease of recognition. Corporate Identity Portal : home.
---