BRANDING
brand» BrandsPoint — Беспрецендентный международный форум и конф
online FPO (For Print Only) / Celebrating the reality that print is not dead by showcasing the most compelling printed projects. Art of the Menu / Cataloguing the underrated creativity of menus from around the world. Quipsologies / Chronicling the most curious, creative, and notable projects, stories, and events of the graphic design industry on a daily basis.
retail watch Posted by Dale Buss on March 12, 2014 05:37 PM America's two big mainstream men's apparel brands finally found a fit with each other after several months of wrangling over whether they would get together and which would be in control if they did. Men's Wearhouse finally agreed to acquire the smaller Jos.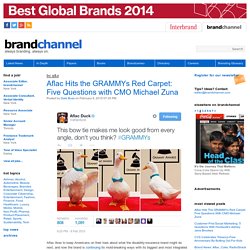 Le site du slogan publicitaire et des signatures de marque
Icono Magazine | Revista Virtual de Contenido Real
February 2014 Meet the Pros Armin will be the keynote speaker at Meet the Pros on February 18 in Omaha, Nebraska.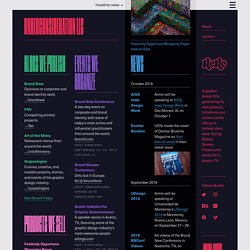 Paul Rand – Corporate Identity Designs, Innovation and Excellenc
Paul Rand was one of the most influential graphic designers of the 20th century. His valued contribution to the design medium is remarkable and acknowledged by clients and critics alike. His work received recognition in his early twenties due to his groundbreaking innovation in design, typography and graphic design. However, it was the area of corporate identity design during the mid of his design career, that he shot to worldwide fame. He is regarded as the one who has actually set standards for the creation of corporate logos, and that too, by devising the pre-requisites of modernity, simplicity and ease of recognition.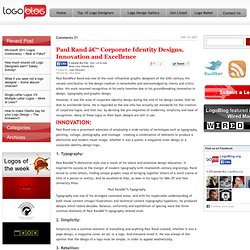 Neuen Markenauftritt für die Kanzlei Becker Büttner Held. 10.4.2014: In einem mehrstufigen Beratungsprozess hat Zeichen & Wunder mit den Partnern der Kanzlei die Markenidentität und darauf basierend Logo und Corporate Design neu entwickelt. Der neue Schriftzug wurde aus einem kalligrafischen Entwurf heraus entwickelt und wirkt durch seine individuelle typografische Gestaltung sympathisch und verbindend. (…). Erscheinungsbild für die »Reformation im Norden«. 8.4.2014: Am 31.
Corporate Identity Portal : home