ARCHI DURABLE - PASSIVE
LaMaisonPositive - le 1er site marchand dédié aux énergies renou. Carte des Constructeurs de Maison Ossature Bois. Compact modular green homes built for energy efficiency, indoor. Ann Raab, visionary & creator of Olympic Design Group, Inc., Rainshadow Green Design and GreenPodTM Development, is taking the idea of sustainable living to a completely new level and lifestyle.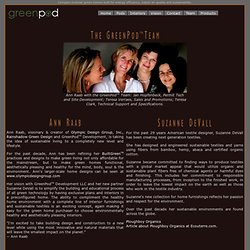 For the past decade, Ann has been refining her BuiltGreenTM practices and designs to make green living not only affordable for the mainstream, but to make green homes functional, aesthetically pleasing and healthy for the mind, body, soul & the environment. Ann's larger-scale home designs can be seen at www.olympicdesigngroup.com Her vision with GreenPodTM Development LLC and her new partner Suzanne DeVall is to simplify the building and educational process of all green technology by having exclusive plans and interiors in a preconfigured home. Maison préfabriquée, maisons préfabriquées, maison écologique, m. Info légale maisons écologiques, maisons préfabriquées Fa.Klee-HausbauChristine KleeGartenweg 1056593 KrunkelTel.: 0049 2687/927980 USt.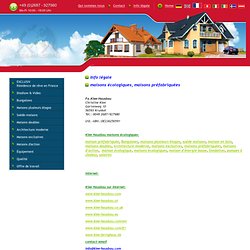 Maison passive par CNRJ Construct. Maison passive - Maison à énergie positive- maison à ossature bois Le pignon Sud en attente de l'enduit Pose des ardoises sur 120 mm d'isolant supplémentaire.en polystyrène additionné de graphite, d'où des performances thermiques améliorées de 20% par rapport au polystyrène habituel.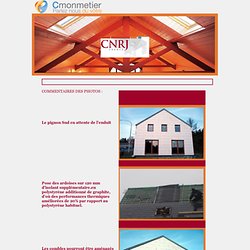 Small - Prefabcosm. I previously mentioned Modern Shed and their prefab Studio Sheds.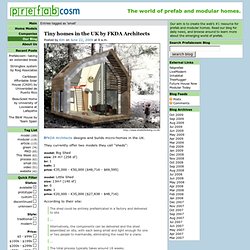 Since then, I've come across another domestic company offering similar products: Modern Cabana. I just ran across a UK company doing pretty much the same thing. The goal of the Modern Sheds is "to be assembled quickly and with few tools. D3 architectes - the drophouse. Retreat homes. L u m i n h a u s, a modern mountain retreat. Ecologically Friendly Housing & Modular Housing - Nest & Invest. MODULEX – maisons préfabriquées, usinées, maisons pré-usinés, ch. Pascal JACOB - Bois, Le Matériau du 21ème siècle. Fincube, habitation futuriste ? Après le magnifique LoftCube, la société allemande Aisslinger studio a créée le «Fincube », une nouvelle maison durable, transportable et modulaire à faible énergie.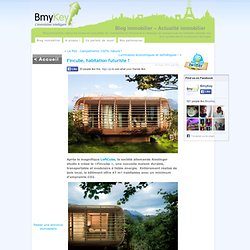 Entièrement réalisé de bois local, le bâtiment offre 47 m² habitables avec un minimum d'empreinte CO2. Le Fincube est orienté selon un motif en hélice donc lorsque les visiteurs pénètrent à travers le socle, ils voyagent dans un cercle en passant par la cuisine, le coin salon, la chambre et enfin la salle de bain. La maison comporte du triple vitrage pour couvrir toute la façade de la maison et offre ainsi une vue de 360 degrés. A savoir, la maison est également hi-tech puisqu'elle est contrôlée par un touchpad central.
---