Politics
The Blaze. DRUDGE REPORT 2010® A Free Press for a Free People. Jesus Christ, Bible Study Tools, Online Christian Living Resources. Alternative Right - An Online Magazine of Radical Traditionalism. American Thinker.
ILANA MERCER. Contra The US, Shame Is Not Dead In South Korean Politics It may be symbolic, but the offer of resignation made by "South Korea's prime minister … over the government's handling of a deadly ferry sinking," and the death of hundreds of children, is not insignificant.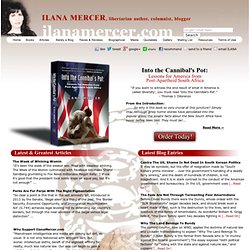 And it is in stark contrast to the conduct of the American government and bureaucracy. In the US, government uses [...Read On] VDARE.com Home Page - Welcome! LewRockwell.com. Taki's Magazine, edited by Taki Theodoracopulos. Chronicles: A Magazine of American Culture.
---