Web 2.0
Diigo Tutorial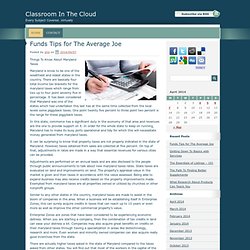 Why Companies And Homeowners Hire Moving Service Providers Today, we can see that moving companies are not only hired by homeowners but also by companies as well. Actually, they only rely on these service providers for their relocation, transfer and moving out needs? What makes them different compared to other service providers? The truth is, only these companies have the skills, know-how and manpower to carry out these task timely and efficiently.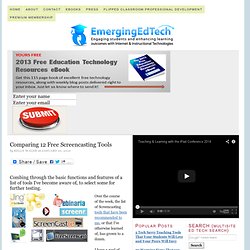 Combing through the basic functions and features of a list of tools I've become aware of, to select some for further testing. Over the course of the week, the list of Screencasting tools that have been recommended to me, or that I've otherwise learned of, has grown to a dozen. I have a goal of trying identify a free tool or set of tools to use to create stand alone tutorials by combining screen images and screen motion with audio. I would also like to have some editing capabilities, so I could combine multiple captures and rearrange the order of these pieces if needed, and to be able to re-record audio annotation if possible. I would also like to have screen annotation capabilities, at least for the screen captures. Given this set of desired functions and features, and the long list of tools, it's only logical that I briefly review each application to see what they can do.
Digital Differentiation
Technology is a tool that can be used to help teachers facilitate learning experiences that address the diverse learning needs of all students and help them develop 21st Century Skills. At it's most basic level, digital tools can be used to help students find, understand and use information. When combined with student-driven learning experiences fueled by Essential Questions offering flexible learning paths, it can be the ticket to success. Here is a closer look at three components of effectively using technology as a tool for digital differentiation. Note: The interactive graphics you see below have been updated. They can be found in a newer post on this blog.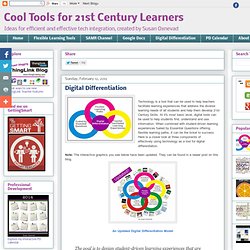 100 Web 2.0 Tools Every Teacher Should Know About 44.24K Views 0 Likes We're always trying to figure out the best tools for teachers, trends in the education technology industry, and generally doing our darnedest to bring you new and exciting ways to enhance the classroom. But I wanted t... 20 Free and Fun Ways To Curate Web Content
30 Webtools to Transform a Classroom
We are a group of curious teachers who explore and brainstorm ways t`o integrate Web 2.0 technologies into our teaching. Some of us meet face-to-face at an independent school in St. Petersburg, Florida. Some are University of Florida graduate students. The rest of us are from all over the world. Our mission: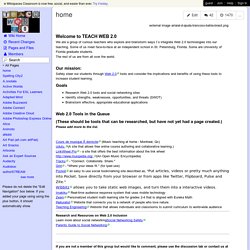 Technology and Teaching Writing
Is it a given that technology enhances the acts of writing, as it does the arts and sciences of film-making, design, engineering, data collection and analyses, and so forth? What about the teaching and learning of writing? In a flurry of recent exchanges (subject "Writing horse-shoe-of-horse-heading-east Technology") on the Writing Program Administration (WPA) listserv, scholars in writing studies have argued these points in some theoretical and practical depth.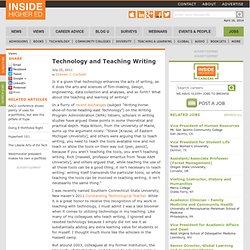 Key Takeaways A new course teaching media, mass communication, and political identities in the Middle East and North Africa explored the use of social media in pursuit of effective learning. Using a variety of social media and other tools encouraged student engagement in and out of the classroom. Student responses varied from discomfort with the technology to enthusiastic adoption and continued use after the course ended.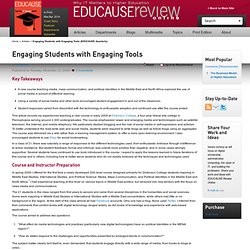 Engaging Students with Engaging Tools (EDUCAUSE Quarterly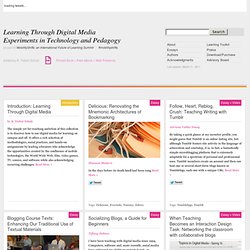 Introduction: Learning Through Digital Media by R. Trebor Scholz