Assessment
Get flash to fully experience Pearltrees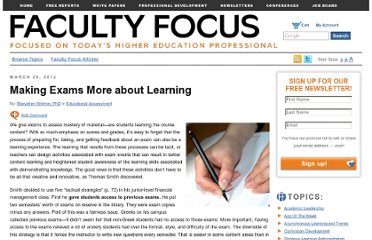 March 20, 2012 By: Maryellen Weimer, PhD in Educational Assessment We give exams to assess mastery of material—are students learning the course content?
It is not enough to teach students how to understand information and communications technology. At some point you are going to have to assess their knowledge and understanding. Girl studying.
Dr. Tae – Can Skateboarding Save Our Schools?: It's one of the best presentations on assessment and grading I have seen, and with skateboarding as the metaphor…well, it's all the more …rad! Here are the highlights from Dr. Tae!
February 1, 2012 By: Maryellen Weimer, PhD in Teaching Professor Blog For me examples are like pictures; worth a 1,000 words. In last week's post I wrote about the need to intervene in the development of student self-assessment skills, leaving the process less to chance and making it more the result of purposeful intervention. At a recent Teaching Professor Workshop, I saw an assignment that illustrates that kind of intervention. It was from a 100-level, Introduction to U.S.
i Rate This " Effective Schools Foster Experiences Provoking Reflection " – from Peter Pappas, one of our favorite bloggers – this saying is well correlated with our education ideal of learner-centered learning with autonomy .
Sarah Kaufman: I think of authentic assessment as my ability to teach each student where they actually are. I'm Sarah Kaufman. I teach sixth grade humanities at School of the Future. In order to know where they actually are, I have to be able to assess them really specifically and in a variety of ways that are appropriate for that student, so that what I'm doing is every day giving that child an environment where they're challenged, where they feel good about what they're learning and they feel like they're learning. Stacy Goldstein: What's been amazing to watch in Sarah's class as a sixth grade teacher is also, she just is extremely rigorous in what she demands from the kids. And so her class really has high standards.
Here you will find a hand selected index of authentic assessment resources. You are one click away from vital information about performance assessment, rubrics, negotiable contracting, and electronic portfolios. We include links to web based tools for creating your own assessments.