Cooking tips
20 Lunch Box Ideas for Kids I Bento Box Lunch Ideas I Kids Lunch Boxes. Arrr, Matey!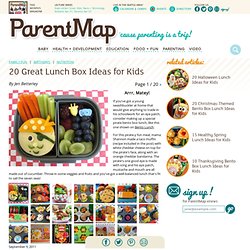 If you've got a young swashbuckler at home that would give anything to trade in his schoolwork for an eye patch, consider making up a special pirate bento box lunch, like this one shown on Bento Lunch. For this pirate-y fun meal, mama Shannon made a taco muffin (recipe included in the post) with white cheddar cheese on top for the pirate's face, along with an orange cheddar bandanna. The pirate's one good eye is made with icing and his eye patch, mustache and mouth are all made out of cucumber. Tips for Cookie and Brownie Mix In a Jar Article. View All Photos < Cooking Tips and Cooking Questions Answered. Every cook, being human, errs, bungles, botches, and screws up in the kitchen once in a while.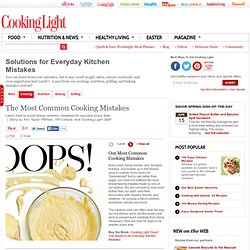 If you have not "caramelized" fruit in salt rather than sugar, you have not suffered the most embarrassing mistake made by one of our editors. We did not have to look much farther than our staff―and their encounters with readers, friends, and relatives―to compile a list of common, avoidable culinary boo-boos. The creative cook can often cook her way out of a kitchen error, but the smart cook aims to prevent such creativity from being necessary.
---