NewhouseSM4
LinkedIn Launches iPad App, Takes New Direction
Entering the Social Media Realm: Nonprofits
dr4ward.com/
Tango Card - What makes us so unique
Pinterest Founder Ben Silbermann Live Speech From L2
Scoop.it
Social media has become a powerful tool for journalists covering elections.
25 ways to use Facebook, Twitter & Storify to improve political coverage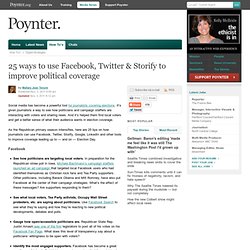 NewhouseSM4 Content with DR4Ward and Lynessa
Earlier this week, my group presented our team teaching presentation on Social TV in my social media class, #NewhouseSM4. Our presentation focused on the growth of integrating social media applications while watching television.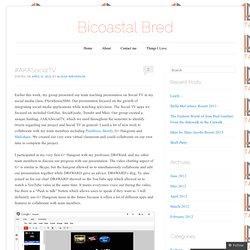 #AKASocialTV | Bicoastal Bred
Social Business: the Current Situation and Future Predictions (infographic)
Technology is changing the way people think and operate, but is it also degrading humanity? That's the premise behind Skype's new $12 million marketing campaign, which slams both Facebook and Twitter as it promotes its own more-intimate form of keeping in touch.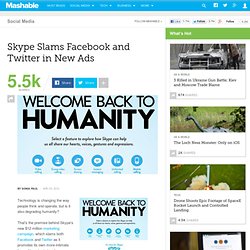 Skype Makes Facebook and Twitter the Enemy, Uses Enemy to Promote Itself
In her post about social media trends in 2012 Beverly Macy says content curation is important because people want to know what's important and they want to discover interesting and relevant content. "Competitive advantage goes to companies who quickly figure out how to enable effective aggregation curation. Look for rapid innovation in this field." There are already a slew of tools that enable curation of content. You can do it with a blog or use a more sophisticated platform like Curata.
Social Media Trends 2012 – Content Curation in PR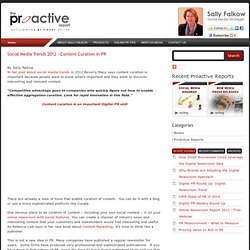 Social Data for Yield and Retention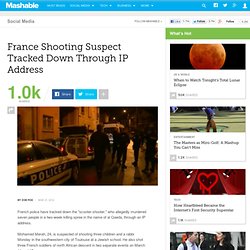 French police have tracked down the "scooter shooter," who allegedly murdered seven people in a two-week killing spree in the name of al Qaeda, through an IP address.
France Shooting Suspect Tracked Down Through IP Address
Legal Blogging: How to Craft the Right Strategy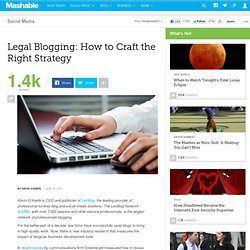 Kevin O'Keefe is CEO and publisher of LexBlog, the leading provider of professional turnkey blog and social media solutions.
Jobs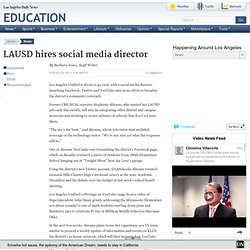 LAUSD hires social media coordinator
Los Angeles Unified is about to go viral, with a social media director launching Facebook, Twitter and YouTube sites in an effort to broaden the district's community outreach. Former CBS/KCAL reporter Stephanie Abrams, who started her LAUSD job early this month, will also be integrating other district and campus networks and working to create websites at schools that don't yet have them. "The sky's the limit," said Abrams, whose television stint included coverage of the technology sector. "We're not sure yet what the response will be." One of Abrams' first tasks was relaunching the district's Facebook page, which on Monday featured a photo of students from 186th Elementary School hanging out at "Tonight Show" host Jay Leno's garage.
How Social Media Is Changing The Landscape Of Customer Service [INFOGRAPHIC]
Job seekers getting asked for Facebook passwords
SEATTLE (AP) -- When Justin Bassett interviewed for a new job, he expected the usual questions about experience and references. So he was astonished when the interviewer asked for something else: his Facebook username and password. Bassett, a New York City statistician, had just finished answering a few character questions when the interviewer turned to her computer to search for his Facebook page.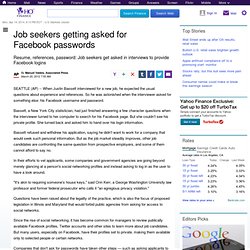 7 Tech CEOs Talk About Their iPad Obsession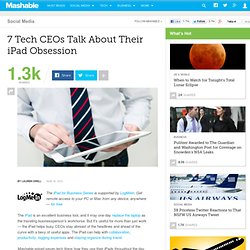 The iPad for Business Series is supported by LogMeIn. Get remote access to your PC or Mac from any device, anywhere — for free. The iPad is an excellent business tool, and it may one day replace the laptop as the traveling businessperson's workhorse.
BY DAVID HOLMES, 03-19-2012, Fastcompany. Not only are more Americans getting their news on mobile devices than ever before, but these mobile users may also have a stronger bond to news brands than their laptop/desktop-using counterparts.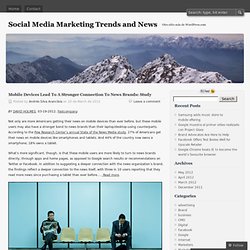 Mobile Devices Lead To A Stronger Connection To News Brands: Study « Social Media Marketing Trends and News
Facebook's New Privacy Policy Isn't All That Private
Is your college or university really doing a great job with social media? Lists like " Top 100 Social Media Colleges " and " 20 colleges making good use of social media " point out the growing role social media plays in higher education.
4 Ways Colleges Can Take Their Social Media Presence to the Next Level
How To: Perform Google Image Search on any Pinterest Image
Pinterest is the hottest social network, where everyone is into curating the content.
Don't Tag Me, Bro: How to Control Facebook Photo Tags Mashable Don't Tag Me, Bro: How to Control Facebook Photo Tags | The top source for social and digital news
How To Find A Job Using Social Media
So you are looking for a new job and you contact a recruitment agency and you apply, the trouble is you are one out of 100, 200 or even 300 people applying.
How to Make an Infographic of your Twitter Profile
Is This the Future of Books?
Can social media be reliable news source?
Social networks playing bigger role in job hunts
How Many Billionaires Has Facebook Created?
7 Success Secrets Of The World's Largest Blog
How to Make Your Tweets More Trustworthy [STUDY]
Google Now Larger Than Entire US Newspaper Industry
How to Make Your Tweets More Trustworthy [STUDY]
China moves to control Sina Weibo social network with real names
NFL Free Agents Gain New Power with Social Media
How Iceland Is Rebuilding Its Economy With Social Media
Why Design Matters
The Power of Connectivity in social media
'Sentiment Analysis' Aims to Sort Out Marketing Truths
Impact of Viral Videos and Social Media on Business | Social Media Chimps
Let's Talk About Social Business
What Are The 7 Elements Of Influence Power On Twitter?
Does Your Website Have Too Much Social Media Scenery?
Lenovo Plans to Be First to Make a Windows 8 Tablet [REPORT]
Is Guest Blogging an Effective Marketing Tool? | Raxa Design
10 Reasons Why Your Blog Gets No Traffic
"How Does Social Media Such As Blogs, Twitter And Facebook Help Your SEO? "
What Are Nonprofit Communication Trends For 2012
"How Non Profits Can Use Social Media – Facebook Edition"
Tandameshia/newhousesm4