Personal
NEITHER THE VEIL NOR THE FOUR WALLS
Professional Registration
Engineering Council - recognising professional excellence - Engineering Council Home
Having grown up watching planes fly over my house, all day and night, and having spent the last 27 years (of my 37 years on this Earth) generally found with a camera in my hand, it is only natural that I can at times be found shooting photos of airplanes. Over the years I've shot planes for news outlets, airlines, corporate clients, aircraft manufacturers and of course just for my own personal enjoyment. When I look at photographs I don't like obvious photos, and tend to dislike the 'easy' photos. Yes, obvious and easy photos have their place, and I am guilty of shooting them for various reasons, but more often than not when I go looking for photos, I stay away from what has become the boring " Formula" of shooting airplanes. What prompted me to discuss this today?
Flying With Fish - The Blog for Those Who Fly & Those Who Want to Fly Smarter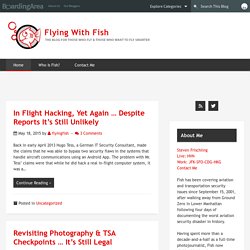 Immigrating to Canada
National Occupational Classification (NOC) 2006
The National Occupational Classification (NOC) 2011 provides a standardized language for describing the work performed by Canadians in the labour market. It is used for many applications including defining and collecting statistics, managing information databases, analyzing labour market trends and extracting practical career planning information. More importantly, it gives statisticians, labour market analysts, career counsellors, employers and individual job seekers a consistent way to collect data and describe and understand the nature of work. The NOC is developed in collaboration with Statistics Canada.