Cooking
Sweet Potato Donuts 3 Ways. Tex-Mex Chicken Casserole. Homemade Taco Seasoning | Not Rachael Ray. Homemade Taco Seasoning with no MSG or additives. 100% natural and delicious.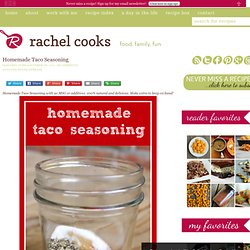 Make extra to keep on hand! I've written about this before, but it was buried in the middle of another post with ugly photos. My photography skills have a long way to go…but man oh man…they've come a long way since then! Sweet Potato Gnocchi. Easy and economical.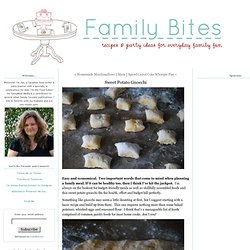 Two important words that come to mind when planning a family meal. If it can be healthy too, then I think I've hit the jackpot. I'm always on the lookout for budget-friendly meals as well as skillfully assembled foods and this sweet potato gnocchi fits the health, effort and budget bill perfectly. Something like gnocchi may seem a little daunting at first, but I suggest starting with a basic recipe and build up from there. Apple Flapjack recipe. 1.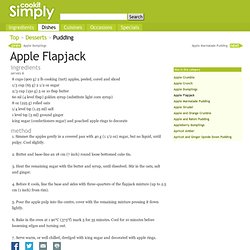 Simmer the apples gently in a covered pan with 40 g (1 1/2 oz) sugar, but no liquid, until pulpy. Cool slightly. Get Off Your Butt and BAKE! » Impressive recipes made simple. Recipes. Grilled pork fajitas. By Mayo Clinic Staff Dietitian's tip: This recipe uses pork tenderloin — a tender, lean meat.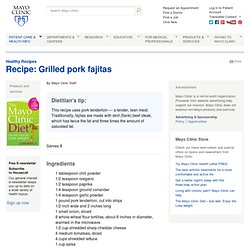 DASH diet recipes. Video: Homemade Nacho Cheese Sauce. Seven Layer Taco Dip Recipe. Video: How to Poach Eggs. Simple Whole Roasted Chicken Recipe. Ken Hom - Stir Fried Mixed Vegetables & Chinese Roast Pork. Prosciutto Wrapped Chicken Breast Stuffed with Dried Cherries - Valentine's Day Entree Special. Prosciutto-Wrapped Chicken Stuffed with Dried Cherries (Aphrodisiac-Amplifying Alcohol Sold Separately) As I mention in the opening of the video, this stuffed, prosciutto-wrapped chicken breast has everything you want in a Valentine's Day entrée; it looks fancy, it tastes amazing, and contains dried cherries, a known aphrodisiac.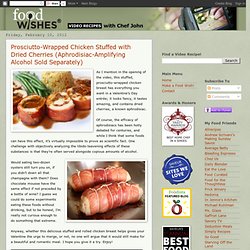 Of course, the efficacy of aphrodisiacs has been hotly debated for centuries, and while I think that some foods can have this effect, it's virtually impossible to prove as scientific fact. One challenge with objectively analyzing the libido-leavening effects of these substances is that they're often served alongside copious amounts of alcohol. Would eating two-dozen oysters still turn you on, if you didn't down all that champagne with them? Does chocolate mousse have the same effect if not preceded by a bottle of wine? I guess we could do some experiments eating these foods without drinking, but to be honest, I'm really not curious enough to do something that extreme. Food Wishes Video Recipes.
---