To know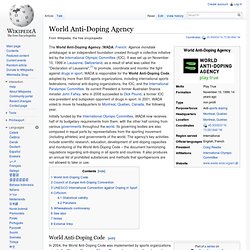 The World Anti-Doping Agency (WADA; French: Agence mondiale antidopage) is an independent foundation created through a collective initiative led by the International Olympic Committee (IOC).
World Anti-Doping Agency
Revolutionary Armed Forces of Colombia
Triad refers to the many branches of Chinese (Cantonese) transnational organized crime organizations based in Hong Kong, Macau, Taiwan and also in countries with significant Chinese populations, such as the Philippines, Indonesia, Malaysia, Singapore, Siam (now Thailand), Japan, the United States, Canada, Australia, New Zealand and the United Kingdom.
Triad (underground society)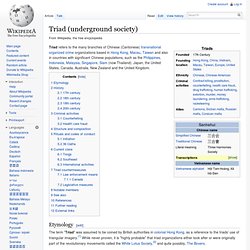 According to the classic definition, the Mafia is a criminal organization originating in Sicily.[1] However, the term "mafia" has become a generic term for any organized criminal network with similar structure, methods, and interests.
Sicilian Mafia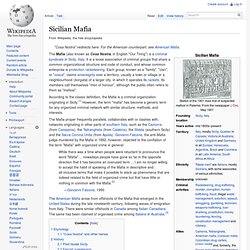 Yakuza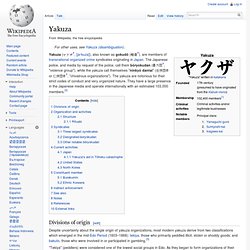 Yakuza (ヤクザ?
Sinaloa Cartel
Background[edit] City of Culiacán, Sinaloa, home base of the Cartel
Tibetan independence movement
The Tibetan independence movement is a movement for the independence of Tibet and the political separation of Tibet from the People's Republic of China. It is principally led by the Tibetan diaspora in countries like India and the United States, and by celebrities and Tibetan Buddhists in the United States and Europe.