Ideas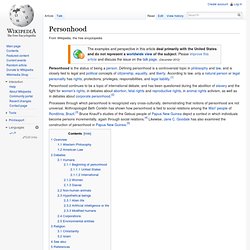 Personhood is the status of being a person . Defining personhood is a controversial topic in philosophy and law , and is closely tied to legal and political concepts of citizenship , equality , and liberty . According to law, only a natural person or legal personality has rights , protections, privileges, responsibilities, and legal liability . [ 1 ] Personhood continues to be a topic of international debate, and has been questioned during the abolition of slavery and the fight for women's rights , in debates about abortion , fetal rights and reproductive rights , in animal rights activism, as well as in debates about corporate personhood . [ 2 ]
Personhood
human robot The player provides you with lots of helpful features;it remembers which video you watched and where you were in the video, it streams the videos from youtube andthe buttons to the left change the narrator's voice, you can choose from the following two options: Human - three voices, two male and one female, with different accents. Robot - text reader Some may prefer the robot voice since it sounds a bit like AI, and it may give you the impression of a distant voice, analyzing the human species from distance;or some may prefer the warm, calm and sentimental voices of the human narrators with different accents which provide some diversity for such a long documentary. The language button for the website (left menu) will change the subtitle of the documentary as well if it exists, for example: if the documentary has been translated to Romanian and you choose Romanian for the website language the Romanian subtitle will be to added to the player as well.
Brains & Minds Laura Weed takes us on a tour of the mind/brain controversy. In the twentieth century philosophy of mind became one of the central areas of philosophy in the English-speaking world, and so it remains. Questions such as the relationship between mind and brain, the nature of consciousness, and how we perceive the world, have come to be seen as crucial in understanding the world.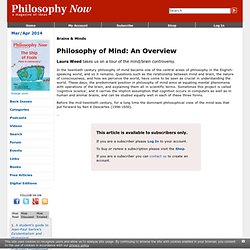 Philosophy of Mind: An Overview | Philosophy Now
Reductionism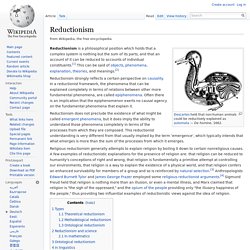 Descartes held that non-human animals could be reductively explained as automata — De homine , 1662. Reductionism can mean either (a) an approach to understanding the nature of complex things by reducing them to the interactions of their parts, or to simpler or more fundamental things or (b) a philosophical position that a complex system is nothing but the sum of its parts, and that an account of it can be reduced to accounts of individual constituents. [ 1 ] This can be said of objects , phenomena , explanation , theories , and meanings. [ 2 ] Reductionism strongly reflects a certain perspective on causality .
René Descartes 's illustration of dualism. Inputs are passed on by the sensory organs to the epiphysis in the brain and from there to the immaterial spirit. In philosophy of mind , dualism is the notion that mental phenomena are, in some respects, non-physical , [ 1 ] or that the mind and body are not identical. [ 2 ] Thus, it encompasses a set of views about the relationship between mind and matter, and is contrasted with other positions, such as physicalism , in the mind–body problem . [ 1 ] [ 2 ] Aristotle shared Plato 's view of multiple souls , (ψυχή psychē ) and further elaborated a hierarchical arrangement, corresponding to the distinctive functions of plants, animals and people: a nutritive soul of growth and metabolism, that all three share, a perceptive soul of pain, pleasure and desire, that only people and other animals share, and the faculty of reason, that is unique to people only.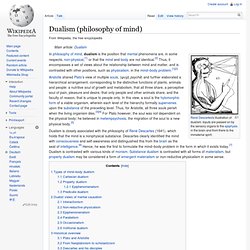 Verificationism
Verificationism is the view that a statement or question is only legitimate if there is some way to determine whether the statement is true or false, or what the answer to the question is. It is a view mostly closely associated with the logical positivists of the early twentieth century, who established and applied this doctrine to distinguish between meaningful and meaningless assertive sentences. However, the core idea of verificationism is much older, dating back at least to Hume and the empiricists , who believed that observation was the only way we can acquire knowledge . Historically, the verificationist criterion has been used to render meaningless, false, unscientific, or in some other way illegitimate many philosophical debates, due to their positing of unverifiable statements or concepts. Notoriously, verificationism was used by the logical positivists to rule out as meaningless religious , metaphysical , aesthetic , and ethical sentences.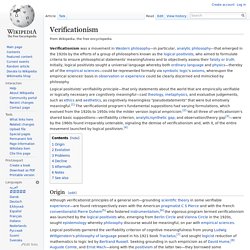 Six degrees of separation. Six degrees of separation is the theory that everyone and everything is six or fewer steps away, by way of introduction, from any other person in the world, so that a chain of " a friend of a friend " statements can be made to connect any two people in a maximum of six steps. It was originally set out by Frigyes Karinthy and popularized by a play written by John Guare . [ edit ] Early conceptions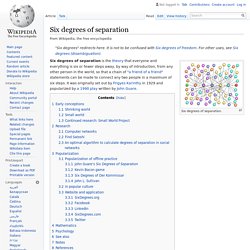 Solipsism ( i / ˈ s ɒ l ɨ p s ɪ z əm / ; from Latin solus , meaning "alone", and ipse , meaning "self") is the philosophical idea that only one's own mind is sure to exist. As an epistemological position, solipsism holds that knowledge of anything outside one's own mind is unsure.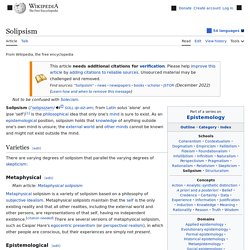 Pragmatism
Pragmatism is a philosophical tradition centered on the linking of practice and theory. It describes a process where theory is extracted from practice, and applied back to practice to form what is called intelligent practice . [ citation needed ] Important positions characteristic of pragmatism include instrumentalism , radical empiricism , verificationism , conceptual relativity , and fallibilism . [ citation needed ] There is general consensus among pragmatists that philosophy should take the methods and insights of modern science into account. [ 1 ] Charles Sanders Peirce (and his pragmatic maxim ) deserves much of the credit for pragmatism, [ 2 ] along with later twentieth century contributors, William James and John Dewey . [ 1 ] Pragmatism enjoyed renewed attention after W. V.