WordPress
Wordpress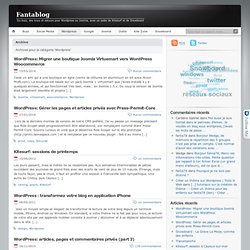 WordPress: Migrer une boutique Joomla Virtuemart vers WordPress Woocommerce J'aide un ami qui a une boutique en ligne (vente de clôtures en aluminium en kit www.Atout-Profil.com). La boutique est basée sur un pack Joomla + virtuemart que j'avais installé il y a quelques années, et qui fonctionnait très bien, mais… en Joomla 1.5.x.
Wordpress | Web Developer Juice
Changing File Permissions Languages: English • Español • Français • Português do Brasil • 日本語 • 中文(简体) • (Add your language) On computer filesystems, different files and directories have permissions that specify who and what can read, write, modify and access them. This is important because WordPress may need access to write to files in your wp-content directory to enable certain functions.
Changing File Permissions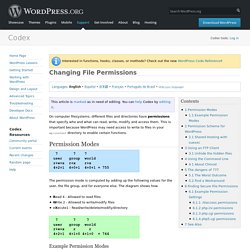 Note: This is a translation of my post WordPress Themes lokalisieren. Thanks to Ainslie Johnson for reviewing my translation. A few days ago the WP-Andreas09 theme for wordpress became available. This is based on a design by Andreas Viklund, Ainslie Johnson did a very good job of converting it for wordpress. Unfortunately the language used inside the templates was English, as it is for most themes available.
Localizing Wordpress Themes /// ZyBlog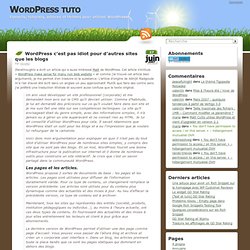 Ifacethoughts a écrit un article qui a aussi intéressé Matt de WordPress. Cet article s'intitule « WordPress make sense for many non blob website » et comme j'ai trouvé cet article bien argumenté, je me permet d'en traduire ici la substance. L'article d'origine de Abhijit Nadgouda m'a l'air d'avoir été écrit dans un anglais un peu approximatif. Plutôt que faire des contre sens j'ai préféré une traduction littérale et souvent aussi confuse que le texte original. Un ami veut développer un site professionnel (corporate) et me demandait mon avis sur le CMS qu'il devrait utiliser.
WordPress c'est pas idiot pour d'autres sites que les blogs
fr:Accueil Languages: English • العربية • Български • Čeština • Deutsch • Español • suomi • Français • עברית • Magyar • Bahasa Indonesia • Italiano • 日本語 • ქართული • 한국어 • ລາວ • Nederlands • Polski • Português • Português do Brasil • Русский • Română • Slovenčina • Slovenščina • Shqip • Svenska • ไทย • Türkçe • Tiếng Việt • 中文(简体) • 中文(繁體) • (Add your language) Bienvenue sur le portail francophone du Codex WordPress la documentation officielle de WordPress en français, écrite et maintenue par des utilisateurs tels que vous.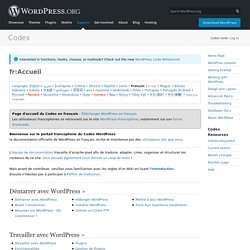 Support » RSS Error - The feed could not be found
Un plan de site – sitemap en anglais, est très utile pour vos visiteurs et les moteurs de recherche qui visualisent en un coup d'œil la structure de votre site. Avec WordPress, quelques lignes de code suffisent en utilisant les modèle de pages. N.B : ce tutoriel a été mis à jour le 21/11/2012.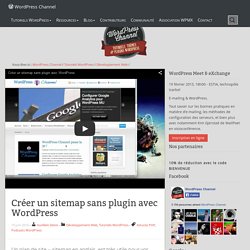 Cr?er un sitemap sans plugin avec WordPress