19-07-2010
LE1700. Issuu - You Publish. L'Objet du Jour : Chaque jour, découvrez un objet original ! Hutuxian's sound experiments [openFrameworks, Sound] - Drawing sound... Just came across these two openFrameworks examples by hutuxian.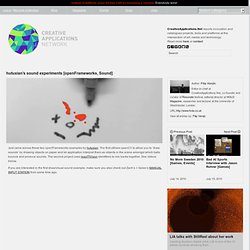 The first utilises openCV to allow you to 'draw sounds' by drawing objects on paper and let application interpret them as objects in the scene amongst which balls bounce and produce sounds. The second project uses reactTIVison identifiers to mix tracks together. See videos below. If you are interested in the first draw/visual sound example, make sure you also check out Zach's + Golan's MANUAL INPUT STATION from some time ago. The Final Frontier_The Directors Cut.
IMAGINARY FRIENDS STUDIOS. Jason Chan Art. Graphistes World | Votre monde graphique | Le Blog. BIG BANG BIG BOOM - the new wall-painted animation by BLU.
---