19-07-2010
LE1700
L'Objet du Jour : Chaque jour, découvrez un objet original !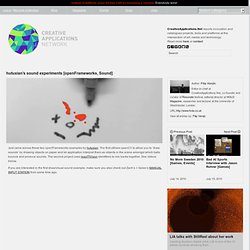 hutuxian's sound experiments [openFrameworks, Sound] - Drawing sound...
CreativeApplications.Net reports innovation and catalogues projects, tools and platforms at the intersection of art, media and technology. Read more here or contact å ä î ¯ ñ Search Just came across these two openFrameworks examples by hutuxian . The first utilises openCV to allow you to 'draw sounds' by drawing objects on paper and let application interpret them as objects in the scene amongst which balls bounce and produce sounds.
The Final Frontier_The Directors Cut