PRESENTACIONES
La Web 2.0 y sus aplicaciones didácticas
Aprende de una vez por todas a insertar vídeos en tus presentaciones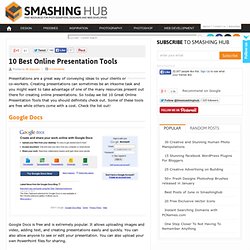 10 Best Online Presentation Tools
Presentations are a great way of conveying ideas to your clients or co-workers. Creating presentations can sometimes be an irksome task and you might want to take advantage of one of the many resources present out there for creating online presentations. So today we list 10 Great Online Presentation Tools that you should definitely check out. Some of these tools are free while others come with a cost.
Knovio is a trademark of KnowledgeVision Systems, Inc. All other trademarks and copyrights are property of their respective owners. Whether for business, education or individual use, Knovio adds your personality and improves the effectiveness of any presentation. Create: bring "flat" PowerPoint® slides to life with your webcam, microphone Edit: make changes, without the need for video editing software or skills Share: publish instantly to private spaces or your social networks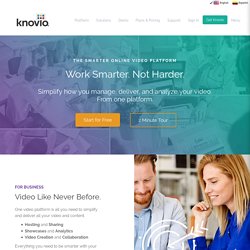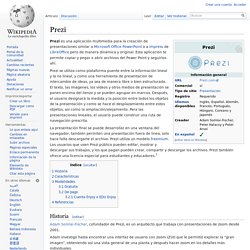 Prezi es una aplicación multimedia para la creación de presentaciones similar a Microsoft Office PowerPoint o a Impress de LibreOffice pero de manera dinámica y original. Prezi se utiliza como plataforma puente entre la información lineal y la no lineal, y como una herramienta de presentación de intercambio de ideas, ya sea de manera libre o bien estructurada. El texto, las imágenes, los videos y otros medios de presentación se ponen encima del lienzo y se pueden agrupar en marcos. Después, el usuario designará la medida y la posición entre todos los objetos de la presentación y como se hace el desplazamiento ente estos objetos, así como la ampliación/alejamiento. Para las presentaciones lineales, el usuario puede construir una ruta de navegación prescrita.
Prezi
La Web 2.0 en la Educación by Antonio Delgado on Prezi Argumentos relacionados Argumentos relacionados Una vez situados texto, marcos, etc... crearemos la secuencia, el camino de la historia planéalo como un viaje imaginemos que nuestro prezi es esta foto igualmente puedes hablar de tus ideas, situándolas en diversos lugares, relacionándolas, etc... ¡Gracias! podemos hablar del gato, de las vacas o del granero entero y usar zooms para tomar imágenes de cada elemento para enseñarte como crear fantásticas presentaciones Soy Zoey y voy a hablarte de Prezi en 15 minutos Hola details... details... details... details... details... details... details... details... details... details... details... details... details... details... details... details... details... details... details... details... details... details... details... details... details... details... details...
Prezi Demo
Tutorial para usar Prezi
slideshare_Tutorial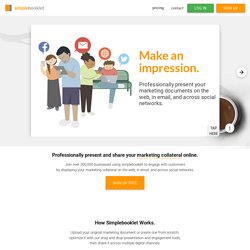 No More Ads We'll remove all third party advertisements from your booklet, including the simplebooklet watermark. Share to More Places
Tutorial SlideRocket. Parte 1
Web 2.0 y Educación by Iván CASTRILLON on Prezi
Web 2.0.wmv
Presentaciones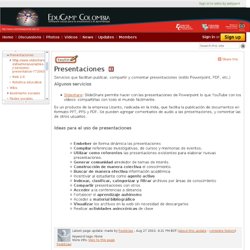 Servicios que facilitan publicar, compartir y comentar presentaciones (estilo Powerpoint, PDF, etc.) Algunos servicios Slideshare : SlideShare permite hacer con las presentaciones de Powerpoint lo que YouTube con los vídeos: compartirlas con todo el mundo fácilmente. Es un producto de la empresa Uzanto, radicada en la India, que facilita la publicación de documentos en formato PPT, PPS y PDF. Se pueden agregar comentarios de audio a las presentaciones, y comentar las de otros usuarios. Ideas para el uso de presentaciones