Programmation
Bourne-Again shell. Un article de Wikipédia, l'encyclopédie libre.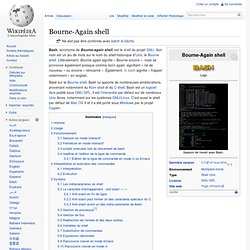 Bash, acronyme de Bourne-again shell, est le shell du projet GNU. Son nom est un jeu de mots sur le nom du shell historique d'Unix, le Bourne shell. Changing File Permissions. Changing File Permissions Languages: English • Español • Français • Português do Brasil • 日本語 • 中文(简体) • (Add your language) On computer filesystems, different files and directories have permissions that specify who and what can read, write, modify and access them.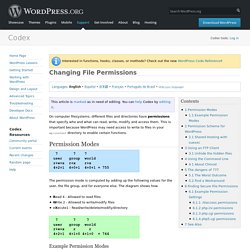 CONNAITRE LE TYPE D'UN FICHIER TEXTE BRUT (ANSI, UTF8, UNICODE, UNICODE BIG ENDIAN, RTF) type, fichier, txt, doc, rtf, Source N°34491 Delphi. Suite a un probleme d'un membres de Delphi.fr qui ne savais pas comment connaitre le type d'un fichier texte brut, je me suis donc affairé sur cette fonction simple d'un niveau debutant. elle permet de reconnaitre les fichiers texte (.txt) au format Ansi (ascii), UTF8, Unicode et Unicode big endian, RTF et egalement Word Document (peut ne pas fonctionner avec tout les fichiers .Doc).
Source / Exemple : Open Feedback Publishing System. Open Feedback Publishing System (OFPS) is now retired.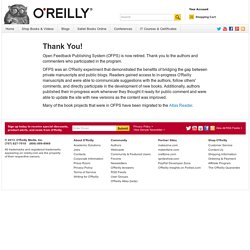 Thank you to the authors and commenters who participated in the program. OFPS was an O'Reilly experiment that demonstrated the benefits of bridging the gap between private manuscripts and public blogs. Readers gained access to in-progress O'Reilly manuscripts and were able to communicate suggestions with the authors, follow others' comments, and directly participate in the development of new books. Additionally, authors published their in-progress work whenever they thought it ready for public comment and were able to update the site with new versions as the content was improved. Many of the book projects that were in OFPS have been migrated to the Atlas Reader.
jQuery: The Write Less, Do More, JavaScript Library. Create a new Fiddle - jsFiddle - Online Editor for the Web (JavaScript, MooTools, jQuery, Prototype, YUI, Glow and Dojo, HTML, CSS) Resource Description Framework. Un article de Wikipédia, l'encyclopédie libre.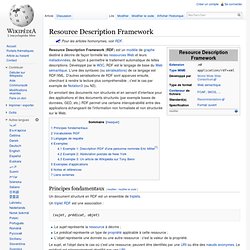 Pour les articles homonymes, voir RDF. En annotant des documents non structurés et en servant d'interface pour des applications et des documents structurés (par exemple bases de données, GED, etc.) RDF permet une certaine interopérabilité entre des applications échangeant de l'information non formalisée et non structurée sur le Web. Principes fondamentaux[modifier | modifier le code] Un document structuré en RDF est un ensemble de triplets.
---