Programmation
Un article de Wikipédia, l'encyclopédie libre. Bash , acronyme de Bourne-again shell , est le shell du projet GNU . Son nom est un jeu de mots sur le nom du shell historique d' Unix , le Bourne shell .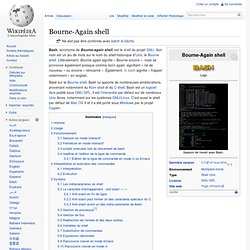 Changing File Permissions Languages : English • Français • Português do Brasil • 日本語 • 中文(简体) • ( Add your language ) On computer filesystems, different files and directories have permissions that specify who and what can read, write, modify and access them.
Changing File Permissions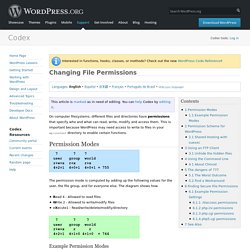 Woila, vus la simplicitée de la fonction on pourrait meme ajouter d'autre type de documents qu'ils soit texte brut ou texte formater (RTF, DOC, PDF ect...). Notez bien que certain format comme le unicode ont une signature de seulement 2 octets et pas 3 comme les autres. Il ya egalement un interet a savoir si le fichier est Unicode ou Unicode Big Endian car en unicode les caracteres ne sont pas codé sur 8bits (Ansi / UTF8) mais sur 16bits. par exemple, la lettre "a" a pour valeur ordinale x61 en Ansi et UTF8, sa valeur en Unicode est x6100 et en Unicode Big Endian c'est x0061 et il en est de meme pour tout les caracteres icompris le code de retour chariot (x0D0A) : Ansi/UTF8 = x0D0A Unicode = x0D000A00 Unicode BE= x000D000A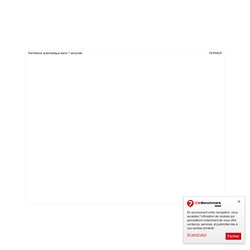 CONNAITRE LE TYPE D'UN FICHIER TEXTE BRUT (ANSI, UTF8, UNICODE, UNICODE BIG ENDIAN, RTF) type, fichier, txt, doc, rtf, Source N°34491 Delphi
Open Feedback Publishing System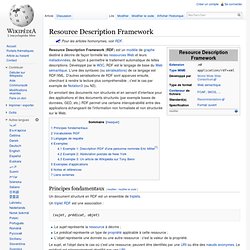 Un article de Wikipédia, l'encyclopédie libre. Pour les articles homonymes, voir RDF . Resource Description Framework ( RDF ) est un modèle de graphe destiné à décrire de façon formelle les ressources Web et leurs métadonnées , de façon à permettre le traitement automatique de telles descriptions. Développé par le W3C , RDF est le langage de base du Web sémantique . L'une des syntaxes (ou sérialisations ) de ce langage est RDF/XML. D'autres sérialisations de RDF sont apparues ensuite, cherchant à rendre la lecture plus compréhensible ; c'est le cas par exemple de Notation3 (ou N3).