Gestion de projet
Get flash to fully experience Pearltrees
Educators often feel ambivalent about the pursuit of efficiency in education. On the one hand, there is a basic belief that efficiency is a good and worthy goal; on the other hand, there is sense of worry that efforts to improve efficiency will ultimately undermine what lies at the heart of high-quality education. Part of the difficulty stems from a misunderstanding about the meaning of efficiency as well as from the legacy of past, sometimes misguided, efforts to improve the efficiency of educational systems.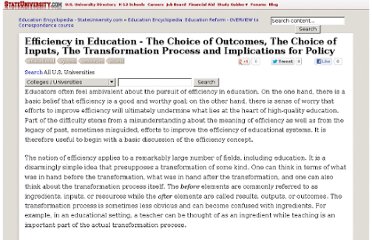 Pourquoi ce billet? Léonard de Vinci disait que la simplicité était la sophistication suprême. J'ai récemment lu un ouvrage intitulé " De la simplicité ". Son auteur se propose d'"atteindre la simplicité à l'ère numérique".
nSuite à ma petite sortie sur l'entreprise 2.0, beaucoup de choses très instructives se sont déroulées. Qu'il me soit permis de remercier les abonnés du flux ainsi que les "Re-Twitters" qui m'ont permis de multiplier par 25 l'audience de ce modeste blog, notamment Anthony Poncier pour le RT initial, et Thierry de Baillon (dont je comprend la revendication druckerienne, pensant effectivement que les idées de ce grand monsieur de l'entreprise moderne ne sont pas assez diffusées, voir par exemple ici ou là , et que je remercie également de parler autant de moi en mal là aussi sur Twitter !). Parlant de choses instructives, je pense avant tout aux différentes remarques sur les justifications théoriques de la collaboration, dont beaucoup se réfèrent à un papier de D.J. Snowden dans la HBR de Novembre 2007.
Une carte réalisée avec XMind à partir de l'entrevue vidéo d'Alain Berthoz La simplexité est un concept dont on parle depuis un certain nombre d'années, notamment dans les domaines du design, des mathématiques ou de la géologie. Fondamentalement il est la contraction de simplicité et de complexité. En Design, il consiste à rendre simple et facile à utiliser des objets complexes. À mes yeux le moteur de recherche Google possède des qualités simplexes.
As the project management profession evolves, we continue to expand and update our library of standards. Standards development activities PMI's standards are developed through a voluntary consensus process.
Enjoy more efficient access to the knowledge in PMI's global standards and gain insight on your project management capabilities with PMI Standards Navigator and PMI Standards Benchmark. PMI Standards Navigator PMI Standards Navigator is an innovative online tool that gives you quick, instant access to PMI's standards and other knowledge resources.
After over a decade of research into what organizational democracy is, we've discovered the ten principles that it takes to cultivate a highly successful and sustainable democratic workplace. These 10 Principles of Organizational Democracy must be put into practice on both the individual and leadership levels, and be supported by democratic systems and processes to have a successful democratic organization. Purpose and Vision A democratic organization is clear about why it exists (its purpose) and where it is headed and what it hopes to achieve (its vision). These act as its true North, offering guidance and discipline to the organization's direction.
In project management , a work package (WP) is a subset of a project that can be assigned to a specific part for execution. Because of the similarity, work packages are often misidentified as projects. Work packages are defined by brief statements of Activity Description, Activity Resources of Skill and Expertise, Activity Estimates of Effort and Duration, Activity Schedule, Activity Risks, and Activity Budget. Work Packages are assigned a Work Authorization or Control Account. [ 1 ]
Un article de Wikipédia, l'encyclopédie libre. Une roadmap (En français: calendrier de lancement ou plus largement feuille de route ) est une représentation graphique simplifiée permettant de communiquer et de partager efficacement une intention stratégique afin de mobiliser, d'aligner et de coordonner les efforts des parties prenantes pour atteindre un ou plusieurs objectifs [ 1 ] . Roadmap de mise en production logicielle [ modifier ] Très ressemblante à un planning de version logiciel, elle apporte une vision plus générale notamment si plusieurs applications informatiques sont impactées par un projet. En effet, si on peut se contenter d'un suivi de version applicative pour des projets informatiques mono ou duo applicatifs, l'assemblage de plusieurs briques de composants peut se révéler périlleuse pour le SI si une vision roadmap globale n'existe pas.