Seguridad
VASTO - The Virtualization Assessment Toolkit
There is a new tool for anti virus bypass which allows an attacker to inject shellcode into a process Post exploitation. Enabling the attacker to pass a shell to a remote location, generally i assume this would be a meterpreter shell for obvious reasons. Those of us who penetration test for a living are aware of the need to sometimes have a shell after obtaining gui system access. Buuuut Antivirus can be a real pain in the ass sometimes. A few people came to me today saying they tried this new technique and it looked awesome but was not functioning correctly, below is a description of why it was not working for them and how to fix it.. here is a link for the program as reference. https://sites.google.com/site/mamit30/home/injector
Bypassing AntiVirus With Process Injection
Intelligent Information Security | Free Software
Web Application Security Penetration Testing :: Collections
GPU Rainbow Cracker
Overview The Cryptohaze GPU Rainbow Cracker is a fully GPU and OpenCL accelerated set of rainbow table tools. Unlike the existing CUDA accelerated rainbow table tools that simply accelerate the stock RainbowCrack tables, the Cryptohaze rainbow tables are a totally ground up implementation.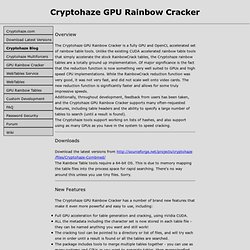 signedness.org
MITM-SSL is a tool for performing Man In The Middle attacks against SSL services. The tool listens on port 443 (HTTPS) by default and redirects connecting clients to the address specified as 'Host:' in the HTTP header (a static route can also be set). The data sent from the client to the real server can be scanned for passwords (at least for the protocols HTTP, LDAP, FTP, IMAP, IRC, POP3 and SMTP) but can also be logged to a file.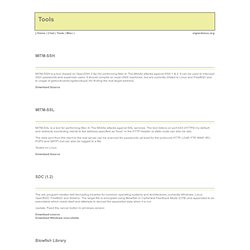 eaea.sirdarckcat
Taller de Criptograf a de Arturo Quirantes Sierra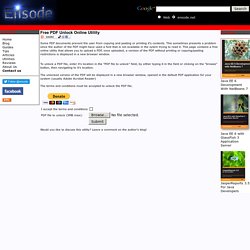 Some PDF documents prevent the user from copying and pasting or printing it's contents. This sometimes presents a problem since the author of the PDF might have used a font that is not available in the sytem trying to read it. This page contains a free online utility that allows you to upload a PDF, once uploaded, a version of the PDF without printing or copying/pasting restrictions is displayed in a new browser window. To unlock a PDF file, enter it's location in the "PDF file to unlock" field, by either typing it in the field or clicking on the "browse" button, then navigating to it's location.
Security Database Tools Watch
Sacar contraseñas de firefox
We are all often told to try and stay security conscious online or when using applications that require secure access, and passwords is one of the most important parts of creating a more secure environment for yourself. It's not unusual to end up with different login details for every site and program that needs it which is the most secure way. This is especially important when there are multiple users on the same machine as using a single password for everything could give someone access to your personal information very easily. With the possibility of so many different passwords to remember, it could become quite a nightmare trying to log into a website, email program or instant messenger etc, if it wasn't for the ability to save them on your PC so you don't have to remember them.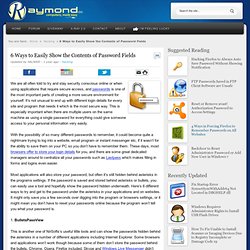 Security Projects - Security Projects
viking [pipper]
Pandora FMS - Sistema de Monitorización Libre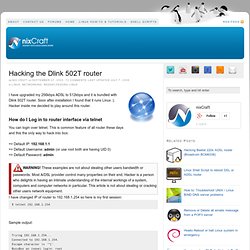 I have upgraded my 256kbps ADSL to 512kbps and it is bundled with Dlink 502T router. Soon after installation I found that it runs Linux :). Hacker inside me decided to play around this router. How do I Log in to router interface via telnet You can login over telnet.
Hacking the Dlink 502T router
hacks - Google Code
La WeB de DragoN
diseño y fabricación de lectores de tarjeta inteligente
Tools | iSEC Partners
Hispasec - Seguridad Informática
Instituto para la Seguridad en Internet - Cursos