Japon Tremblement de terre
Get flash to fully experience Pearltrees
L'économie japonaise s'est contractée au quatrième trimestre d'une année 2011 gâchée par les catastrophes naturelles, les hésitations de la croissance mondiale et la vigueur du yen, mais le gouvernement espère un rebond de l'activité en 2012. Sur l'ensemble de 2011, le produit intérieur brut (PIB) de la troisième puissance économique mondiale s'est effrité de 0,9 %, une nouvelle année de récession pour l'archipel après les reculs subis sur fond de crise financière internationale en 2008 (– 1 %) et 2009 (– 5,5 %). Le rebond de 2010 (+ 4,4 %), déjà atténué par un ralentissement de la consommation en fin de période, a été brisé par le séisme et le tsunami du 11 mars, qui ont entravé la production des usines de l'archipel pendant des mois.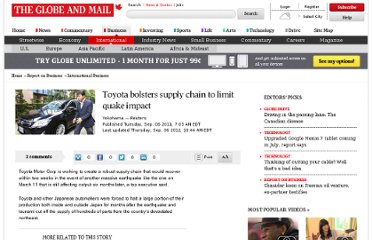 Toyota Motor Corp is working to create a robust supply chain that would recover within two weeks in the event of another massive earthquake like the one on March 11 that is still affecting output six months later, a top executive said. Toyota and other Japanese automakers were forced to halt a large portion of their production both inside and outside Japan for months after the earthquake and tsunami cut off the supply of hundreds of parts from the country's devastated northeast. "We're making checks now to see what needs to be done to enable a recovery within two weeks when the next one -- expected in the central Tokai region -- comes," Executive Vice President Shinichi Sasaki told Reuters in an interview on Tuesday. "We're about 80 per cent done with these checks," he said.
Voici par ordre décroissant les plus importants séismes depuis le début du XXe siècle.
Combien sont-ils ?