Writing Exercises
201 Ways to Arouse Your Creativity. Arouse your creativity A guest post by Katie Tallo of Momentum Gathering.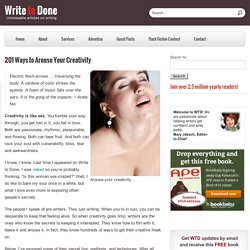 Electric flesh-arrows … traversing the body. A rainbow of color strikes the eyelids. A foam of music falls over the ears. Questionnaires for Writing Character Profiles - Creative Writing Help. Enter your e-mail to get the e-book for FREE.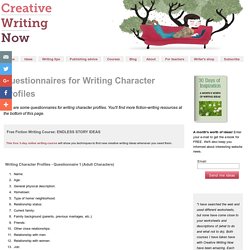 We'll also keep you informed about interesting website news. "I have searched the web and used different worksheets, but none have come close to your worksheets and descriptions of (what to do and what not to do). Both courses I have taken have with Creative Writing Now have been amazing. Each time I have learned something new. Cure writer's block with writing prompts - writing tips character name generator. Oneword.com. Writer's Digest - Writing Prompts. [description]Get daily creative writing prompts for your short story, fiction or nonfiction novel, essay and more at WritersDigest.com.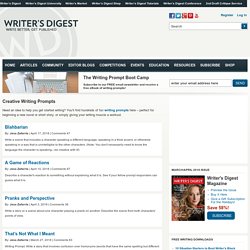 [/description] [keywords]writing prompts, creative writing prompts, expository writing prompts, writing prompt[/keywords] Need an idea to help you get started writing? 80 Journal Writing Prompts | TomSlatin.com. Exercises for Fiction Writers - Page 2. English 50 – Intro to Creative Writing: Exercises for Story Writers More Exercises: Write the first 250 words of a short story, but write them in ONE SENTENCE.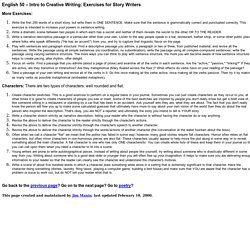 Make sure that the sentence is grammatically correct and punctuated correctly. This exercise is intended to increase your powers in sentence writing. English 50 Exercises for Story Writers. English 50 – Intro to Creative Writing: Exercises for Story Writers Basic Theory: What is a short story?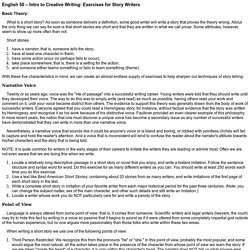 As soon as someone delivers a definition, some good writer will write a story that proves the theory wrong.
---