World politics
Um novo retrato da desigualdade global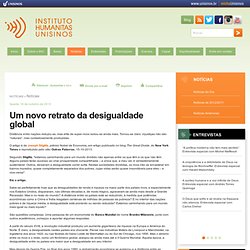 Distância entre nações reduziu-se, mas elite de super-ricos isolou-se ainda mais. Tornou-se claro: injustiças não são "naturais", mas cuidadosamente produzidas. O artigo é de Joseph Stiglitz, prêmio Nobel de Economia, em artigo publicado no blog The Great Divide, do New York Times e reproduzido pelo sítio Outras Palavras, 15-10-2013.
Z Blogs | 9-11: Institutional Analysis vs. Conspiracy Theory
WebCite query result
Mundo - As ligações perigosas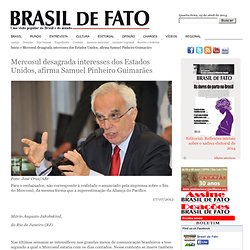 Mercosul desagrada interesses dos Estados Unidos, afirma Samuel Pinheiro Guimarães
Para o embaixador, não corresponde à realidade o anunciado pela imprensa sobre o fim do Mercosul, da mesma forma que a superestimação da Aliança do Pacífico Mário Augusto Jakobskind, do Rio de Janeiro (RJ) Nas últimas semanas se intensificou nos grandes meios de comunicação brasileiros a tese segundo a qual o Mercosul estaria com os dias contados.
No último mês de junho, o mundo tomou conhecimento do maior programa de monitoramento em massa de comunicações de que se tem notícia até hoje, promovido pela Agência Nacional de Segurança, a NSA, do governo dos Estados Unidos. As revelações foram feitas pelo ex-consultor Edward Snowden, que trabalhou para a NSA e copiou milhares de documentos sigilosos. Vazados inicialmente para o jornal britânico The Guardian (publicados pelo colunista Greenwald, que também assina esta reportagem), os papéis revelam a escala global da ação da NSA. No mês passado, o jornal O Globo revelou que o Brasil era um dos alvos prioritários da ação da agência americana. Em Brasília, o porta-voz escalado pelo governo americano para tratar de um assunto tão delicado foi o embaixador Thomas Shannon Jr., no cargo desde fevereiro de 2010. Ele minimizou o conteúdo das reportagens.
A carta em que o embaixador americano no Brasil agradece o apoio da NSA - ÉPOCA | Tempo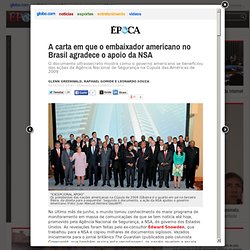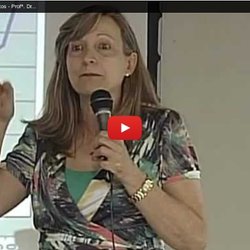 This video is currently unavailable. Sorry, this video is not available on this device. Video player is too small. Play
▶ Divida Pública, Orçamento e Gastos - Profª. Dra. María Lúcia Fattorelli
Blackwater's Black Ops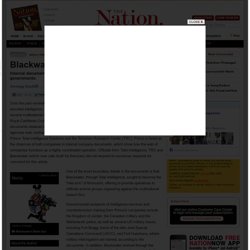 Internal documents reveal the firm's clandestine work for multinationals and governments. Over the past several years, entities closely linked to the private security firm Blackwater have provided intelligence, training and security services to US and foreign governments as well as several multinational corporations, including Monsanto, Chevron, the Walt Disney Company, Royal Caribbean Cruise Lines and banking giants Deutsche Bank and Barclays, according to documents obtained by The Nation . Blackwater's work for corporations and government agencies was contracted using two companies owned by Blackwater's owner and founder, Erik Prince: Total Intelligence Solutions and the Terrorism Research Center (TRC).
Serj Tankian - Borders Are - Lyric Video
international organizations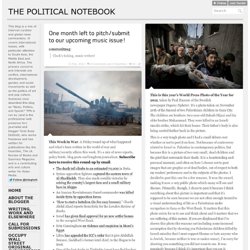 The Political Notebook
Ta-Nehisi Coates on the "postracial" politics of the ongoing Lindsay Graham/John McCain/Susan Rice story. This is an incredibly important point about what's happening with John McCain and Lindsay Graham in their attacks on Susan Rice, and more broadly when it has come to Republican attacks on people who are not white and male: it is currently very much to their benefit within their party to be seen doing so. In fact, more than simply to their benefit.
Crise econômica de 2008-2012
Origem: Wikipédia, a enciclopédia livre. Mapa-múndi mostrando taxas de crescimento real do PIB para 2009. (Países em marrom estão em recessão econômica.) A Grande Recessão[1] é uma crise económica global que ainda hoje se faz sentir após a crise financeira internacional precipitada pela falência do tradicional banco de investimento estadunidense Lehman Brothers, fundado em 1850. Em efeito dominó, outras grandes instituições financeiras quebraram, no processo também conhecido como "crise dos subprimes".[2] [3] Alguns economistas, no entanto, consideram que a crise dos subprimes tem sua causa primeira no estouro da "bolha da Internet" (em inglês, dot-com bubble), em 2001, quando o índice Nasdaq (que mede a variação de preço das ações de empresas de informática e telecomunicações) despencou.[4]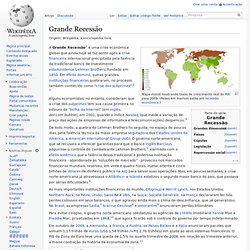 "As long as the Internet was under control of the Pentagon, it was free. People could use it freely [for] information sharing. That remained true when it stayed within the state sector of the National Science Foundation. As late as about 1994, people like say, Bill Gates, had no interest in the Internet.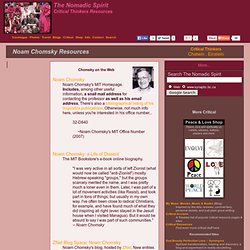 Noam Chomsky Resources :: Critical Thinkers