WordPress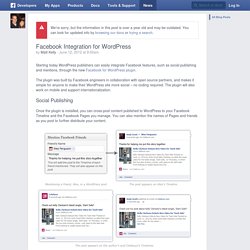 Starting today WordPress publishers can easily integrate Facebook features, such as social publishing and mentions, through the new Facebook for WordPress plugin. The plugin was built by Facebook engineers in collaboration with open source partners, and makes it simple for anyone to make their WordPress site more social – no coding required. The plugin will also work on mobile and support internationalization. Social Publishing Once the plugin is installed, you can cross-post content published to WordPress to your Facebook Timeline and the Facebook Pages you manage.
Integration for WordPress - Facebook developers
Excerpt
Excerpt Languages: English • العربية • Español • Français • Português do Brasil • Русский • 日本語 • 中文(简体) • (Add your language) The WordPress Excerpt is an optional summary or description of a post; in short, a post summary. The Excerpt has two main uses: It replaces the full content in RSS feeds when the option to display summaries is selected in Dashboard › Settings › Reading. Depending on the WordPress theme, it can be displayed in places where quick summaries are preferable to full content: Search results Tag archives Category archives Monthly archives Author archives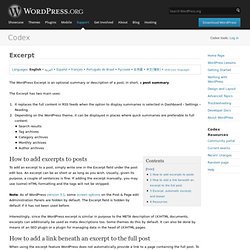 Revolver Maps - Free 3D Visitor Maps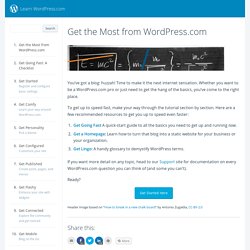 You've got a blog: huzzah! Now, it's time to make it the next internet sensation. Whether you want to be a WordPress.com pro or just need to get the hang of the basics, you've come to the right place.
Podcast: Play in new window | Download Christina Warren We are kicking things off this year with Christina Warren, a writer, podcaster, blogger, twitterer (@film_girl) and all round gadget-junkie.
The WordPress Podcast
Wordpress Starter Tips
Installing WordPress Using Fantastico De Luxe
Redirection is a WordPress plugin to manage 301 redirections, keep track of 404 errors, and generally tidy up any loose ends your site may have. This is particularly useful if you are migrating pages from an old website, or are changing the directory of your WordPress installation. Features include: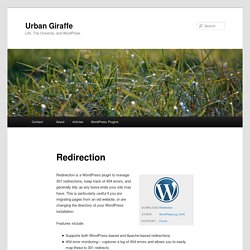 Formatting text pt. 1: blank lines, alignment, wrap-around, two columns
Paragraph breaks and blank lines Pressing return in the visual editor gives a line break plus a blank line. If you want a line break only, you press shift-return.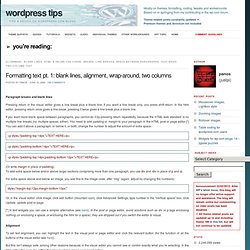 Top 100 Resources for WordPress Tips, Tricks, and Tutorials | WHdb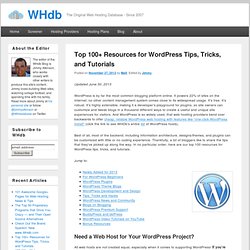 Updated June 30, 2013 WordPress is by far the most common blogging platform online. It powers 22% of sites on the Internet; no other content management system comes close to its widespread usage.
WordPress theming: pushing trackbacks down
%title-text% Did you enjoy this article? Note: The Full Editor in OptinSkin Comes with Even More Settings "For 3 years, I've tried to customize and test my email opt-in box on various blogs and projects.
OptinSkin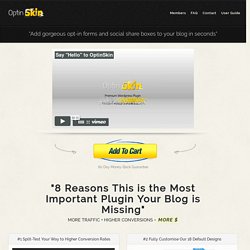 WordPress Security & Backup
How To Optimize Your Existing WordPress Blog Posts For SEO
So you wrote a lot of great posts over the past few years which still receive a lot of traffic from search engines, but you're always wondering how long it will last. Or maybe you were affected by the latest Google Panda or Penguin changes and lost some traffic to that old content? Perhaps you have noticed that you have been affected by these issues, perhaps not. Whether you are affected or not, one question remains: how do I clean up and optimize my existing blog posts?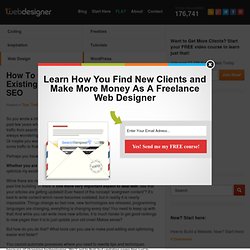 How To Rank On Google On Page One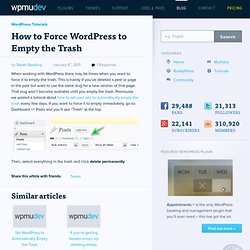 When working with WordPress there may be times when you want to force it to empty the trash. This is handy if you've deleted a post or page in the past but want to use the same slug for a new version of that page. That slug won't become available until you empty the trash. Previously we posted a tutorial about how to set your site to automatically empty the trash every few days. If you want to force it to empty immediately, go to: Dashboard >> Posts and you'll see "Trash" at the top: Then, select everything in the trash and click delete permanently.
How to Force WordPress to Empty the Trash
How To Make Your WordPress Posts Work Harder
How To Make A Mobile Website In 20 Minutes
Is Your WordPress Site Slow? Speed Up Performance Right Now
Directory Script - Create Directory Websites in Minutes!
WordPress needs no introduction in designing field. It usually known as a synonym for blogging. When working on a WordPress blog, your posts often take the important place. However, the comments on the posts are often just as important as they create quality and valuable discussion. on the other hand if you have default WordPress comment box then there is no fun in commenting for readers as well as writers.
30 Most Wanted WordPress Comments Page Hacks | Tutorials