Books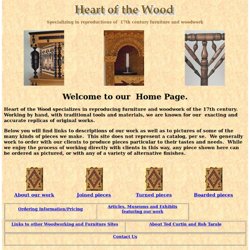 Specializing in reproductions of 17th century furniture and woodwork Heart of the Wood specializes in reproducing furniture and woodwork of the 17th century. Working by hand, with traditional tools and materials, we are known for our exacting and accurate replicas of original works. Below you will find links to descriptions of our work as well as to pictures of some of the many kinds of pieces we make. This site does not represent a catalog, per se. We generally work to order with our clients to produce pieces particular to their tastes and needs.
Heart of the Wood: 17th Century Reproduction Furniture
Furniture Treasury (2 Volumes in 1) (9780025909809): Wallace Nutting
www.highlandwoodworking.com/library/steambox.pdf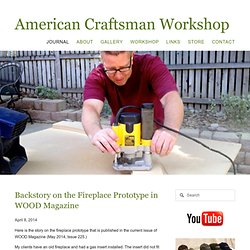 Being awash in the woodworking supplies you may be surprised at what I purchased during my visit to the Woodcraft store, nothing but the latest copy of "Woodwork" - Issue 120. After wading through all the tools and checking out the woodworking whizzy wigs and doodads, I bought a magazine. It really sunk in that while I don't have every tool, I have every tool that I really need to build the types of projects that I build in my shop and on the job site. As one of my clients (who is a very smart business man) pointed out, "You have a well appointed shop. It looks like you have just what you need to get the job done.