Women & the Economy
The Geography of Women's Economic Opportunity - Jobs & Economy. At the APEC Summit this past September, Secretary of State Hillary Rodham Clinton argued that women are a great untapped economic resource.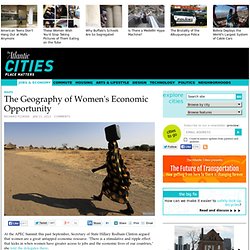 "There is a stimulative and ripple effect that kicks in when women have greater access to jobs and the economic lives of our countries," she told the delegates there. It's a noble aspiration to be sure, but substantial barriers remain. Five Surprisingly Good Places to Be a Woman - By David Kenner and Uri Friedman. When we think about the best places in the world to be a woman, Northern Europe typically springs to mind.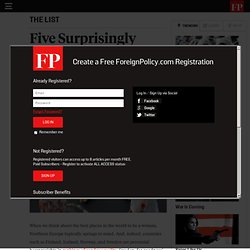 And, indeed, countries such as Finland, Iceland, Norway, and Sweden are perennial heavyweights in rankings of gender equality. Sweden, for goodness' sake, offers women (fine, men too) 480 days of paid maternity leave -- at 80 percent of salary -- which can be taken at any point until the child is 8 years old. The Worst Places to Be a Woman - By Valerie M. Hudson. "Sustaining Women" by Kandeh K. Yumkella , Michelle Bachelet and Margaret Chan. Exit from comment view mode.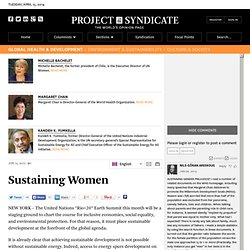 Click to hide this space NEW YORK – The United Nations "Rio+20" Earth Summit this month will be a staging ground to chart the course for inclusive economies, social equality, and environmental protection. Why the Gender Gap Won't Go Away. Ever. by Kay S. Hymowitz, City Journal Summer 2011. Kay S.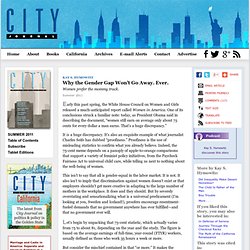 Hymowitz Why the Gender Gap Won't Go Away. Ever. Women prefer the mommy track. How Our Brains Turn Women Into Objects. Recent reports of a mountain lion or cougar stalking the campus of the University of Iowa prompted campus jokesters to tweet their surprise that Michelle Bachman was in town.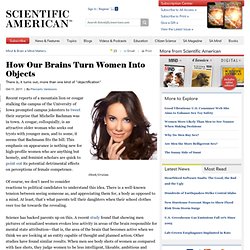 A cougar, colloquially, is an attractive older woman who seeks out trysts with younger men, and to some, it seems that Bachmann fits the bill. This emphasis on appearance is nothing new for high-profile women who are anything but homely, and feminist scholars are quick to point out its potential detrimental effects on perceptions of female competence. Of course, we don't need to consider reactions to political candidates to understand this idea. Rebekah Brooks and Ina Drew: When Women in Power Are Punished - Business. There's a new fall gal in town.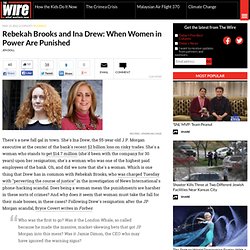 She's Ina Drew, the 55-year-old J.P. Morgan executive at the center of the bank's recent $2 billion loss on risky trades. She's a woman who stands to get $14.7 million (she'd been with the company for 30 years) upon her resignation; she's a woman who was one of the highest paid employees of the bank. Oh, and did we note that she's a woman. Which is one thing that Drew has in common with Rebekah Brooks, who was charged Tuesday with "perverting the course of justice" in the investigation of News International's phone-hacking scandal. Magazine - Why Women Still Can't Have It All. It's time to stop fooling ourselves, says a woman who left a position of power: the women who have managed to be both mothers and top professionals are superhuman, rich, or self-employed.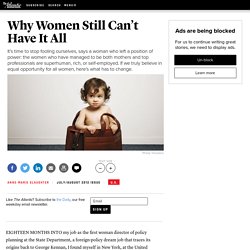 If we truly believe in equal opportunity for all women, here's what has to change. Phillip Toledano Eighteen months into my job as the first woman director of policy planning at the State Department, a foreign-policy dream job that traces its origins back to George Kennan, I found myself in New York, at the United Nations' annual assemblage of every foreign minister and head of state in the world.
On a Wednesday evening, President and Mrs. Business - Lori Gottlieb - Why There's No Such Thing as 'Having It All'—and There Never Will Be. Women can't have everything they want all of the time.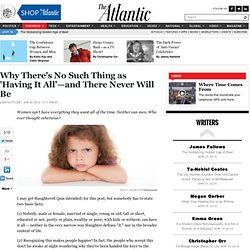 Neither can men. Who ever thought otherwise? I may get Slaughtered (pun intended) for this post, but somebody has to state two basic facts: (1) Nobody, male or female, married or single, young or old, tall or short, educated or not, pretty or plain, wealthy or poor, with kids or without, can have it all -- neither in the very narrow way Slaughter defines "it," nor in the broader context of life. (2) Recognizing this makes people happier!
"Why Women Still Can't Ask the Right Questions" by Naomi Wolf. Exit from comment view mode.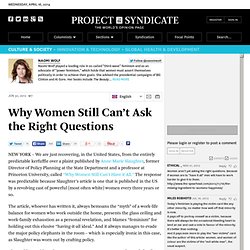 Click to hide this space NEW YORK – We are just recovering, in the United States, from the entirely predictable kerfuffle over a plaint published by Anne-Marie Slaughter, former Director of Policy Planning at the State Department and a professor at Princeton University, called "Why Women Still Can't Have it All." The response was predictable because Slaughter's article is one that is published in the US by a revolving cast of powerful (most often white) women every three years or so. The Recession Was Sexist (So Is the Recovery) - Jordan Weissmann - Business. Men and women lived through separate recessions.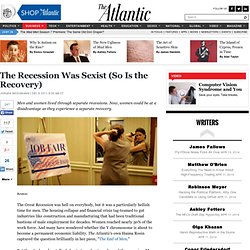 Now, women could be at a disadvantage as they experience a separate recovery. Reuters The Great Recession was hell on everybody, but it was a particularly hellish time for men. Baby Gap. For most of human history, high birthrates and high mortality rates tended to balance each other out. That began to change in the nineteenth century, when better sanitation and nutrition lengthened life spans. The world's population surged from about one billion in 1800 to seven billion today. Although overpopulation plagues much of the developing world, many developed societies are now suffering from the opposite problem: birthrates so low that each generation is smaller than the previous one.
Much of southern and eastern Europe, as well as Austria, Germany, Russia, and the developed nations of Southeast Asia, have alarmingly low fertility rates, with women having, on average, fewer than 1.5 children each. For example, the total fertility rate is 1.6 in Russia, 1.4 in Poland, and 1.2 in South Korea. Jenny Turner · As Many Pairs of Shoes as She Likes: On Feminism · LRB 15 December 2011. Young women, the state and public order in Britain, as seen in clippings from the newspapers, August 2011: Natasha Reid, 24, pleaded guilty to stealing a television from a Comet in North London during the riots of 7 August.
Her mother said she was 'baffled' by her own behaviour – she had a much nicer TV set at home. Shonola Smith, 22, pleaded guilty, along with her sister and a friend, to 'entering' Argos in Croydon: 'The tragedy is that you are all of previous good character,' the judge said, as he sentenced them to six months each. Chelsea Ives, the 18-year-old 'shamed former Olympic youth ambassador' shopped by her mother, pleaded guilty to criminal damage and burglary on the Sunday, and to violent disorder (a Somerfield in Hackney) the following evening. "Women on the Verge of an Economic Breakthrough" by Heidi Hautala. Exit from comment view mode. Click to hide this space HELSINKI – In 2010, two Kenyan women, Jamila Abbas and Susan Oguya, were angered by newspaper reports about middlemen exploiting small farmers.
In response, the two IT professionals launched M-Farm, a company that sends farmers real-time crop prices and market information via SMS, connecting them directly with food exporters and cutting out the middlemen. Uruguay: First to Ratify Domestic Workers Convention. (New York) – Uruguay's move to be the first country to ratify the international Domestic Workers Convention brings long overdue protections closer to reality for millions of women and girls worldwide, Human Rights Watch said today. The treaty, which extends core labor rights to an estimated 50 to 100 million domestic workers, will come into legal force when it is ratified by two countries. Governments, trade unions, and employers' organizations that make up the International Labor Organization (ILO) overwhelmingly voted to adopt the Domestic Workers Convention – ILO Convention 189 Concerning Decent Work for Domestic Workers – on June 16, 2011.
The convention requires governments to provide housekeepers, nannies, and other caregivers with labor protections equivalent to those of other workers, protect them against harassment and violence, and ensure effective monitoring and enforcement. Women as Breadwinner: Black Women Already Fill Role in Family. "The Female Economy" by Nena Stoiljkovic. "Power to Asia's Women" by Vishakha N. Desai , Astrid S. Tuminez and Gerald Rolfe.
---