Medien
Schau Hin | SCHAU HIN! Was Dein Kind mit Medien macht.
Start | SCHAU HIN! 30-Tage-Programm
Medientalk / Neue Medien / Magazine
Category:OpenCourseWare
Category:Creative Commons
Category:Public commons
Category:Open standards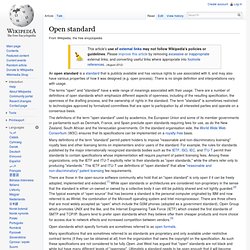 An open standard is a standard that is publicly available and has various rights to use associated with it, and may also have various properties of how it was designed (e.g. open process).
Open standard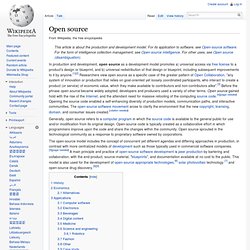 In production and development, open source as a development model promotes a) universal access via free license to a product's design or blueprint, and b) universal redistribution of that design or blueprint, including subsequent improvements to it by anyone.[1] Before the phrase open source became widely adopted, developers and producers used a variety of terms for the concept; open source gained hold with the rise of the Internet, and the attendant need for massive retooling of the computing source code.[2] Opening the source code enabled a self-enhancing diversity of production models, communication paths, and interactive communities.[3] The open-source software movement arose to clarify the environment that the new copyright, licensing, domain, and consumer issues created.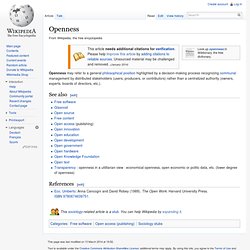 Openness
Openness may refer to a general philosophical position highlighted by a decision-making process recognizing communal management by distributed stakeholders (users, producers, or contributors) rather than a centralized authority (owners, experts, boards of directors, etc.).
Category:Copyright law
Category:Fair use
Category:Copyright licenses
Category:Public domain
die medienanstalten: Start
Checkliste_Web-TV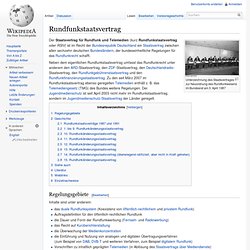 Unterzeichnung des Staatsvertrages zur Neuordnung des Rundfunkwesens im Bundesrat am 3. April 1987 Neben dem eigentlichen Rundfunkstaatsvertrag umfasst das Rundfunkrecht unter anderem den ARD-Staatsvertrag, den ZDF-Staatsvertrag, den Deutschlandradio-Staatsvertrag, den Rundfunkgebührenstaatsvertrag und den Rundfunkfinanzierungsstaatsvertrag.
Rundfunkstaatsvertrag
Institut für Urheber- und Medienrecht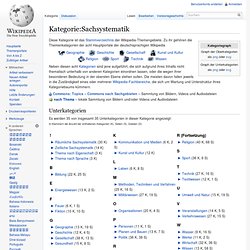 Diese Kategorie ist das Stammverzeichnis der Wikipedia-Themengebiete. Hier sind Kategorien aufgeführt, die sich aufgrund ihres Inhalts nicht thematisch unter anderen Kategorien einordnen lassen, oder die wegen ihrer besonderen Bedeutung in der obersten Ebene stehen sollen. Die meisten davon fallen jeweils in die Zuständigkeit eines oder mehrerer Wikipedia-Fachbereiche, die sich um Wartung und Unterstruktur ihres Kategoriebaums kümmern.
Kategorie: Sachsystematik
Portal:Medien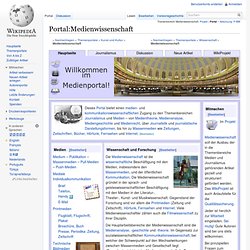 Die Medienwissenschaft ist die wissenschaftliche Beschäftigung mit den Medien, insbesondere den Massenmedien, und der öffentlichen Kommunikation. Die Medienwissenschaft gründet in der sprach- und geisteswissenschaftlichen Beschäftigung mit den Medien in der Literatur-, Theater-, Kunst- und Musikwissenschaft. Gegenstand der Forschung sind vor allem die Printmedien (Zeitung und Zeitschrift), Hörfunk, Fernsehen und Internet.
Portal:Medienwissenschaft
Kategorie: Medien
Kategorie: Portal:Medien als Thema
Kategorie: Medien nach räumlicher Zuordnung
Medium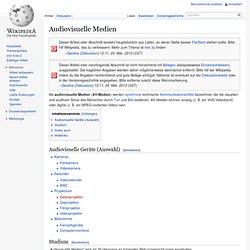 Als audiovisuelle Medien (AV-Medien) werden synchrone technische Kommunikationsmittel bezeichnet, die die visuellen und auditiven Sinne des Menschen durch Ton und Bild bedienen. AV-Medien können analog (z. B. ein VHS-Videoband) oder digital (z.
Audiovisuelle Medien
Kategorie: Digitale Medien
Kategorie: Multimedia
Kategorie: Virtualität
Virtualität ist die Eigenschaft einer Sache, nicht in der Form zu existieren, in der sie zu existieren scheint, aber in ihrem Wesen oder ihrer Wirkung einer in dieser Form existierenden Sache zu gleichen. Das Wort führt über den französischen Begriff virtuel (fähig zu wirken, möglich) zurück auf das lateinische Wort virtus (Tugend, Tapferkeit, Tüchtigkeit, Kraft, Männlichkeit). Verwendung[Bearbeiten]
Virtualität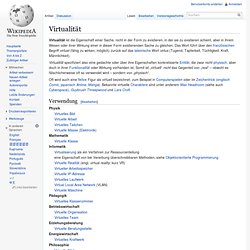 Fallschirmspringer der US-Navy übt mit einem Head-Mounted Display (HMD) virtuell das Fallschirmspringen.
Virtuelle Realität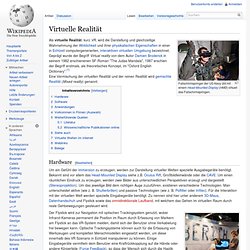 Neue Medien
Massenmedien
Kategorie: Portal:Amateurfunkdienst