Wind Power
US Wind Power Limitations – Simple Math « The Multidisciplinarian
I am all for wind power where it makes sense. It seems to make sense in certain high mountain passes in California where the wind is both strong and consistent – class 6 or 7 wind resources where class 3 or 4 is thought practical for power generation. For the most part, the US has thus far chosen its wind farm locations wisely in terms of energy generation. Some may say not so wisely from an aesthetic or habitat perspective, but that is not my concern here. Even without considering the base-load issues of wind (see previous post), projecting wind energy's capability to supply a major portion of US energy demand by extrapolating from such high quality wind resources is ludicrous.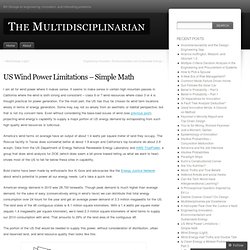 Atlantic City Wind Turbines Still Bring Tourism after 5 years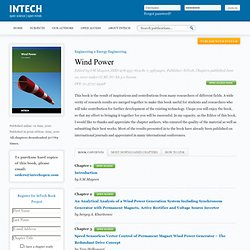 Wind Power - Free Open Access Book
Edited by S M Muyeen, ISBN 978-953-7619-81-7, 558 pages, Publisher: InTech, Chapters published June 01, 2010 under CC BY-NC-SA 3.0 licenseDOI: 10.5772/45598 This book is the result of inspirations and contributions from many researchers of different fields. A wide verity of research results are merged together to make this book useful for students and researchers who will take contribution for further development of the existing technology. I hope you will enjoy the book, so that my effort to bringing it together for you will be successful. In my capacity, as the Editor of this book, I would like to thanks and appreciate the chapter authors, who ensured the quality of the material as well as submitting their best works. Most of the results presented in to the book have already been published on international journals and appreciated in many international conferences.
Noticias
Wind Power - Free Open Access Book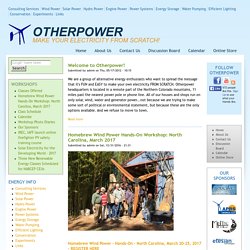 Welcome to OTHERPOWER.COM
We are a group of alternative energy enthusiasts who want to spread the message that it's FUN and EASY to make your own electricity FROM SCRATCH. Otherpower headquarters is located in a remote part of the Northern Colorado mountains, 11 miles past the nearest power pole or phone line. All of our houses and shops run on only solar, wind, water and generator power...not because we are trying to make some sort of political or environmental statement, but because these are the only options available. And we refuse to move to town.
Windmill Power
Windmill Generator
Windmill Generator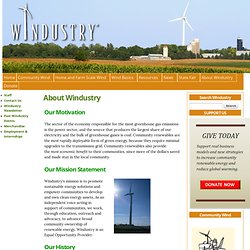 Our Motivation The sector of the economy responsible for the most greenhouse gas emissions is the power sector, and the source that produces the largest share of our electricity and the bulk of greenhouse gases is coal. Community renewables are the most rapidly deployable form of green energy, because they require minimal upgrades to the transmission grid. Community renewables also provide the most economic benefit to their communities, since more of the dollars saved and made stay in the local community.
About Windustry | Windustry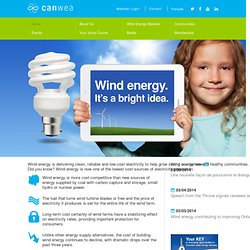 Français Wind energy is delivering clean, reliable and low-cost electricity to help grow strong economies and healthy communities. Did you know? Wind energy is now one of the lowest cost sources of electricity generation. Wind energy is more cost-competitive than new sources of energy supplied by coal with carbon capture and storage, small hydro or nuclear power.
CanWEA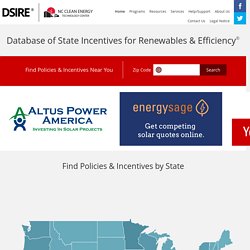 Disclaimer: The information presented on the DSIRE web site provides an unofficial overview of financial incentives and other policies. It does not constitute professional tax advice or other professional financial guidance, and it should not be used as the only source of information when making purchasing decisions, investment decisions or tax decisions, or when executing other binding agreements. Please refer to the individual contact provided below each summary to verify that a specific financial incentive or other policy applies to your project. While the DSIRE staff strives to provide the best information possible, the DSIRE staff, the N.C.
Archive of Articles on Wind Energy, Energy, Electricity Feed Laws & Other Topics by Paul Gipe
I've been working with wind energy since since 1976 and my professional experience in the subject runs the gamut from wind resource assessment to installing and testing small wind turbines. I continue to follow the industry and analyze its growth and increasing contribution to renewable electricity generation worldwide. Follow the links for specific topics relating to wind energy. Topics on community wind can be found under Renewables and the more generic term Community Power. Paul Gipe
Wind and Water Power Program: Wind Powering America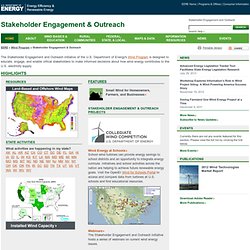 Stakeholder Engagement & Outreach Projects Wind Energy at Schools School wind turbines can provide energy savings to school districts and an opportunity to integrate energy curricula. Initiatives and school activities across the nation are helping to achieve future renewable energy goals. Visit the OpenEI Wind for Schools Portal to access and compare data from turbines at U.S. schools and find educational resources. Webinars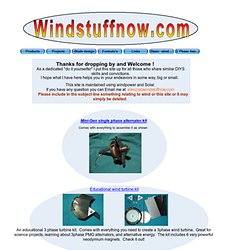 An educational 3 phase turbine kit. Comes with everything you need to create a 3phase wind turbine. Great for science projects, learning about 3phase PMG alternators, and alternative energy. The kit includes 6 very powerful neodymium magnets.
Home Page
Wind Research Home Page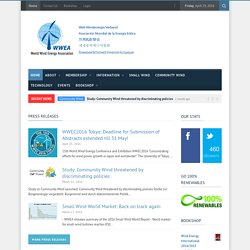 World Wind Energy Association - Home
WWEC2014 Conference Resolution 13th World Wind Energy Conference Distributed Wind Power Shanghai, China, 7-9 April 2014 The World Wind Energy Association, the Chinese Wind Energy Association, Chinese Wind Energy Equipment Association and the China National Renewable Energy Centre welcome the presence of those 500 participants from 40 countries attending this Conference, from wind and all other renewable energy technologies. The Conference covered all aspects of wind utilisation, related policies, manufacturing, development, operation as well as economic and social issues, with a special focus on the role that distributed wind power can play to accelerate the deployment of wind power in the world.
WePOWER | Creating and Delivering Clean Energy Solutions
Several years ago I bought some remote property in Arizona. I am an astronomer and wanted a place to practice my hobby far away from the sky-wrecking light pollution found near cities of any real size. I found a great piece of property. The problem is, it's so remote that there is no electric service available. That's not really a problem. No electricity equals no light pollution.
International - Our Vision
Aerotecture International seeks to radically transform the dominant paradigm of energy production and consumption around the globe. Blending the concepts of aerodynamics and architecture, Aeroturbines are wind electric turbines designed to be attached to buildings or integrated into the very form of buildings. With Aeroturbines, buildings and other structures will not only consume electricity, but produce it on-site. Aerotecture Paradigm:
Windspire Vertical Wind Turbine and Solar Panel solutions that enable a complete system to be optimized for maximum efficiency and reliability.Affordable, attractive, and ultra quiet, Windspire wind turbines give you the power to create clean energy from the natural wind just outside your door. At only 30 feet tall and four feet wide, Windspire wind turbines are appropriate for almost any urban, suburban and rural environment. Elegantly engineered, scalable and Made In America, Windspire wind turbines come as a complete system.Wind Turbines designed for use where YOU live and work, Windspire is currently powering homes, small businesses, schools, museums, parks, vineyards, and commercial buildings. We can provide a solution for almost any application.Some competitors may offer some selected features; however, it is believed that there is no known competitor which provides such a comprehensive offering while being entirely built in America.
Windspire Wind Turbines By Windspire Energy
What's wrong with this picture? Rooftop wind turbine madness in the UK. (Picture from Paul Gipe's site.) •Wind turbines do work but only when installed properly in an appropriate location. •There is a potential for delivering carbon savings and energy generation from domestic small-scale wind turbines in the UK. •The highest potential for successful household small-scale wind installations is in Scotland.
"There is enough energy in high altitude winds to power civilization 100 times over; and sooner or later, we're going to learn to tap into the power of winds and use it to run civilization." Says Ken Caldeira, Professor of Global Ecology at the Carnegie Institution for Science. (Discovery Channel, Project Earth, Infinite Winds episode)
vertical axis wind turbines | small wind turbines | wind turbine manufacturer | quietrevolution
AWEA Home Page
Wind Energy Helps Texans in Power Outage
Asociación Argentina de Energía Eólica (1)
Annual Wind Speed of Nebraska - pdf
Koch Brothers Fund Bogus Study Bashing Offshore Wind in New Jersey