Wind Power
US Wind Power Limitations – Simple Math « The Multidisciplinarian
I am all for wind power where it makes sense.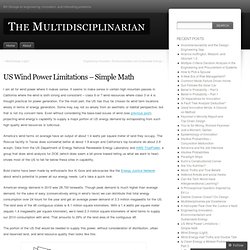 Atlantic City Wind Turbines Still Bring Tourism after 5 years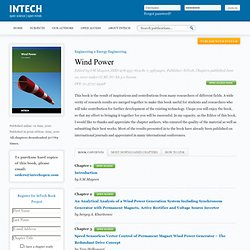 Wind Power - Free Open Access Book
Edited by S M Muyeen, ISBN 978-953-7619-81-7, 558 pages, Publisher: InTech, Chapters published June 01, 2010 under CC BY-NC-SA 3.0 licenseDOI: 10.5772/45598 This book is the result of inspirations and contributions from many researchers of different fields.
Noticias
Wind Power - Free Open Access Book
Welcome to OTHERPOWER.COM
Windmill Power
Windmill Generator
Windmill Generator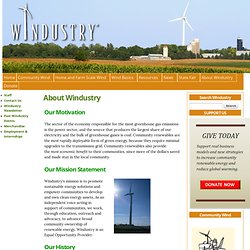 Our Motivation
About Windustry | Windustry
CanWEA
Archive of Articles on Wind Energy, Energy, Electricity Feed Laws & Other Topics by Paul Gipe
I've been working with wind energy since since 1976 and my professional experience in the subject runs the gamut from wind resource assessment to installing and testing small wind turbines. I continue to follow the industry and analyze its growth and increasing contribution to renewable electricity generation worldwide.
Wind and Water Power Program: Wind Powering America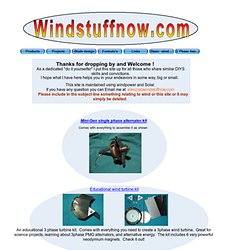 An educational 3 phase turbine kit. Comes with everything you need to create a 3phase wind turbine. Great for science projects, learning about 3phase PMG alternators, and alternative energy. The kit includes 6 very powerful neodymium magnets.
Home Page
Wind Research Home Page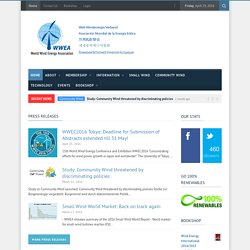 World Wind Energy Association - Home
REN Alliance Press Release: How to follow the IPCC mitigation scenario - intermediate targets for 2035 Warsaw, 20 November 2013 – The REN Alliance presented during the UN Climate Change Conference COP19 in Warsaw key points of a programme which would need to be implemented to reach the targets as recommended by the IPCC for 2035. Marietta Sander, Executive Director of the International Geothermal Association: "Geothermal energy can significantly contribute to the 100% RE target.
WePOWER | Creating and Delivering Clean Energy Solutions
Several years ago I bought some remote property in Arizona. I am an astronomer and wanted a place to practice my hobby far away from the sky-wrecking light pollution found near cities of any real size. I found a great piece of property. The problem is, it's so remote that there is no electric service available. That's not really a problem. No electricity equals no light pollution.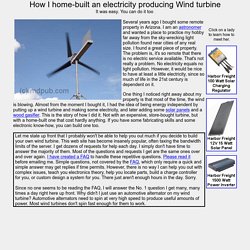 International - Our Vision
Aerotecture International seeks to radically transform the dominant paradigm of energy production and consumption around the globe. Blending the concepts of aerodynamics and architecture, Aeroturbines are wind electric turbines designed to be attached to buildings or integrated into the very form of buildings. With Aeroturbines, buildings and other structures will not only consume electricity, but produce it on-site. Aerotecture Paradigm: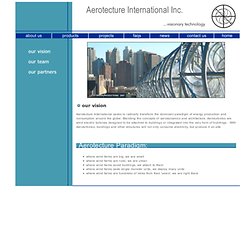 Windspire Wind Turbines By Windspire Energy
vertical axis wind turbines | small wind turbines | wind turbine manufacturer | quietrevolution
AWEA Home Page
Wind Energy Helps Texans in Power Outage
Asociación Argentina de Energía Eólica (1)
Annual Wind Speed of Nebraska - pdf
By Climate Guest Blogger on August 17, 2011 at 8:47 am "Koch Brothers Fund Bogus Study Bashing Offshore Wind in New Jersey"
Koch Brothers Fund Bogus Study Bashing Offshore Wind in New Jersey