Wind Power
Forbes magazine's blog recently carried an opinion article attacking wind energy by Larry Bell, a professor of space architecture at the University of Houston. Following is the response that I posted in the form of a series of comments: Larry, there are so many false and misleading claims in your post, we'll have to take them one at a time: 1. You begin by criticizing the May 2008 Department of Energy report, which concluded that wind energy could achieve a number of benefits by providing 20% of America's electricity by the year 2030, as being too optimistic about wind energy's future. First, I should point out that this report was written by the Bush Administration's DOE, making it difficult to portray the report as pie-in-the-sky thinking.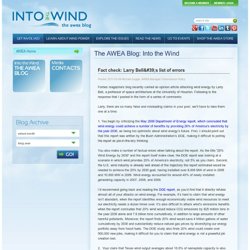 The AWEA Blog: Into the Wind
US Wind Power Limitations – Simple Math « The Multidisciplinarian
I am all for wind power where it makes sense.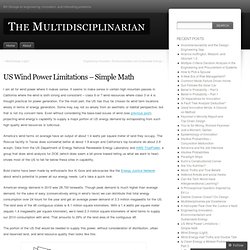 Atlantic City Wind Turbines Still Bring Tourism after 5 years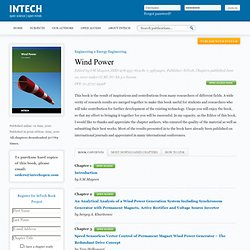 Wind Power - Free Open Access Book
Edited by S M Muyeen, ISBN 978-953-7619-81-7, Hard cover, 558 pages, Publisher: InTech, Published: June 01, 2010 under CC BY-NC-SA 3.0 license DOI: 10.5772/45598 This book is the result of inspirations and contributions from many researchers of different fields.
Noticias
Wind Power - Free Open Access Book
Welcome to OTHERPOWER.COM
Windmill Power
Windmill Generator
Windmill Generator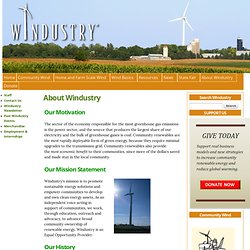 Mission Statement
About Windustry | Windustry
CanWEA
Archive of Articles on Wind Energy, Energy, Electricity Feed Laws & Other Topics by Paul Gipe
I've been working with wind energy since since 1976 and my professional experience in the subject runs the gamut from wind resource assessment to installing and testing small wind turbines. I continue to follow the industry and analyze its growth and increasing contribution to renewable electricity generation worldwide.
Wind and Water Power Program: Wind Powering America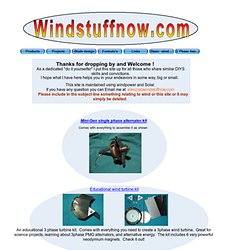 An educational 3 phase turbine kit. Comes with everything you need to create a 3phase wind turbine. Great for science projects, learning about 3phase PMG alternators, and alternative energy. The kit includes 6 very powerful neodymium magnets.
Home Page
Wind Research Home Page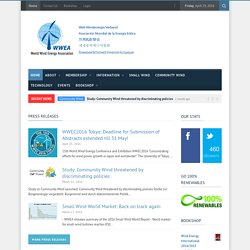 World Wind Energy Association - Home
WWEA releases the 2013 Small Wind World Report Update - World market for small wind turbines sees dynamic growth and total capacity reaches 576 MW, 27 % more than in the previous year - More than 330 manufacturers of small wind turbines can be found in 40 countries all over the world - More supportive policies could boost the small wind market Husum/Bonn, 21 March 2013 (WWEA) – On the occasion of the 4th World Summit for Small Wind during the New Energy fair in Husum (Germany), WWEA released today the 2013 Small Wind World Report Update. The total number of small wind turbines installed all over the world reached 730'000 units as of the end of 2011 after 656'000 units in 2010, after 521'000 in 2009 and 460'000 in 2008.
Introducing the Honeywell Wind Turbine from WindTronics
WePOWER | Creating and Delivering Clean Energy Solutions
Several years ago I bought some remote property in Arizona. I am an astronomer and wanted a place to practice my hobby far away from the sky-wrecking light pollution found near cities of any real size. I found a great piece of property . The problem is, it's so remote that there is no electric service available. That's not really a problem. No electricity equals no light pollution.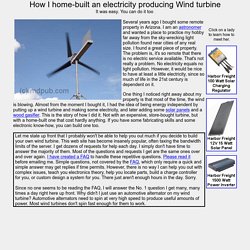 International - Our Vision
Aerotecture International seeks to radically transform the dominant paradigm of energy production and consumption around the globe. Blending the concepts of aerodynamics and architecture, Aeroturbines are wind electric turbines designed to be attached to buildings or integrated into the very form of buildings. With Aeroturbines, buildings and other structures will not only consume electricity, but produce it on-site. Aerotecture Paradigm: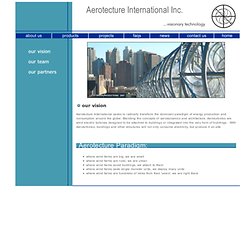 Windspire Wind Turbines By Windspire Energy
Pages-from-10-WIND-0216-WindspireSpecSheet-standard1.pdf (application/pdf Object)
vertical axis wind turbines | small wind turbines | wind turbine manufacturer | quietrevolution
AWEA Home Page
Community Energy : Jiminy Peak Mountain Resort
Wind Energy Helps Texans in Power Outage Importantly, these cost numbers don't even account for the massive negative externalities associated with fossil fuel use. Recent estimates from the Harvard School of Public Health and the National Academies of Sciences have concluded that including the economic costs of the tens of thousands of premature deaths, health problems, and other environmental harms caused by using coal makes the true costs of using fossil fuels several times greater than currently accounted for in market prices. Natural gas production, distribution, and use also imposes significant costs that are not accounted for in market prices.
Asociación Argentina de Energía Eólica (1)
Annual Wind Speed of Nebraska - pdf
by Michael Conathan As anyone who's traversed the northern segment of New Jersey's infamous Turnpike can attest, the Garden State has a bit of an image problem when it comes to clean air.
Koch Brothers Fund Bogus Study Bashing Offshore Wind in New Jersey