HBGary lulz
On November 16, 2009, Greg Hoglund, a cofounder of computer security firm HBGary, sent an e-mail to two colleagues.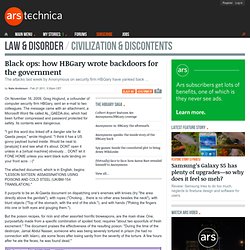 Black ops: how HBGary wrote backdoors for the government
Help Anonymous stop Palantir. Do it now.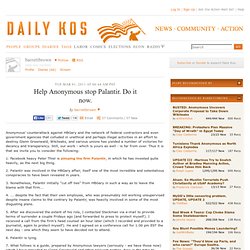 Overview The following emails clearly establish Matthew Steckman's (Foward Deployed Engineer at Planatir) involvement in the creation of the leaked presentation/proposal entitled, "The Wikileaks Threat," including content allegedly considered unethical by the Internet security firm, Palantir, and possibly illegal under U.S. law. According to emails sent and received by Steckman, Matthew Steckman:
Recently I've been reading the excellent work by Jamais Cascio and thinking about the concept of "openness."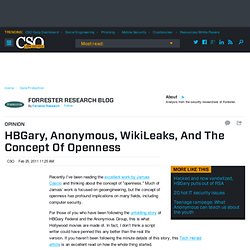 HBGary, Anonymous, WikiLeaks, And The Concept Of Openness
> Why is "mostly Aaron Barr"? The emails show that Aaron Barr AND HBGary CEO Greg Hoglund have no professional or moral scruples and cannot be trusted.
HBGary and the Future of the IT Security Industry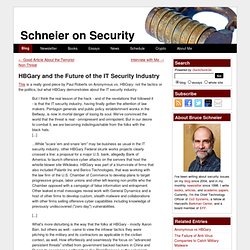 PersonaManagementSoftware.pdf (Objet application/pdf)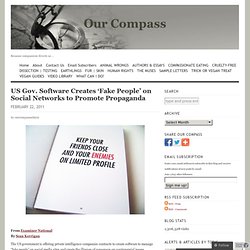 From Examiner NationalBy Sean Kerrigan The US government is offering private intelligence companies contracts to create software to manage "fake people" on social media sites and create the illusion of consensus on controversial issues.
US Gov. Software Creates 'Fake People' on Social Networks to Promote Propaganda « Our Compass
How Anonymous hacked the security firm hacker | Barrett Brown | Comment is free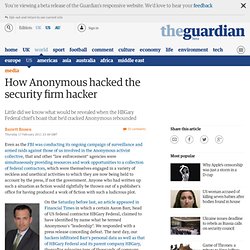 Even as the FBI was conducting its ongoing campaign of surveillance and armed raids against those of us involved in the Anonymous activist collective, that and other "law enforcement" agencies were simultaneously providing resources and work opportunities to a collection of federal contractors, which were themselves engaged in a variety of reckless and unethical activities to which they are now being held to account by the press, if not the government. Anyone who had written up such a situation as fiction would rightfully be thrown out of a publisher's office for having produced a work of fiction with such a ludicrous plot. The advice of Aaron Barr, CEO of HBGary Federal, to fellow cybersecurity professionals: 'Roll up your sleeves and get your hands dirty.' On the Saturday before last, an article appeared in Financial Times in which a certain Aaron Barr, head of US federal contractor HBGary Federal, claimed to have identified by name what he termed Anonymous's "leadership".
Internet: les pirates d'Anonymous accusés de proférer des menaces physiques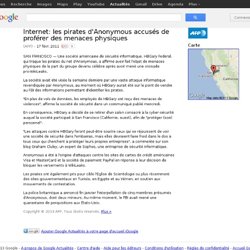 Internet: les pirates d'Anonymous accusés de proférer des menaces physiques
Aaron Barr's New Look
So I decided to privately - Sun, 6 Feb 2011 01:40:06 -0500
Talk - Tue, 01 Feb 2011 22:02:58 -0500
STTR 11.A Solicitation has been issued for public release - Fri, 28 Jan 2011 00:01:01 -0500
some of my working notes - Sat, 22 Jan 2011 16:54:52 -0500
big maps of china - Sun, 18 Jul 2010 11:17:07 -0700
stuxnet - Sun, 26 Sep 2010 20:26:02 -0700
FBI + HBGary - Thu, 20 Jan 2011 16:48:28 -0500
Re: Stuxnet - Fri, 6 Aug 2010 11:56:56 -0700
HBG-Anon-WL.pdf (Objet application/pdf)
Spy games: Inside the convoluted plot to bring down WikiLeaks
When Aaron Barr was finalizing a recent computer security presentation for the US Transportation Security Administration, a colleague had a bit of good-natured advice for him: "Scare the sh*t out of them!"