wicca
Magik toricmyst Apr 24
Get flash to fully experience Pearltrees
This is a large (+9Mb) collection of articles related to Neo-Paganism which can be found archived at a number of FTP sites (for instance, here ). This is a collection of posts to bulletin boards from the late eighties to the mid nineties, essentially predating the modern Internet. According to a recent communication, the original editor of this archive was Durwydd mac Tara at PODS net. We acknowledge Durwydd's hard work to preserve this archive. For ease of access, we have converted this archive to HTML using a C program.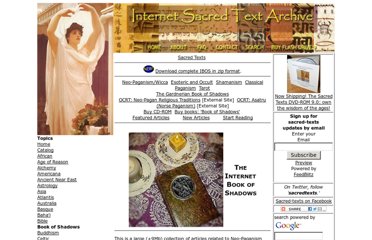 Information on herbs, stones, moon phases, crystals, candles, oils, recipes and more. In Wicca and Paganism, it's traditional to create a Book of Shadows, which is a notebook containing information regarding your tradition, gods and goddesses, correspondence tables, sabbat and esbat rites and rituals, magical recipes, and more. Learn how to make your own BOS here.
Ogham staves are a popular method of divination among Pagans who follow a Celtic-focused path. Although there are no records of how staves might have been used in divination in ancient times, there are a number of ways that they can be interpreted. There are 20 original letters in the Ogham alphabet, and five more that were added later on. Each corresponds to a letter or sound, as well as a tree or wood . In addition, each of these symbols has come to be associated with various meanings and elements of the human experience.
Sacred Texts Neopaganism Contents Start Reading This is the text of the Gardnerian Book of Shadows. In one sense, this is the central sacred text of the Wicca religion.
First it's important to know that there is no one and only Book of Shadows. This concept is a fictional plot device to explain why magyc is not effective without THE Book of Shadows. The idea is that if you just have the right book all your magyc will be effective.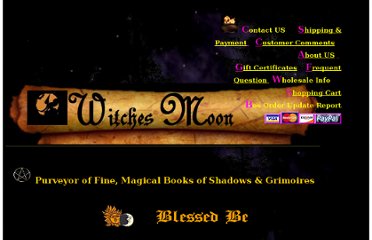 All of our Twisted Witches wands are hand crafted by our High Priestess. Why Twisted Witches? Well most of our wand line is made of unique twisted pieces of wood, though some may be straight or have no twists at all, most do. They are made from Dead woods, This means no wood was harvested to make these wands. only as well as made from some of the most unique wood from special places.
These catalogs give me the opportunity to present collections or groups of related books in a more detailed and sympathetic context than the normal website allows, and will also enable me to give people first choice at some of the more interesting new arrivals. As usual I have a variety of other catalogs in preparation. Future catalogs will be devoted to Hermetica, Witchcraft, Astrology, Kabbalah, Grimoires, Theosophy and also Aleister Crowley , H.P.Blavatsky, George Robert Stowe Mead, Gerald Gardner, Henry Cornelius Agrippa, Hermes Trismegistus, Eliphas Levi, Austin Osman Spare, Ea Wallis Budge, Arthur Edward Waite, Leonardo Da Vinci, Louis Claude De Saint Martin. All of the materials here are presented in Adobe Acrobat PDF format, as it is accessible to users of most computer platforms.