What is curation?
Creators and Curators Photos and videos have become key social currencies online. 46% of adult internet users post original photos or videos online that they themselves have created.
Online Life in Pictures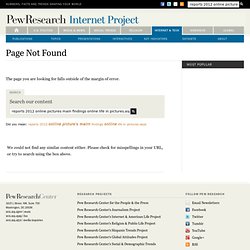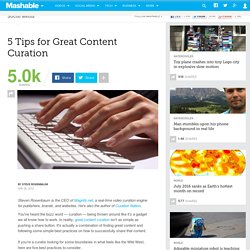 Steven Rosenbaum is the CEO of Magnify.net, a real-time video curation engine for publishers, brands, and websites. He's also the author of Curation Nation. You've heard the buzz word — curation — being thrown around like it's a gadget we all know how to work.
Discover better stories
The Discover tab makes it easy to discover information that matters to you without having to follow additional accounts. Starting today, the Discover tab will begin to surface content that is even more personalized and meaningful to you. We've incorporated additional personalization signals to select Discover stories, including Tweets that are popular among the people you follow and the folks they follow. The Discover tab's new design shows who tweeted about particular stories. You can click "View Tweets" on any story to see popular Tweets from your network or recent, relevant Tweets directly below the story summary. This social context helps you understand why each story matters to you and makes it easier to join the conversation.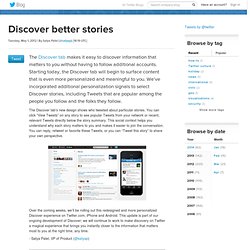 The entire curation story - Why do we need it? - What is it? - Where is the value?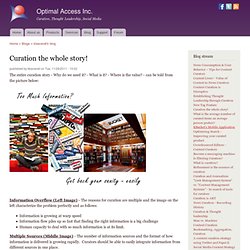 Curation the whole story!
Content Curation Tools: 5 Different Approaches Posted by Romain Goday on Tue, Dec 06, 2011 Why Do You Keep Hearing about Content Curation? With the unprecedented levels of published information, it is very difficult for Internet users to stay up to date on what matters to them. This situation is especially dramatic for information professionals that must remain aware of new happenings in order to stay ahead of the curve.
Content Curation Tools: 5 Different Approaches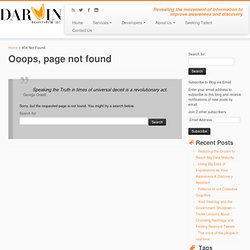 Creation Curations Ethics of Content Strategy W2E
According to Wikipedia "Art is the product or process of deliberately arranging items (often with symbolic significance) in a way that influences and affects one or more of the senses, emotions, and intellect."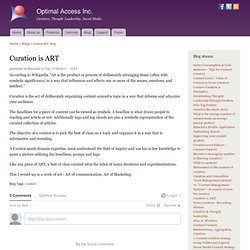 Curation is ART
Content Curation - Quora
Pearltrees vs Trailmeme (Quora)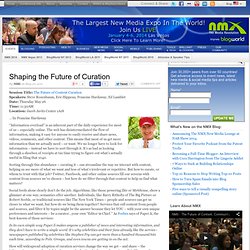 Session Title: The Future of Content CurationSpeakers: Steve Rosenbaum, Eric Hippeau, Francine Hardaway, Ed LambletDate: Thursday May 26Time: 11:30AMLocation: Jacob Javits Center 1A18 … by Francine Hardaway
Shaping the Future of Curation
Posted by Tom Foremski - May 16, 2011
Curation Is Not Cheap Content...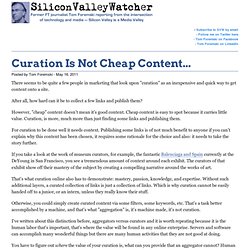 Russian investor Yuri Milner — whose firm has invested in fast-growing start ups like Facebook Inc. — said Wednesday that a good cue to exit investments is when the company's founders start to exit. Reuters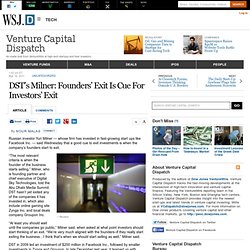 Really great insight's, thank you. by netbillboards Mar 28
thanks ! good kind of reading for this week-end ! by agnesdelmotte Mar 25
Here's an example of the algorithim side of things http://portal.eqentia.com/newsfuture by joecardillo Mar 25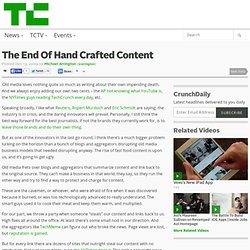 Old media loves nothing quite so much as writing about their own impending death. And we always enjoy adding our own two cents – the AP not knowing what YouTube is, the NYTimes guys reading TechCrunch every day, etc. Speaking broadly, I like what Reuters, Rupert Murdoch and Eric Schmidt are saying: the industry is in crisis, and the daring innovators will prevail.
Why we need it
The time it takes to follow and go through multiple web sites and blogs takes tangible time, and since most sources publish or give coverage to more than one topic, one gets to browse and scan through lots of useless content just for the sake of finding what is relevant to his specific interest. Even in the case of power-users utilizing RSS feed readers, aggregators and filters, the amount of junk we have to sift through daily is nothing but impressive, so much so, that those who have enough time and skills to pick the gems from that ocean of tweets, social media posts and blog posts, enjoy a fast increasing reputation and visibility online.
Bonne nouvelle, ici on peut faire les 2 by epoissonq Feb 8
>on en revient au débat sur l'UE y a 5 ans : continuer à élargir ou approfondir ce qui existe by epoissonq Feb 8
"We need passionate experts of all kinds to be able to wrap their future-looking goggles and to see those individual stories as a map rather than a set of individual road lines." (Robin Good) by epoissonq Feb 8
Giving sense to our web experience
Citizens!
Mashable's Pete Cashmore says real-time communication, Internet TV and social gaming will be big in 2010. Mashable's Pete Cashmore lists his 10 Web trends that we'll be talking about next year Sparked by Twitter, Facebook and FriendFeed, the real-time communications trend will grow The cloud-computing movement will see a major leap forward in the first half of 2010 2010 will be the breakthrough year of the much-anticipated mobile payments market Editor's note: Pete Cashmore is founder and CEO of Mashable, a popular blog about social media.
Collecting related content isn't curation
I've been writing a lot about so-called 'content farms' in recent months - companies like Demand Media and Answers.com which create thousands of pieces of content per day and are making a big impact on the Web. Both of those two companies are now firmly inside the top 20 Web properties in the U.S., on a par with the likes of Apple and AOL. Big media, blogs and Google are all beginning to take notice. Chris Ahearn, President of Media at Thomson Reuters, recently published an article on how journalism can survive in the Internet age.
Curation: French analyses