2012_0224 - Gonski. Results
Fair Work Act Review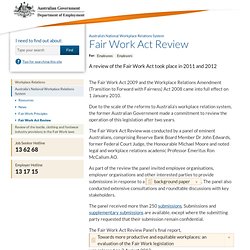 The Fair Work Act 2009 and the Workplace Relations Amendment (Transition to Forward with Fairness) Act 2008 came into full effect on 1 January 2010. Due to the scale of the reforms to Australia's workplace relation system, the former Australian Government made a commitment to review the operation of this legislation after two years. The Fair Work Act Review was conducted by a panel of eminent Australians, comprising Reserve Bank Board Member Dr John Edwards, former Federal Court Judge, the Honourable Michael Moore and noted legal and workplace relations academic Professor Emeritus Ron McCallum AO.
Platforms try new degree of difficulty
Clawback clause won't scratch many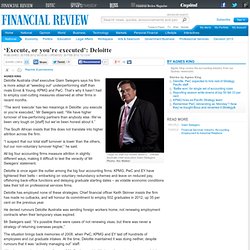 'Execute, or you're executed': Deloitte
Agnes King Tough on staff but honest about it . . . Deloitte Australia chief executive Giam Swiegers Photo: Nic Walker Deloitte Australia chief executive Giam Swiegers says his firm is more adept at "weeding out" under­performing staff than rivals Ernst & Young, KPMG and PwC. That's why it hasn't had to employ cost-cutting measures observed at other firms in recent months.
CBA adjusts lending role
Credit markets still apprehensive about banks
PUBLISHED : about a year ago | UPDATED: about a year ago The package is intended to revitalise the local industry. Photo:Rob Homer
Tax holiday for shipping
Barrie Dunstan The strategy may lead to capital losses for older members Photo: Michele Mossop On July 1 this year, a new risk measurement for superannuation fund members will come into force – and the chances are that some big funds will choose to opt out of what is a non-compulsory system. So why are funds shying away from the new standard risk measurement, or SRM? It will give fund members a numerical risk measure running from one (very low) to seven (very high) for members' investment strategies, replacing the often vague descriptions such as "conservative" or "growth". The system was brought in after the Australian Prudential Regulation Authority was frustrated by years of delays in the industry to get a uniform, industry-wide approach to labelling funds.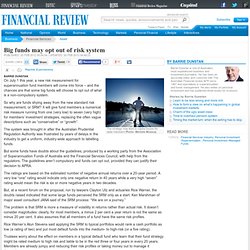 Big funds may opt out of risk system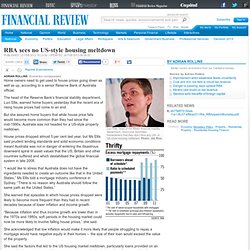 RBA sees no US-style housing meltdown
Adrian Rollins Economics correspondent Luci Ellis, head of the RBA's financial stability department, reassures Australian homeowners that they don't face any US- or UK-style housing meltdown. Photo: Jim Rice Home owners need to get used to house prices going down as well as up, according to a senior Reserve Bank of Australia official. The head of the Reserve Bank's financial stability department, Luci Ellis, warned home buyers yesterday that the recent era of rising house prices had come to an end.
RBS takes a big hit on Greek debt
Downgrade likely for NAB's British bank
NAB lifts its business rate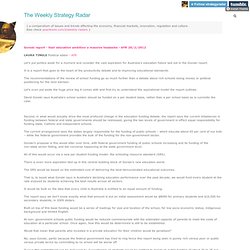 Gonski report - Vast education ambition a massive headache - AFR 20/2/2012 LAURA TINGLE Political editor - AFR Let's put politics aside for a moment and consider the vast aspiration for Australia's education future laid out in the Gonski report. It is a report that goes to the heart of the productivity debate and to improving educational standards. The recommendations of the review of school funding go so much further than a debate about rich schools losing money or political positioning for the next election. Let's even put aside the huge price tag it comes with and first try to understand the aspirational model the report outlines.
Gonski report - Vast education ambition a massive
Reading Gonski: a mud map for the minefield - The Drum Opinion - David Gonski has provided a potent instrument with which to affect education reform, if the Gillard Government were politically adept to use it.
Find More Stories Reading Gonski: a mud map for the minefield Ben Eltham I come from a teaching family. My parents met at teachers college. My dad went off to a varied career that included national service, town planning, university lecturing, and a stint as policy advisor to former state Labor education minister, Dean Wells.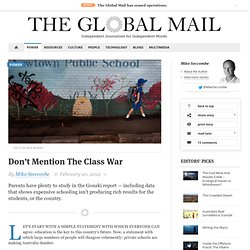 Parents have plenty to study in the Gonski report — including data that shows expensive schooling isn't producing rich results for the students, or the country. Let's start with a simple statement with which everyone can agree: education is the key to this country's future. Now, a statement with which large numbers of people will disagree vehemently: private schools are making Australia dumber.
Don't Mention The Class War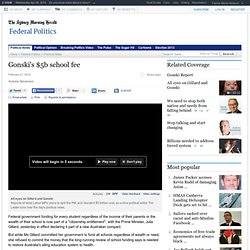 Gonski's $5 billion School Fee
All eyes on Gillard and Gonski Reports of rebel Labor MPs' plans to spill the PM, and Gonski's $5 billion cost, as online political editor Tim Lester runs over the day's political news. PT2M32Shttp://www.smh.com.au/action/externalEmbeddedPlayer?id=d-1tkbq620349February 21, 2012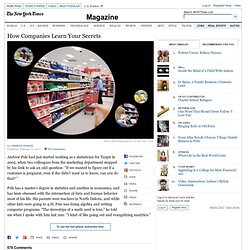 How Companies Learn Your Secrets
Antonio Bolfo/Reportage for The New York Times Pole has a master's degree in statistics and another in economics, and has been obsessed with the intersection of data and human behavior most of his life. His parents were teachers in North Dakota, and while other kids were going to 4-H, Pole was doing algebra and writing computer programs. "The stereotype of a math nerd is true," he told me when I spoke with him last year.
TONY EASTLEY: A French banker has said what many Australian borrowers suspect - that recent interest rate hikes by banks in Australia is more to do with protecting profit margins than higher funding costs. Research by Société Générale using publicly available data from the Reserve Bank and the Australian Prudential Regulation Authority show nearly all funding costs are falling. The big four banks recently raised their lending rates between six and 10 basis points, citing rising funding costs. Société Générale's head of strategy in Asia Christian Carrillo told finance reporter Elysse Morgan the reasoning given by the banks is dubious. CHRISTIAN CARRILLO: What we have seen over the last six months is that overall funding costs for Australian banks have absolutely come down. Research suggests that effectively pretty much every source of funding that they use - in terms of domestic deposits, short-term funding onshore, long-term funding onshore - has actually gone down.
AM - Figures cast doubts on big banks' reasoning for rate hike 21/02/2012
PM - Reserve Bank says rising bank costs are a fact 21/02/2012
MATT PEACOCK: An interest rate strategist from the international banking giant, Société Générale, has sparked a new round of the interest rate debate by labelling the banks' justification for raising rates as "dubious". Christian Carrillo says that public available data shows most of the banks' funding costs have actually been going down, and the rate rises are simply protecting their "high profits". But the Reserve Bank governor Glenn Stevens today emphatically refuted this research, saying that the RBA's figures show bank funding costs have fallen at a slower pace than the official cash rate. Business reporter Michael Janda was at Mr Stevens' speech and has this report. MICHAEL JANDA: After the Reserve Bank left the cash rate on hold two weeks ago, many banks decided it was time to set their own interest rate policy.
Rising Aussie bank costs 'impossible', says French bank
"The claim that the recent increase in mortgage rates is due to higher funding costs is very dubious" ... Christian Carillo. Illustration: Karl Hilzinger
RBA governor backs banks on rate rises