Wedding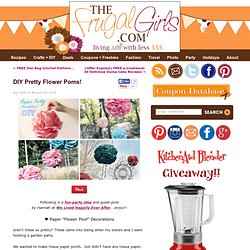 Following is a fun party idea and guest post by Hannah at We Lived Happily Ever After… enjoy!! ♥ Paper "Flower Poof" Decorations Aren't these so pretty? These came into being when my sisters and I were hosting a garden party. We wanted to make tissue paper poofs… but didn't have any tissue paper.. only colored printing paper. I love the result even more than if it had been tissue- it's less flabby and will last for a long time!
DIY Flower Poms in Crafts, Party, Wedding
The Cake Bar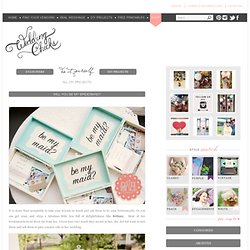 It is more than acceptable to take your friends to lunch and ask them to be your bridesmaids. Or you can get crazy and whip a fabulous little box full of delightfulness like Bethany.
Wedding Favors People Will Use Photo 50
(Used in this project: Ballotin Favor Box Packs with Labels in Color Wash style.) Planning a wedding on a budget, as many of us do, calls for some creativity and a little D.I.Y. Adding extra details to your special day doesn't have to be costly.
$1 Wedding Favor Ideas — My Own Ideas
Six Months to Mrs.: Wedding Freebies!
Who doesn't love free? And for wedding planning on a budget, free is a girl's best friend.So, to celebrate free, I've complied some of my favorite freebies into on nifty post to share with you guys. I hope you enjoy. Also, any links to these sites have other awesome freebies, and posts, and I suggest you check them out!Invitations and Save the Dates- Wedding Chicks have beautiful free invitation printables that are easily customized.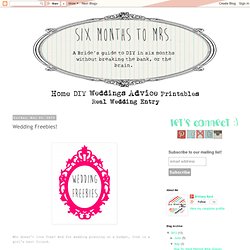 Brides deserve a wedding shower as beautiful as they are. Gather ideas for a lovely fete from this bridal brunch designed by a pro
The compilation consist of 70 of the best Photoshop actions collected from all around the web from photo effects to actions for even creating photo borders, An essential design resource for all designers weather your an expert or an beginner.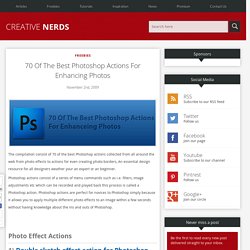 Dolly Levi's - Wedding Timeline
Every bride wants her wedding day to be the most beautiful day of her life—but there's no need to land in the poor house in order to make this long-awaited dream come true! "My rule of thumb: There's no need to spend a ton of money to have an elegant wedding," states David Tutera, leading wedding and celebrity entertainment expert and star of WE's My Fair Wedding. "You don't have to buy a lot of things or have an abundance of trinkets to have a lavish, well-done wedding. Anyone on any budget can have a beautiful ceremony and reception.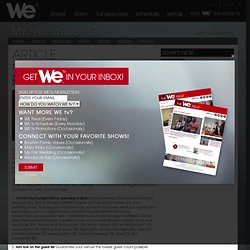 My Fair Wedding - Top 10 Ways to Cut Wedding Costs – WE tv
DIY: Gorgeous Chiffon and Tulle Flowers - DIY: Gorgeous Chiffon and Tulle Flowers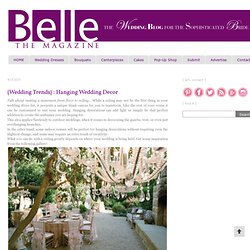 Talk about making a statement from floor to ceiling… While a ceiling may not be the first thing in your wedding décor list, it presents a unique blank canvas for you to transform. Like the rest of your venue it can be customized to suit your wedding. Hanging decorations can add light or simply be that perfect addition to create the ambiance you are hoping for.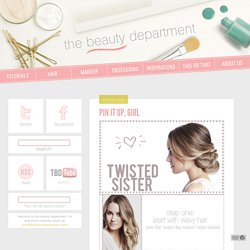 photo: justin coit for thebeautydepartment.com post designed by kristin ess Our email box is literally flooded with requests for updos so here's a fun one to get us all going!
Fabulous Party Decorations For Any Kind Of Celebration
Hi sweets!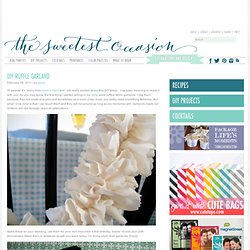 DIY Ruffle Garland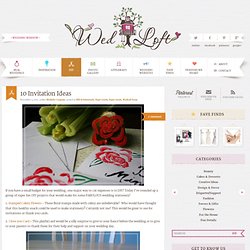 If you have a small budget for your wedding, one major way to cut expenses is to DIY! Today I've rounded up a group of super fun DIY projects that would make for some FABULOUS wedding stationery! 1. Stamped Celery Flowers – These floral stamps made with celery are unbelievable! Who would have thought that this healthy snack could be used to make stationery? Certainly not me!
Posted on October 19, 2011 by Christina
Tea Party Shower
I'm so excited for my dear friend Lana, who just recently became engaged! Needless to say, I'll be helping with a good portion of the design work for the big day, and not to mention some of the event planning as well.
_lvl1mbUwie1qd4wdoo1_1280
Laced in Weddings - Just got Engaged? (Just got Engaged?)
Laced in Weddings
Laced in Weddings - Want Lasting Memories of your Wedding? (Want Lasting Memories of your Wedding?)
In honor of the final Harry Potter movie, we had to share these two amazing Hogwarts-inspired weddings!
Harry Potter Wedding Theme - Harry Potter Weddings | Wedding Planning, Ideas & Etiquette | Bridal Guide Magazine
Mini Balloon-In-A-Box Invitations
Oh Lovely Day: {Lovely Masons} Mason Jar Lanterns
If you've ever read through someone's guest book, you'll notice that most of the entries are pretty repetitive: "Congrats, we're so happy for you!"