Domains and hosting sites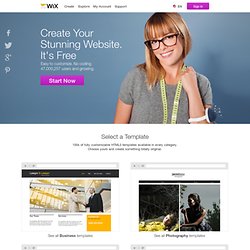 Website Builder | Create a Free Website with Wix.com
Every day we feature an amazing new website built with Wix. Want your website featured? Submit your URL to wixofday@wix.com Jeff Conley is an American Folk musician... Read on
Web Hosting: Unlimited Web Hosting | Web Hosting Features | Web Design Tools
‪The Web Hosting Tutorial That Doesn't Suck‬‏
‪Free or Cheap Web Hosting‬‏
‪How to Buy a Domain Name‬‏
Cool ! any bad things about using it ? by mirlen101 Sep 24
Google also has a URL shortener that you put in long URL's then press "Shorten" for them one by one . Long process if you are doing several though . by mirlen101 Sep 22
custom url
RapidShare>1-CLICK Web hosting - Easy Filehosting
Create a Free Website? Think Twice About It!
Home >> Before You Build Still thinking about creating a free website after watching that video? Check out this email I received in April, 2012. Dear Lisa I will be honest. I ignored your advice about avoiding free hosts because I was one of those people who didn't believe I should have to pay for a website. Three months after launching my Blogger site, it was suddenly deleted because of "spamming."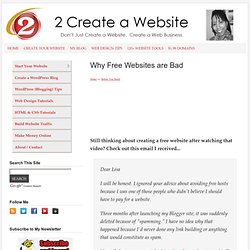 Get Domain Names, Web Hosting & Create Your Website!