Website building
Help on Web Site Management
Download the Free HTML Editor
welcome.ag
welcome.ag
Eager to launch your online business, but not sure where to start? With improving technology, including excellent online tools and lower costs, there has never been an easier time to put your business online. These 10 steps will get you online in no time. Or for an even faster start, follow this 9 Step Quick Start Guide .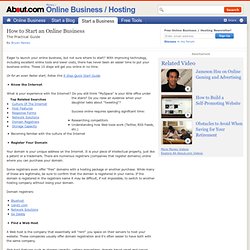 How to Start an Online Business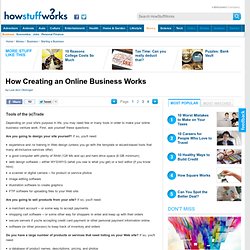 Depending on your site's purpose in life, you may need few or many tools in order to make your online business venture work. First, ask yourself these questions: Are you going to design your site yourself? If so, you'll need:
How Creating an Online Business Works"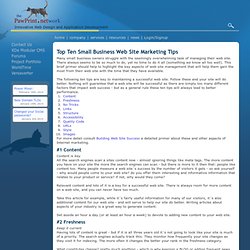 Small Business Web Site Marketing Top 10
Many small business owners struggle with the seemingly overwhelming task of managing their web site. There always seems to be so much to do, yet no time to do it all (something we know all too well). This brief primer should help to highlight the key aspects of web site management that will help them gain the most from their web site with the time that they have available.
Eight Simple Steps to Enhance Web Site | Articles at MaSha Design
From contact information to customer testimonials, here are the essentials that will effectively help you do business. The Web is full of horrendous sites, and we're not just talking about bad design. There are many other elements besides how your website looks that go into making it customer-friendly -- not to mention something that inspires them to actually do business with you. From thorough contact information to customer testimonials, here are the essentials that every small business website should have for it to effectively help you do business. 1.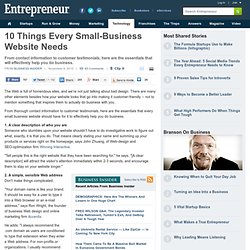 10 Things Every Small-Business Website Needs
10 Things Every Small-Business Website Needs
Affiliate Program Basics
Affiliate programs have become a standard component of most online businesses. With thousands of companies and dozens of networks offering affiliate programs, it can be hard to know where to begin. Understanding the basics will help you make good decisions as you begin affiliate marketing on your website. There are three types of affiliate marketers: Full-time: Exist solely to promote other businesses. Part-time: Employ affiliate programs as a major part of their business plan, creating a significant percentage of their annual revenues.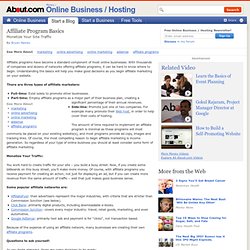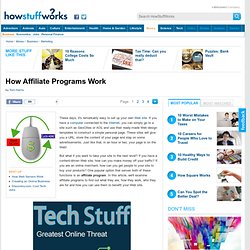 How Affiliate Programs Work"
These days, it's remarkably easy to set up your own Web site . If you have a computer connected to the Internet , you can simply go to a site such as GeoCities or AOL and use their ready-made Web design templates to construct a simple personal page. These sites will give you a URL, store the content of your page and slap on some advertisements. Just like that, in an hour or two, your page is on the Web! ­ ­But what if you want to take your site to the next level? If you have a content-driven Web site, how can you make money off your traffic?
How to Build Your Online Brand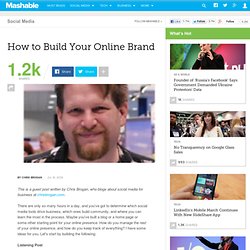 This is a guest post written by Chris Brogan, who blogs about social media for business at chrisbrogan.com . There are only so many hours in a day, and you've got to determine which social media tools drive business, which ones build community, and where you can learn the most in the process. Maybe you've built a blog or a home page or some other starting point for your online presence. How do you manage the rest of your online presence, and how do you keep track of everything?
Direct response marketers are obsessed with generating leads and making the sale. So much so in fact that they often discount the value of investing in online branding. But even for marketers who live and die by their performance, neglecting to invest in brands is a mistake. Let's take a look at why.
5 Key Strategies To Build Your Brand Online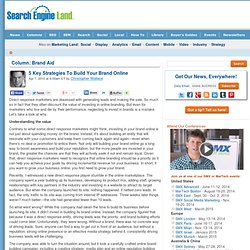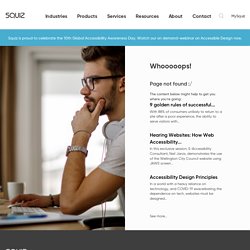 A Hitchhikers Guide to the Obvious: Web Usability 101 - Squiz UK
06 Jan 2009 This paper is about the obvious - the kind of obvious that's so obvious it's usually never communicated, let alone written down. You know the scene. You or your boss thought it'd be great idea to build a new web site and it's the first planning meeting. Across the table someone shouts: 'No!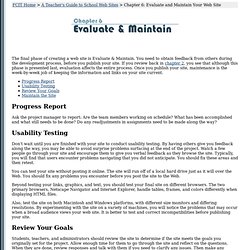 Chapter 6: Evaluate and Maintain Your Web Site
The final phase of creating a web site is Evaluate & Maintain. You need to obtain feedback from others during the development process, before you publish your site. If you review back in chapter 2 , you see that although this phase is presented last, evaluation affects the entire process. Once you publish your site, maintenance is the week-by-week job of keeping the information and links on your site current. Progress Report
Lists in HTML documents
10.1 Introduction to lists HTML offers authors several mechanisms for specifying lists of information. All lists must contain one or more list elements.
Want top search engine rankings? Just add meta tags and your website will magically rise to the top, right? Wrong. Meta tags are one piece in a large algorithmic puzzle that major search engines look at when deciding which results are relevant to show users who have typed in a search query.
HTML Basic
Numbered <ol> <li>List item 1</li> <li>List item 2</li> <li>List item 3</li> <li>List item 4</li> </ol> Numbered Special Start
HTML Basics
Lists in HTML documents
HTML Images
Affordable Web Hosting at Lunarpages - Best Web Hosting Free Setup
( How to improve your Search Engine Rankings ) Most people think of search engine optimization to improve their search engine rankings as being such a skilled task that, without putting a great deal of time and effort into it, it is simply beyond their capabilities. Wrong!
Search engine optimization basics. Improve your search engine rankings
Site Explorer Web Services
FeedBurner
Google Offers SEO Selection Guidelines
The Complete Idiot's Guide to Creating an HTML Web Page
How To Build A Killer Small Business Web Site - Forbes.com
How to Set Up a Business Web Site"
Estimate Your Website Expenses - WebsiteGear
Top 10 Tips for Building a Profitable Web Site
5 basic rules of web design by Grantastic Designs
Tips on How to Choose a Good Domain Name for Your Website Or Business
SEO 101: Everything You Need to Know About SEO (But Were Afraid to Ask)
Search Marketing Bootcamp - Search Engine Guide Blog