WebDesign
Get flash to fully experience Pearltrees
In this tutorial we will create a portfolio web layout using Adobe Photoshop. I will show you how to create patterns and textures for your web designs and how to use the 960 Grid System to help you align the elements of your web layouts. I will also provide the patterns that I used in the resources section below so you can install and use them straight away. Source File To download the source file, you must be a member of the Web Design Fan Club .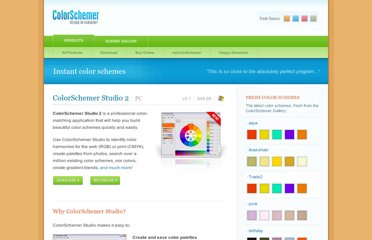 [pc] $49.99 v2.1 ColorSchemer Studio 2 PC ColorSchemer Studio 2 is a professional color-matching application that will help you build beautiful color schemes quickly and easily. Use ColorSchemer Studio to identify color harmonies for the web (RGB) or print (CMYK), create palettes from photos, search over a million existing color schemes, mix colors, create gradient blends, and much more! Why ColorSchemer Studio?
For retailers, shopping is the art of persuasion. Though there are many factors that influence how and what consumers buy. However, a great deal is decided by visual cues, the strongest and most persuasive being color.
Retrouvez une sélection de 180 webdesign qui faut avoir vu absolument pour leur qualité, leur finition ou leur originalité. Bonne lecture Les tendances de Juin
Jeu concours Topito / Flipboard : gagnez un iPad mini ! Chaque année, le site craypiondor.com récompense, sans moquerie mais avec une franche sympathie, le meilleur du pire de l'internet, ces créations web venues d'ailleurs, aux couleurs chatoyantes et au look qui pique les yeux… (MAJ juin 2012) Site de la municipalité de Beuzeville (Craypion d'or 2012 toute catégorie) Source photo : Craypiondor « Un castor mort, assommé par un arbre », Le Dauphiné (Craypion d'or 2012 de l'article de presse en ligne) Source photo : Craypiondor Site du Lycée Jean Perrin de Lyon (Craypion d'or 2012 du site du Service Public) Source photo : Craypiondor Site de l'Association des producteurs de lait indépendants (Craypion d'or 2012 du site d'association) Source photo : Craypiondor « Un homme politique français reptilien ?