BLOG
Creating a Blog in MODx Revolution This tutorial is here to help you setup a flexible, powerful blogging solution in MODx Revolution. Since MODx Revolution is not blogging software, but rather a full-blown Content Application Platform, it doesn't come pre-packaged with a cookie-cutter blogging solution. You'll need to setup your blog how you want it. Fortunately, the tools to do so are already there for your taking. This tutorial will walk you through how to set them up.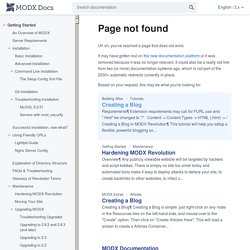 Creating a Blog in MODx Revolution - MODx Revolution 2.0
UI and Us — UI and Ux design — Interface — User Experience - About Me
This special upgrade price is available for both Comic Life and Comic Life Deluxe users. A "Deluxe" version of Comic Life 2 will not be released as Comic Life 2 contains all of the Deluxe extras - the extra fonts, styles and templates. Creating comics using your personal photos are a terrific way to share your snaps with family and friends. By pointing out amusing situations with anecdotes it helps give your photos context rather than just seeing the photos by themselves. "Comic Life 2 is more or less the Pages of creating comics on the Mac, albeit with a quirkier interface design. You can lay out panels on your own or start with one of the built-in layouts, drag over photos from iPhoto, sprinkle in some dialog, and share your gripping story with friends and the world."
The Ultimate Blogger Template Resource List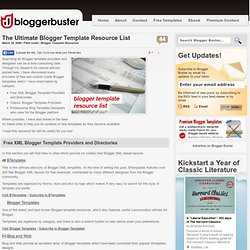 Where possible, I have also linked to the feed for these sites to help you be updated of new templates as they become available. Free XML Blogger Template Providers and Directories In this section you will find links to sites which provide (or collate) free Blogger XML based layouts. BTemplates
You can now add Google sitemap to your blogger.com account and increase your chances of being indexed in Google search engine result. You can add a Sitemap to your account to give Google more information about the pages in your site to help Google crawl them more effectively. Step # 1 : Login to sitemap account
Adding Google sitemap to blogger.com blog account