Web2.0 tools
Open Courses
Collaborative Writing. Image. Web2.tools. Pinterest. Altoranking. Interactive - Flawed. S Guide Virtual Fieldtrips. Virtual Fieldtrips, Virtual Tours Virtual Tours of Museums and Exhibits Tour The American Museum of Natural History You can find 360 degree tours of dioramas, pictures, and video.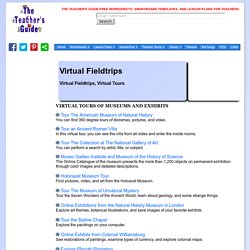 Tour an Ancient Roman Villa In this virtual tour, you can see the villa from all sides and enter the inside rooms. Scrible | smarter online research - annotate, organize & collaborate on web pages. ΜΑΘΗΣΗ 2.0. Screenfly by QuirkTools — Test Your Website at Different Screen Resolutions. ThinkBinder.
Webdoc beta - For rich expression. Files. ZAP Reader. COVERITLIVE.COM - Home. Qwiki. Tech Learning TL Advisor Blog and Ed Tech Ticker Blogs from TL Blog Staff – TechLearning.com. A few months back I posted on a slideshow that I created called, Web 2.0 for Schools.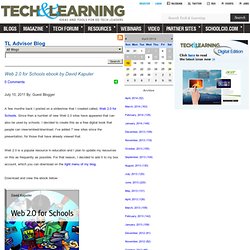 Since then a number of new Web 2.0 sites have appeared that can also be used by schools. I decided to create this as a free digital book that people can view/embed/download. I've added 7 new sites since the presentation, for those that have already viewed that. Web 2.0 is a popular resource in education and I plan to update my resources on this as frequently as possible. For that reason, I decided to add it to my box account, which you can download on the right menu of my blog. 111krish. TechTools for Teaching. Academic Earth | Online Courses | Academic Video Lectures.
Evaluation
Google.
---