YouTube
Wikia. Vidslib.com Video Search. YouTube Launching Live Video This Year. YouTube co-founder Steve Chen has confirmed that the service will use Google's vast resources to launch live streaming functionality this year, according to a video interview on Sarah Meyer's new show Pop17.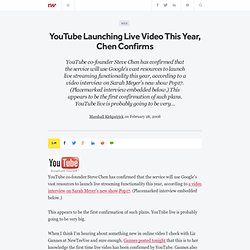 (Placemarked interview embedded below.) This appears to be the first confirmation of such plans. YouTube live is probably going to be very big. When I think I'm hearing about something new in online video I check with Liz Gannes at NewTeeVee and sure enough, Gannes posted tonight that this is to her knowledge the first time live video has been confirmed by YouTube. Matthewslibrary's Channel. 100 Million Worldwide Daily Video Streams from YouTube.com in July 2006. Oscarit. Internet TV: 2007 year in review. From YouTube's continued dominance, the television networks' newfound willingness to experiment online, the rise of the desktop Internet TV application, and a number of new PC-to-TV devices and set-top boxes — it's been a big year for Internet TV in all shapes and forms.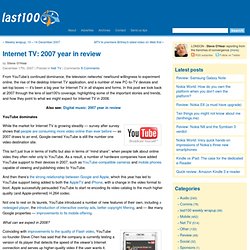 In this post we look back at 2007 through the lens of last100′s coverage, highlighting some of the important stories and trends, and how they point to what we might expect for Internet TV in 2008. Also see: Digital music: 2007 year in review YouTube dominates While the market for Internet TV is growing steadily — survey after survey shows that people are consuming more video online than ever before — as 2007 draws to an end, Google-owned YouTube is still the number one video destination site. InfoTubey Award Winners. Stephen's Lighthouse: YouTube Trends and Sources. Keski-Espoon kirjaston YouTube -kanava.
---