Web sémantique
NEPOMUK - The Social Semantic Desktop
Applications (Navigation privée)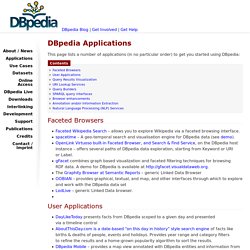 This page lists a number of applications (in no particular order) to get you started using DBpedia: Faceted Browsers Faceted Wikipedia Search – allows you to explore Wikipedia via a faceted browsing interface.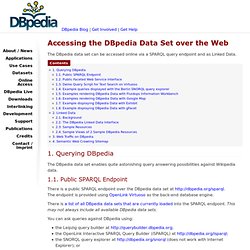 The DBpedia data set can be accessed online via a SPARQL query endpoint and as Linked Data. 1. Querying DBpedia The DBpedia data set enables quite astonishing query answering possibilities against Wikipedia data. 1.1.
We're pleased to bring you an update on several recent activities related to OpenCyc and the Semantic Web. UMBEL The lightweight UMBEL ontology is finally live. Mike Bergman and Fred Giasson deserve a big round of applause for the tremendous effort they've put into this release. They've meticulously selected 20,000 of the most relevant concepts from the more than 300,000 in the Cyc KB. What's more, relationships between these concepts have been simplified to facilitate discovery of related concepts and alignment with external ontologies.
The Cyc Foundation (Navigation privée)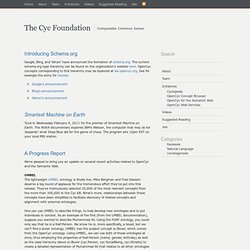 Introduction - UMBELwiki (Navigation privée)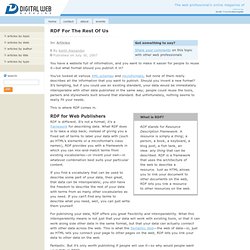 The web professional's online magazine of choice. In: Articles By Keith Alexander
RDF For The Rest Of Us (Navigation privée
Pourquoi les ordinateurs n'arrivent-ils pas à concurrencer les P
Par Hubert Guillaud le 17/03/09 | 15 commentaires | 11,770 lectures | Impression "Les employés sont comme l'électricité : quand ils veulent que quelque chose fonctionne, ils suivent le chemin de la moindre résistance" , explique le professeur David Karger à Forbes.com . "C'est pourquoi le Post-it continue à fleurir à la surface de nos bureaux, malgré nos ordinateurs, pourtant si coûteux et si disponibles pour nous aider." Les meilleurs outils de bureaux sont des affordances Une étude (.pdf) du Laboratoire d'informatique et d'intelligence artificielle (Csail) menée par David Karger et l'équipe du Haystack – spécialisée dans la recherche sur la distribution, la gestion, l'analyse et l'accès à l'information -, a cherché à comprendre les raisons des l'attrait et du succès des Post-it.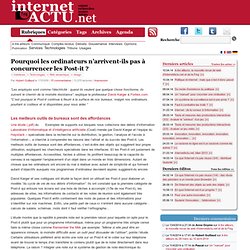 A la découverte du Web sémantique (Navigation privée)
Introduzione al Web Semantico: URI, XML, RDF, SPARQL, RDFS, OWL