Social
Share, Bookmark, Email a page - Lockerz Share - AddToAny
Circle of Trust « D3
Circle of Trust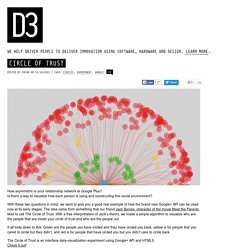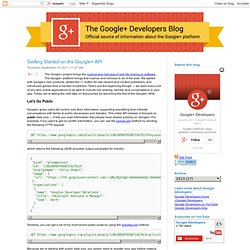 Getting Started on the Google+ API - Google+ Platform Blog
The Google+ project brings the nuance and richness of real-life sharing to software. The Google+ platform brings that nuance and richness to all of the web.
Google Developers
Google APIs Discovery API Profile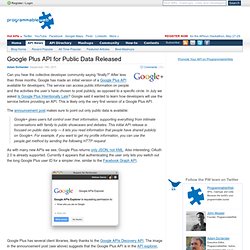 Google Plus API for Public Data Released
Can you hear the collective developer community saying "finally?" After less than three months, Google has made an initial version of a Google Plus API available for developers. The service can access public information on people and the activities the user's have chosen to post publicly, as opposed to a specific circle.
Developer Network: Community: API Overview
MySpace Developer Platform
Facebook Opens up 'Activity Stream' to External Developers - PCWorld Business Center
OpenSocial
OpenSocial is a public specification that defines a component hosting environment (container) and a set of common application programming interfaces (APIs) for web-based applications.