Mashup
APIs Explorer. Harvesting Questions for Content Ideas. There's no denying it: coming up with solid topic ideas for content and linkable assets on a consistent basis is hard work.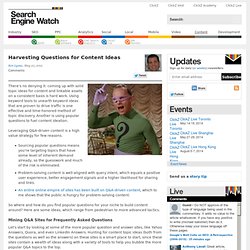 Using keyword tools to unearth keyword ideas that are proven to drive traffic is one effective and time-honored method of topic discovery. Another is using popular questions to fuel content ideation. Hackasaurus. Look ahead Learn all about Firefox OS » Welcome to Webmaker!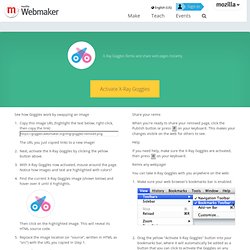 That username is taken You must choose a username Invalid username. All usernames must be between 1-20 characters, and only include "-", "_" and alphanumeric characters. Movieclips Wants To Drink Other Movie Clips Sites' Milkshake With Mashups. Everyone loves movie clips.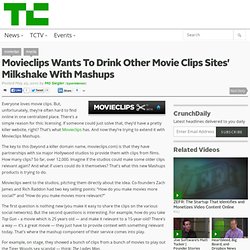 But, unfortunately, they're often hard to find online in one centralized place. There's a simple reason for this: licensing. If someone could just solve that, they'd have a pretty killer website, right? That's what Movieclips has. And now they're trying to extend it with Movieclips Mashups. Automated content sharing - tarpipe. Kind of Screwed. TL;DR version: Last year, I was threatened with a lawsuit over the pixel art album cover for Kind of Bloop.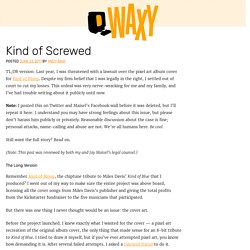 Despite my firm belief that I was legally in the right, I settled out of court to cut my losses. This ordeal was very nerve-wracking for me and my family, and I've had trouble writing about it publicly until now. Note: I posted this on Twitter and Maisel's Facebook wall before it was deleted, but I'll repeat it here: I understand you may have strong feelings about this issue, but please don't harass him publicly or privately. Reasonable discussion about the case is fine; personal attacks, name-calling and abuse are not. Aimashup11. Mash Maker : Learn More. How to Make Your Own Web Mashup.
So you want to make a mashup but aren't entirely sure where to begin?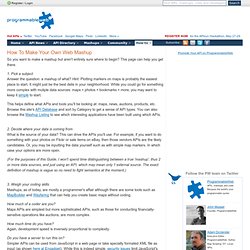 This page can help you get there. 1. Pick a subject Answer the question: a mashup of what? Mashup Dashboard - ProgrammableWeb. Rewire the web. Learn How to Build a Pipe in Just a Few Minutes on Yahoo! Video.
---