Mashup
There's no denying it: coming up with solid topic ideas for content and linkable assets on a consistent basis is hard work. Using keyword tools to unearth keyword ideas that are proven to drive traffic is one effective and time-honored method of topic discovery. Another is using popular questions to fuel content ideation.
Harvesting Questions for Content Ideas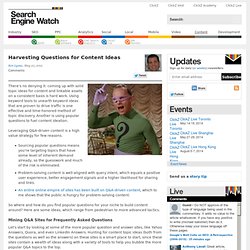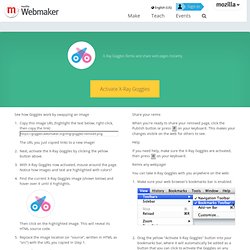 Look ahead Learn all about Firefox OS » Welcome to Webmaker! That username is taken You must choose a username Invalid username. All usernames must be between 1-20 characters, and only include "-", "_" and alphanumeric characters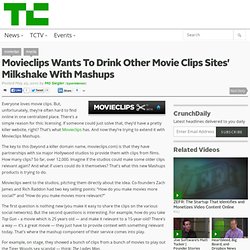 Everyone loves movie clips. But, unfortunately, they're often hard to find online in one centralized place. There's a simple reason for this: licensing. If someone could just solve that, they'd have a pretty killer website, right? That's what Movieclips has. And now they're trying to extend it with Movieclips Mashups.
Movieclips Wants To Drink Other Movie Clips Sites' Milkshake With Mashups
TL;DR version: Last year, I was threatened with a lawsuit over the pixel art album cover for Kind of Bloop. Despite my firm belief that I was legally in the right, I settled out of court to cut my losses. This ordeal was very nerve-wracking for me and my family, and I've had trouble writing about it publicly until now. Note: I posted this on Twitter and Maisel's Facebook wall before it was deleted, but I'll repeat it here: I understand you may have strong feelings about this issue, but please don't harass him publicly or privately. Reasonable discussion about the case is fine; personal attacks, name-calling and abuse are not.
Kind of Screwed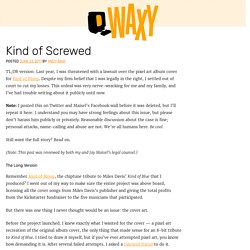 aimashup11
Mash Maker : Learn More
So you want to make a mashup but aren't entirely sure where to begin? This page can help you get there. 1. Pick a subject Answer the question: a mashup of what?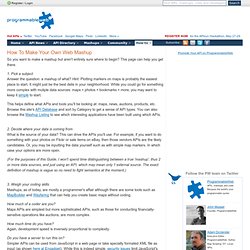 Learn How to Build a Pipe in Just a Few Minutes on Yahoo! Video