Web_design_tutorials
UX Apprentice. Coding for Designers (Aquent)
E-newsletter. HTML5 Tutorials for Keeping Your Design Skills Tight. Jul 23 2012 With the growing number of HTML5 tutorials available to help designers and developers get a better handle on this language, it can get a bit tricky sorting through them to find what you are truly looking for.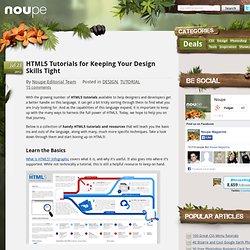 And as the capabilities of this language expand, it is important to keep up with the many ways to harness the full power of HTML5. Today, we hope to help you on that journey. 40 Useful Online Applications for Web Designers and Developers. Web designing and developing has turned into world's largest medium of information exchange these days.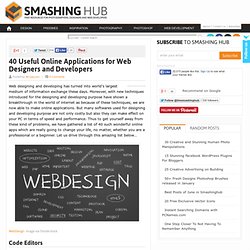 Moreover, with new techniques introduced for the designing and developing purpose have shown a breakthrough in the world of internet as because of these techniques, we are now able to make online applications. But many softwares used for designing and developing purpose are not only costly but also they can make effect on your PC in terms of speed and performance. Thus to get yourself away from these kind of problems, we have gathered a list of 40 such wonderful online apps which are really going to change your life, no matter, whether you are a professional or a beginner. Let us drive through this amazing list below… WebDesign image via Shutterstock. Tutorialzine | Web Development Tutorials & Resources.
Welcome. CSS3 Tutorials to Brighten Up Your Day. Jan 25 2011 As we all know, a lot of complicated CSS code snippets had to be used back then when you simply wanted to achieve a rounded corner, and even had to use JavaScript for simple animations.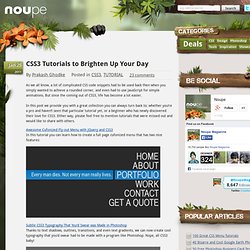 But since the coming out of CSS3, life has become a lot easier. Tutorial | FREE Tutorial | HTML Tutorial | C Tutorial | C++ Tutorial | SQL Tutorial | ASP Tutorial | Ajax Tutorial | Photoshop Tutorial | Microsoft Excel Tutorial | Tutorial Services. 10 Rock Solid Website Layout Examples. Layout can both be one of the easiest and one of the trickiest facets of web design.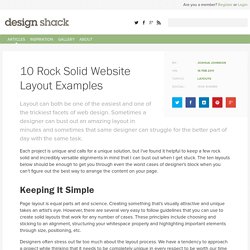 Sometimes a designer can bust out an amazing layout in minutes and sometimes that same designer can struggle for the better part of day with the same task. Each project is unique and calls for a unique solution, but I've found it helpful to keep a few rock solid and incredibly versatile alignments in mind that I can bust out when I get stuck. The ten layouts below should be enough to get you through even the worst cases of designer's block when you can't figure out the best way to arrange the content on your page. Keeping It Simple. Introducing ActionScript Functions. Flash ActionScript | Beginner | By Blue_Chi Functions are a powerful feature in ActionScript that make it possible to reuse blocks of code throughout a flash movie in great flexibility.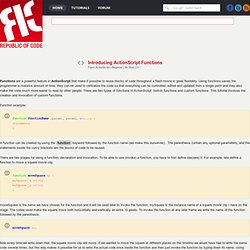 Using functions saves the programmer a massive amount of time, they can be used to centralize the code so that everything can be controlled, edited and updated from a single point and they also make the code much more easier to read by other people. There are two types of functions in ActionScript: built-in functions and custom functions. This tutorial involves the creation and invocation of custom functions. Use Adobe Illustrator to Create a Clean Website Layout. This tutorial is perfect for the beginning to intermediate Adobe Illustrator users.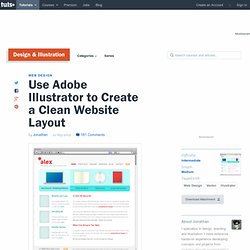 We'll cover how to layout a website and prepare it for use on the web. Also, we'll use the recently released Website Elements Freebie to mock up the design as well. Tizag Tutorials. Touch The Future: Create An Elegant Website With HTML 5 And CSS3. I'm sure that who chooses to work as web designer makes a choice of heart, a choice of love.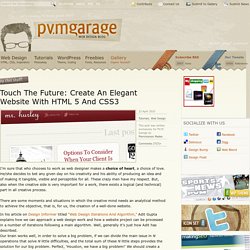 He/she decides to bet any given day on his creativity and his ability of producing an idea and of making it tangible, visible and perceptible for all. These crazy men have my respect. But, also when the creative side is very important for a work, there exists a logical (and technical) part in all creative process. Web development tutorials, from beginner to advanced. Web Design Blog, Tutorials and Inspiration | Web Design Ledger. Dreamweaver CS4 Tutorial. In this Dreamweaver CS4 Tutorial you will learn how to create a basic website using Dreamweaver CS4.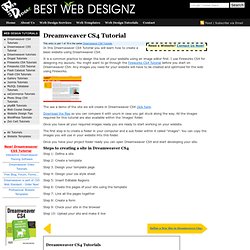 It is a common practice to design the look of your website using an image editor first. I use Fireworks CS4 for designing my layouts. 70 Tutorials Using Photoshop To Design A Website | Creative Nerd. This article features a huge amount of Photoshop web design tutorials, which will teach you simple effects which can be combined together in order to create a great website design.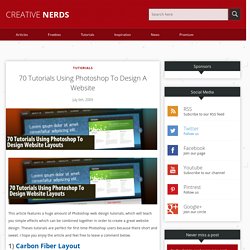 Theses tutorials are perfect for first time Photoshop users because there short and sweet. I hope you enjoy the article and feel free to leave a comment below. 40 Useful Photoshop Web Layout Tutorials. Adobe Photoshop is the industry-standard when it comes to creating web page layouts.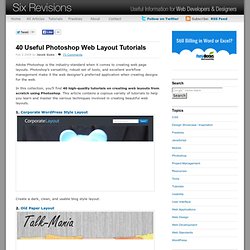 Photoshop's versatility, robust set of tools, and excellent workflow management make it the web designer's preferred application when creating designs for the web. In this collection, you'll find 40 high-quality tutorials on creating web layouts from scratch using Photoshop. This article contains a copious variety of tutorials to help you learn and master the various techniques involved in creating beautiful web layouts. 1. 8 Best Websites For Quality HTML Coding Examples. Well, a lot has changed since the 90′s, and the advent of dynamic web coding languages like PHP really make HTML old-school. Then again, you have to understand old-school HTML before you can understand the languages that dynamically create the HTML that browsers display. Thankfully, there are now some awesome websites that do offer well-designed and useful HTML coding examples and tutorials.
---