Text & Fonts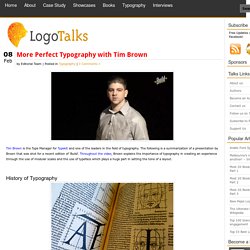 More Perfect Typography with Tim Brown | Logo Talks
Tim Brown is the Type Manager for Typekit and one of the leaders in the field of typography. The following is a summarization of a presentation by Brown that was shot for a recent edition of 'Build'. Throughout the video , Brown explains the importance of typography in creating an experience through the use of modular scales and the use of typeface which plays a huge part in setting the tone of a layout.
How to Safely Match Web Design and Typography
As web designers, our designs have to be both usable and attractive, communicate information and create a name. Our designs must be technically proven and tested for our dear readers. With that in mind, web designing is definitely a form of communication and nowadays, this type of communication is very, very important. As a form of communication, we, as web designers do the speaking and we hope our readers and viewers listen.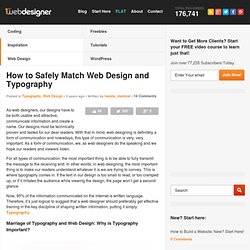 25 Awesome Graffiti Fonts for Designers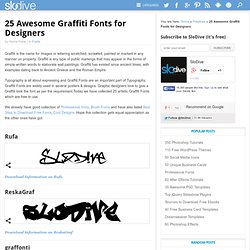 Advertisement Graffiti is the name for images or lettering scratched, scrawled, painted or marked in any manner on property. Graffiti is any type of public markings that may appear in the forms of simple written words to elaborate wall paintings. Graffiti has existed since ancient times, with examples dating back to Ancient Greece and the Roman Empire. Typography is all about expressing and Graffiti Fonts are an important part of Typography. Graffiti Fonts are widely used in several posters & designs.
Typeface Pairing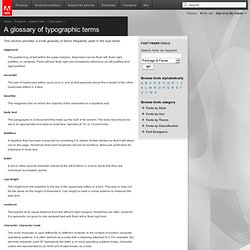 This section provides a small glossary of terms frequently used in the type world. alignment The positioning of text within the page margins. Alignment can be flush left, flush right, justified, or centered. Flush left and flush right are sometimes referred to as left justified and right justified. ascender
Fonts - Type topics: Glossary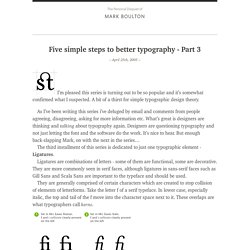 Five simple steps to better typography – Part 3Mark Boulton
– April 25th, 2005 – I'm pleased this series is turning out to be so popular and it's somewhat confirmed what I suspected. A bit of a thirst for simple typographic design theory. As I've been writing this series i've deluged by email and comments from people agreeing, disagreeing, asking for more information etc. What's great is designers are thinking and talking about typography again. Designers are questioning typography and not just letting the font and the software do the work.
– April 13th, 2005 – Typography, I find, is still a bit of mystery to a lot of designers. The kind of typography I'm talking about is not your typical "What font should I use" typography but rather your "knowing your hanging punctuation from your em-dash" typography.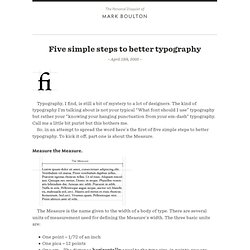 Five simple steps to better typography ? Part 5Mark Boulton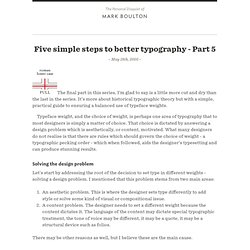 – May 18th, 2005 – The final part in this series, I'm glad to say is a little more cut and dry than the last in the series. It's more about historical typographic theory but with a simple, practical guide to ensuring a balanced use of typeface weights.
WebDesignHelper.co.uk - Design Theory 9 - Typography (Part 1)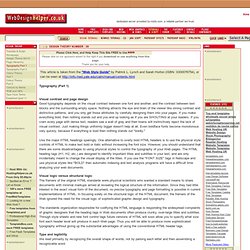 Typography (Part 1) Visual contrast and page design Good typography depends on the visual contrast between one font and another, and the contrast between text blocks and the surrounding empty space. Nothing attracts the eye and brain of the viewer like strong contrast and distinctive patterns, and you only get those attributes by carefully designing them into your pages.
Words aren't just words. Rather, words portray meanings and can stir up every emotion from anger to lust. As such, designers have immense power over their audiences simply with the fonts they select and the manner in which those fonts are used. The following are ten 10 masterfully composed videos that provide perfect examples of how typefaces can be used to move audiences. 1.
10 Most Inspiring Videos about Typography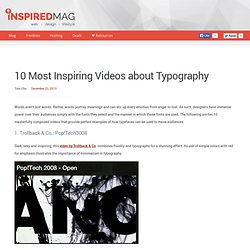 20 Free Asian Style Fonts
Friday Fresh Free Fonts #77
Advertisement For many beginners, the task of picking fonts is a mystifying process. There seem to be endless choices — from normal, conventional-looking fonts to novelty candy cane fonts and bunny fonts — with no way of understanding the options, only never-ending lists of categories and recommendations. Selecting the right typeface is a mixture of firm rules and loose intuition, and takes years of experience to develop a feeling for. Here are five guidelines for picking and using fonts that I've developed in the course of using and teaching typography. 1.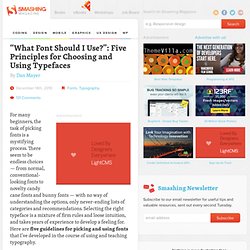 Welcome to the 16th post of Weekly Typography Inspiration series here on AddictiveFonts.com. In this roundup you will get creative, fanciful, elegant, imaginative and graceful typography showcase for your inspiration, crafted and actualized by professional artists and designers from all over the world, we hope you will enjoy our collection of master pieces of typography. You can tell us about your favorite typography inspiration of this week using comment box. United Social Sports Comp Work Whole Foods Signpainting
Weekly Typography Inspiration # 16
2010 is just going to end leaving good and bad memories and moments for everybody. 2010 also gave us some of the most professional, creative, fanciful, elegant, imaginative and graceful fonts of all time. Today we have collected a collection of top 50 free fonts created in 2010. We hope you will like this collection.
Clagnut is Richard Rutter
Fonts from Adobe
Colophon Typographica is a review of typefaces and type books, with occasional commentary on fonts and typographic design. Edited by Stephen Coles and designed by Chris Hamamoto. Founded in 2002 by Joshua Lurie-Terrell. Relaunched in 2009 by Coles and Hamamoto.
35 Professional Bold Sans Serif Fonts