Prototypage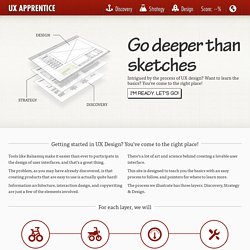 Tools like Balsamiq make it easier than ever to participate in the design of user interfaces, and that's a great thing. The problem, as you may have already discovered, is that creating products that are easy to use is actually quite hard! Information architecture, interaction design, and copywriting are just a few of the elements involved. There's a lot of art and science behind creating a lovable user interface.
Prototypage iPad & iPhone : ayez le réflexe AppCooker ! (haikusages.fr)
L ors de mon précédent billet sur le design web & mobile , j'expliquais être amené dans le cadre de mon activité freelance à travailler régulièrement sur des questions de design d'interface et d'interaction. Lorsqu'il s'agit de projets d'App iPad ou iPhone, je préconise et applique une approche de qui permet d'arriver rapidement à un résultat tangible et exploitable par les équipes métiers et techniques. En effet je suis convaincu que permettre à tous les acteurs projets, techniques ou métier, de (l'expérience tend d'ailleurs à me donner raison). Vous me direz que c'est l'essence même des méthodes agiles comme par exemple SCRUM, c'est vrai, mais l'approche que je défend va plus loin car elle est applicable à n'importe quelle méthode de gestion de projet, agile ou non ! et vais détailler en quoi ce réflexe est source de valeur ajoutée pour vos projets iPad & iPhone.
18 outils gratuits pour faire des maquettes d'interfaces graphiques Aujourd'hui, j'ai cherché une petite application qui me permettrait de réaliser des maquettes d'interfaces graphiques simplement, comme je le faisais sous Linux avec Pencil (mais pour Mac OSX). Puis au fil de mes recherches, j'en ai dégoté plusieurs qui je pense vous intéresseront.