Web Design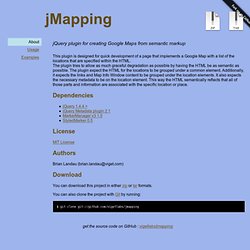 jQuery plugin for creating Google Maps from semantic markup
jMapping Documentation
jQuery and Google Maps Tutorial: #1 Basics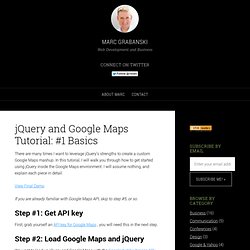 There are many times I want to leverage jQuery's strengths to create a custom Google Maps mashup.
jMapping: Examples » Example 4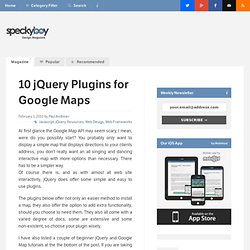 At first glance the Google Map API may seem scary, I mean, were do you possibly start? You probably only want to display a simple map that displays directions to your clients address, you don't really want an all singing and dancing interactive map with more options than necessary. There has to be a simpler way. Of course there is, and as with almost all web site interactivity, jQuery does offer some simple and easy to use plugins. The plugins below offer not only an easier method to install a map, they also offer the option to add extra functionality, should you choose to need them.
Crime statistics - ACT Policing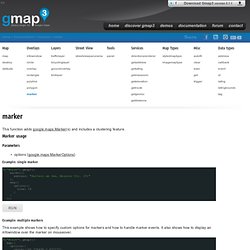 Marker : "Marker" in Overlays documentation for Gmap3
This function adds google.maps.Marker(s) and includes a clustering feature.
Shawn Mayzes - Google Maps jQuery Plugin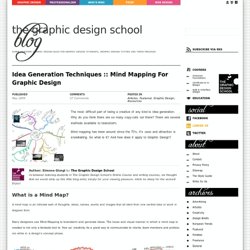 Idea Generation Techniques :: Mind Mapping for Graphic Design | The Graphic Design School's Blog
The most dif­fi­cult part of being a cre­at­ive of any kind is idea gen­er­a­tion.
Setting Up Readable Online Web Copy using CSS | Tips
Working as a web designer requires knowledge in a slew of different areas. You need to consider user experience design, color schemes, and especially typography.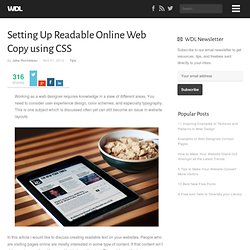 15 Free, Minimal and Responsive WordPress Themes
Not every blogger or site owner is code-literate or design-savvy, but everyone deserves to get a responsive design for their site. If you're on WordPress, have we got a treat for you.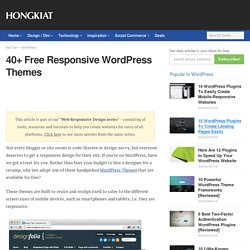 Updated 2nd November 2012 Drop down mega menus are becoming more popular as an alternative to standard drop down menus. This WordPress menu plugin will allow you to quickly and easily create drop down mega menus from any WordPress custom menu. The plugin can handle multiple mega menus per page, offers a choice of animation effects (fade or slide), the option to set the drop down sub-menu to full width plus the choice to activate the menu using either hover or click.
Wordpress Plugin – jQuery Mega Menu Widget « Design Chemical – jQuery, Wordpress, Tutorials & Plugins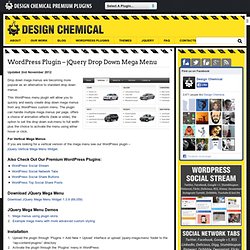 UberMenu 2.0 is here UberMenu is a user-friendly, highly customizable, responsive Mega Menu WordPress plugin.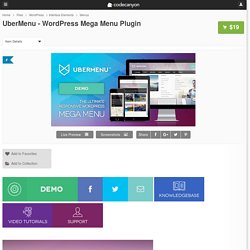 UberMenu - WordPress Mega Menu Plugin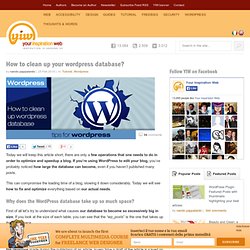 Today we will keep this article short; there are only a few operations that one needs to do in order to optimize and speedup a blog. If you're using WordPress to edit your blog, you've probably noticed how large the database can become, even if you haven't published many posts. This can compromise the loading time of a blog, slowing it down considerably.
How to clean up your wordpress database
Website interfaces often require a large starting point to get going.
Tips for Coding a Solid Frontend Interface in HTML5/CSS3 | Tips
Designers are always looking for new design elements to use in their projects, and that's why it's very important to have a good library to count on.
14 New and Free PSDs for Web Designers | Freebies
Inspiring Branding Projects | Inspiration - (Private Browsing)
Here at WDL we like to show you different sources of inspiration, from print to web, packages to type, and much more, we believe that you can find inspiration in a variety of well designed things. Today we gathered some branding projects to show you how some designers approach the task of developing brands.
Database Description Languages: English • العربية • 日本語 • 中文(简体) • 한국어 • (Add your language) The following is an outline and description of the database tables created during the standard installation of WordPress Version 3.4. Currently, the only database supported by WordPress is MySQL version 5.0.15 or greater.
Why Clean Up Wordpress WP_PostMeta Table?
Looking for script to clean up wp_postmeta table in WordPress?
HTML5 Boilerplate - (Private Browsing)
Summer Under The Stars - (Private Browsing)
reveal.js - The HTML Presentation Framework
Bacterium
WebGL Transforms
23 Truly Amazing and Unbelievable HTML5 Canvas and Javascript Experiments
30 Must-See HTML5 Tutorials To Wow Your Audience
BreakDOM - A remix of the classic Breakout game.
Seamless Natural Grunge Textures
6 Colorful Grungy Background | web texture | Premium textures, patterns and backgrounds
6 High-Quality Seamless Paper Textures