Web 3.0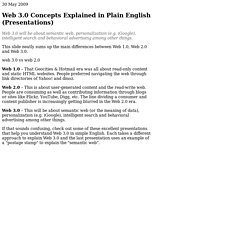 Web 3.0 will be about semantic web, personalization (e.g. iGoogle), intelligent search and behavioral advertising among other things. This slide neatly sums up the main differences between Web 1.0, Web 2.0 and Web 3.0. Web 1.0 – That Geocities & Hotmail era was all about read-only content and static HTML websites.
Any veteran of the software industry will tell you that version 2.0 of any product tends to be a shortlived staging post on the way to 3.0, which is where it finally hits the mark. Windows was a classic example. 1.0 was so buggy it was hardly worth using. 2.0 fixed some serious problems but still had a lot of shortcomings. 3.0, launched in May 1990, was an instant success, and the rest of the story, as they say, is history. Don't be surprised, then, if Web 2.0 also turns out to be just a staging post on the way to a much more mature and durable Web 3.0 is going to deliver a new generation of business applicationsWeb 3.0 era.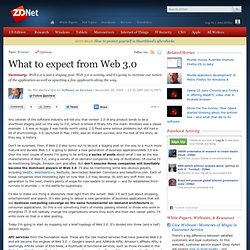 What to expect from Web 3.0 | Software as Services | ZDNet.com
Governing People | Sir Tim Berners-Lee on Linked Data and the Se
Web sémantique | InternetActu.net
data viewer directory
The Semantic Web is based on the relatively straightforward idea that to be able to integrate (link) data on the Web we must have some mechanism for knowing what relationships hold among the data, and how that relates to some "real world" context.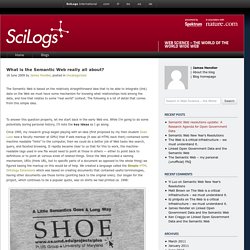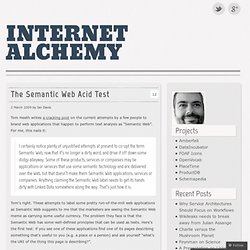 Tom Heath writes a cracking post on the current attempts by a few people to brand web applications that happen to perform text analysis as "Semantic Web".
The Semantic Web Acid Test
What is the future of the web?
Web 3.0 Application: Web 2.0 Application : Web Application : Web
2009 has seen a lot of Semantic Web and structured data activity.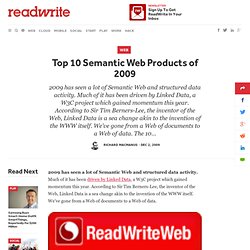 Much of this blog's coverage centers on technology and companies based in the U.S, particularly in Silicon Valley. However, thriving tech communities exist around the globe, from Toronto to Tel Aviv, and the success of internationally-based web products serve as a reminder to all of us that innovation knows no borders. Check out our picks for the top 10 international web products of 2009 and let us know your favorite international apps in the comments. ReadWriteWeb's Best Products of 2009: Spotify, Stockholm, Sweden By September 2009, we were calling Spotify "one of the most highly anticipated applications" that had not yet come to the U.S.
Top 10 International Web Products of 2009
The Semantic Web Gang