Web 3.0
What is Web 3.0? Semantic Web & other Web 3.0 Concepts Explained. 30 May 2009 Web 3.0 will be about semantic web, personalization (e.g. iGoogle), intelligent search and behavioral advertising among other things. couch mode print story.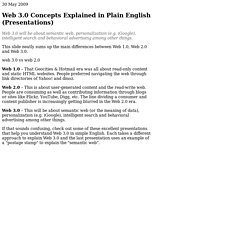 What to expect from Web 3.0 | Software as Services | ZDNet.com. Any veteran of the software industry will tell you that version 2.0 of any product tends to be a shortlived staging post on the way to 3.0, which is where it finally hits the mark.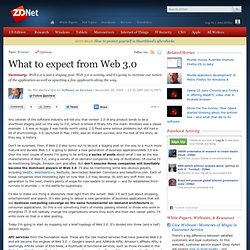 Windows was a classic example. 1.0 was so buggy it was hardly worth using. 2.0 fixed some serious problems but still had a lot of shortcomings. 3.0, launched in May 1990, was an instant success, and the rest of the story, as they say, is history. Don't be surprised, then, if Web 2.0 also turns out to be just a staging post on the way to a much more mature and durable Web 3.0 is going to deliver a new generation of business applicationsWeb 3.0 era. Governing People | Sir Tim Berners-Lee on Linked Data and the Se. Web sémantique.
Objectifmars. Web sémantique | InternetActu.net. Le blogue de Nicolas Cynober. Data viewer directory. Planète Web Sémantique. What is the Semantic Web really all about? The Semantic Web is based on the relatively straightforward idea that to be able to integrate (link) data on the Web we must have some mechanism for knowing what relationships hold among the data, and how that relates to some "real world" context.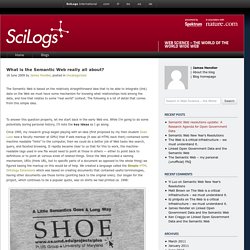 The following is a lot of detail that comes from this simple idea. To answer this question properly, let me start back in the early Web era. While I'm going to do some potentially boring personal history, I'll note the key ideas as I go along. The Semantic Web Acid Test. Tom Heath writes a cracking post on the current attempts by a few people to brand web applications that happen to perform text analysis as "Semantic Web".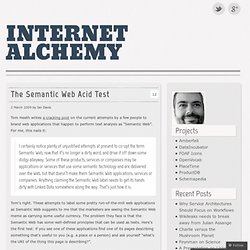 For me, this nails it: I certainly notice plenty of unjustified attempts at present to co-opt the term Semantic Web, now that it's no longer a dirty word, and drive it off down some dodgy alleyway. Some of these products, services or companies may be applications or services that use some semantic technology and are delivered over the Web, but that doesn't make them Semantic Web applications, services or companies. Anything claiming the Semantic Web label needs to get its hands dirty with Linked Data somewhere along the way. Web 3.0 The Semantic Web. Web 3.0 Application: Web 2.0 Application : Web Application : Web. Top 10 Semantic Web Products of 2009. 2009 has seen a lot of Semantic Web and structured data activity.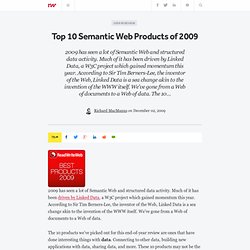 Much of it has been driven by Linked Data, a W3C project which gained momentum this year. According to Sir Tim Berners-Lee, the inventor of the Web, Linked Data is a sea change akin to the invention of the WWW itself. We've gone from a Web of documents to a Web of data. The 10 products we've picked out for this end-of-year review are ones that have done interesting things with data. Connecting to other data, building new applications with data, sharing data, and more. Top 10 International Web Products of 2009. Much of this blog's coverage centers on technology and companies based in the U.S, particularly in Silicon Valley.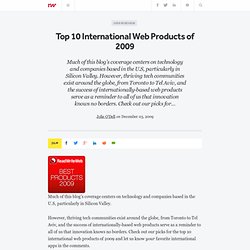 However, thriving tech communities exist around the globe, from Toronto to Tel Aviv, and the success of internationally-based web products serve as a reminder to all of us that innovation knows no borders. Check out our picks for the top 10 international web products of 2009 and let us know your favorite international apps in the comments. The Semantic Web Gang. Les petites cases.
---